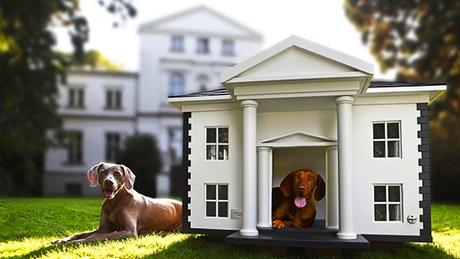 The Alabama Dog House will set you back $3,600 (from 2,799 EUR) | Best Friends Home


The real estate market has been luke warm in the past few years, but in the high stakes Pet World the housing market is booming! We are now entering an era in which we see custom homes being built for dogs that could even rival that of the human world. Welcome to the most expensive and unique dog houses built on the planet!

$30,000 Celebrity Hacienda Dog House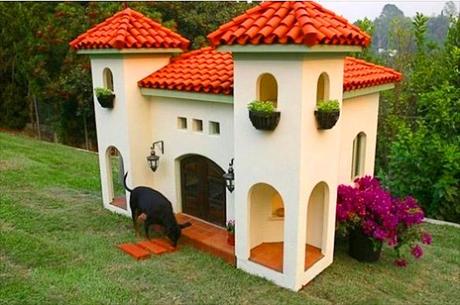 This celebrity dog home features running water, lights, air conditioning and heating | Beyond the Crate

This celebrity dog house was custom built for a Hollywood personality – for their dog that is. Everything down to the last detail was built in considering the factors of dog breed, style of the home, budget, traits of the pet and even for allergy sensitive. Features included in the house include running water, lighting, air conditioning and heating. The price tag on this dog palace can qualify for a down payment on a human house: $30,000 USD (23,000 EUR). Chic and Modern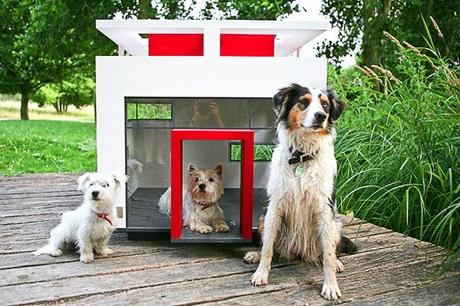 Modern styling and clean lines is what makes the Hunderhaus Cubix for the modern dog | Best Friends Home

If you're looking for something with clean lines and modern styling the Hundehaus Cubix: The Modern Doghouse has clean lines and simple colors. It's open design and use of a large glass door, which are by the way shatterproof, and lets in a lot of light. In addition, the roof is rock solid with built-in water drainage for those extra rainy days. It's made of high-quality wood and weather resistant paint. This home starts at $2,600 USD (1,999 EUR).
Country Living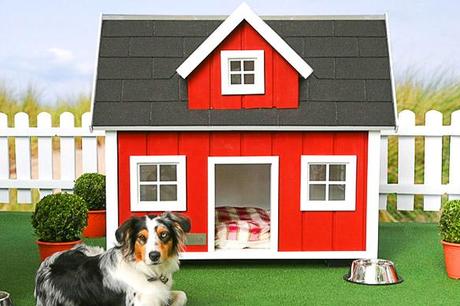 The LÖNNEBERGA dog house brings charm with Scandinavian styling | Best Friends Home

If you're looking for charm and the feeling of home, the Dog House - LÖNNEBERGA is designed for comfort and security. With the appearance of a farmhouse, shatterproof safety glass and spacious accommodations, this home could satisfy the most discerning pooches. Starts at $2,200 USD (1,699 EUR).

Classic Luxury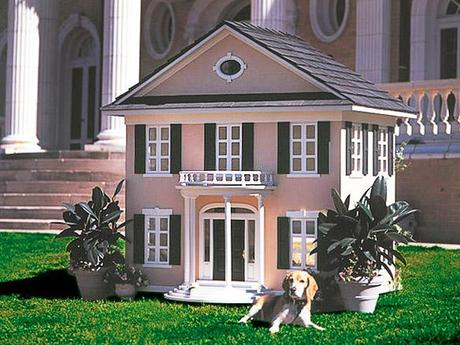 The La Petite Maison designed Celebrity White Colonia dog house | Beyond the Crate
If you're looking for that classic look, this design by La Petite Maison was created to match the owner's home. The Celebrity White Colonial Dog House has running water, air conditioning and heating, along with lighting. This home will set you back $6,100 USD (4,688 EUR).


Fairytale Castle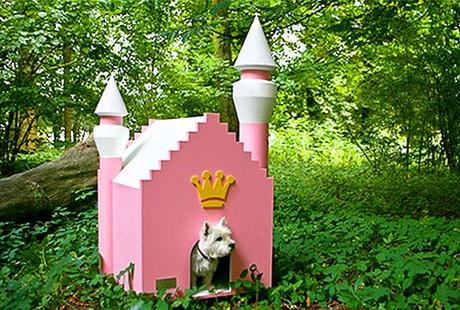 The Fairytale Castle makes dreams come true for dogs | Best Friends Home

Small dogs need to play the prince and princess now and then. This fairytale castle now gives total privacy for that diva in every dog. This home gives that cave-like feel. This one will set you back $2,600 USD (1,999 EUR). 

Royalty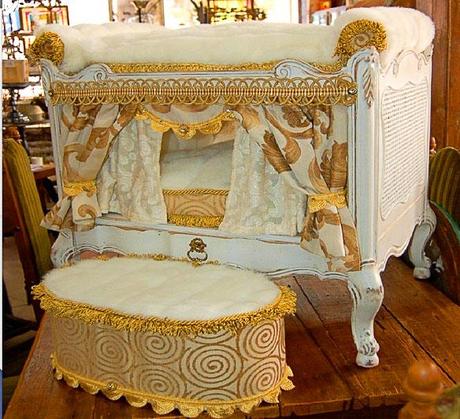 The Norte Palais Doghouse | Beyond the Crate
The Norte Palais Doghouse resembles royalty. With detailed embroidery and luscious fabric, this dog house is the essence of kings and queens. It was custom collection created by Barbara Thulin-Joyce in Arizona. Sold for $3,400 USD (2,614 EUR) and was made from a vintage radio frame antique that was converted into a dog bed. 

The $325,000 Ultimate DOG Mansion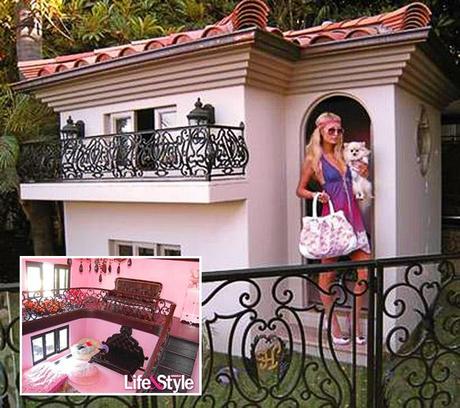 The lavish $325,000 super dog mansion to house Paris Hilton's 6 pooches | Life & Style via Perez Hilton
This 300 sq. ft. dog mansion costs as much as a regular human home, with the astronomical price tag of $325,000 USD (249,807 EUR). Recognize the owner of this mansion? Paris Hilton had this custom home built for her six dogs Tinkerbell, Marilyn Monroe, Prince Baby Bear, Harajuku, Dolce and Prada. The two-story home was built after Hilton's home, "It's a miniature version of my house," Hilton told Life & Style via Perez Hilton. There's even a chandelier in the the dog house, and outfitted with a clay-tile roof and gutters to divert the rain.
SOURCES: Best Friends Home | Beyond the Crate | Life & Style via Perez Hilton