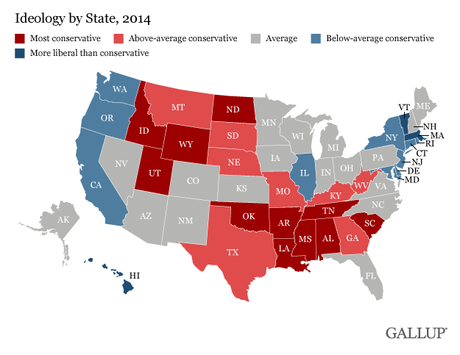 It is just a fact that more people in the United States identify themselves as conservative than say they are liberal. This is because of decades of demonization of the word "liberal". Folks are loathe to call themselves a liberal, even though a majority actually support a whole list of liberal policies -- like raising the minimum wage, protecting Social Security and Medicare, stopping the export of American jobs, taxing the rich more & making corporations pay their fair share, lowering the wealth/income gap, protecting the environment, lowering college costs, allowing gays/lesbians to legally marry, legalizing marijuana, etc.
Still, it can be interesting to see how people self-identify their political leanings. And the Gallup Poll has tried to determine that. They surveyed a random national sample of 177,034 adults between January 2nd and December 30th of 2014 -- and because of the large sample, the survey had a margin of error of only 1 point.
The map above shows the ideology of the states, and the two charts below show the ten most conservative and most liberal states.