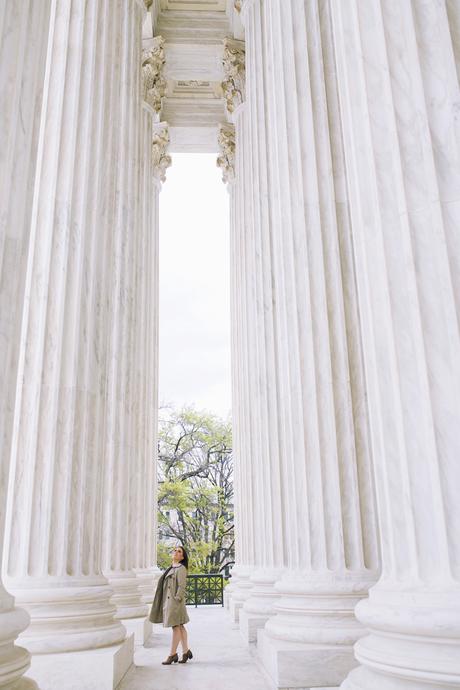 On my second day in DC, my friends Amy, Raquel, and I wanted to hit up some of the most popular and beautiful buildings in America, including one that was near and dear to our hearts - the LDS Temple.
First up was the US Capitol Building which sits precisely in the middle of DC. Our tour guide was an intern from our home state and was so much fun! She taught us all about the ghost cat, made sure we saw the statue that represented our state, showed us the whisper spot, and also took us into the basement of the Capitol building. There we were able to see for ourselves that there really are bathtubs in the basement of the Capitol! Our forefather's used them to clean up after riding long distances to reach the Capitol building, but they're not something everyone gets to see these days, unless you know who to ask... She then let us ride on the underground tram system that takes the important working men and women of our country from building to building so they can avoid the busy streets above.
After the Capitol, we walked over to the Supreme Court building. The outside of this building is probably my favorite, as it has a very Greek feel to it. We didn't take long to walk through though, as our next stop was one we were all anticipating - the Library of Congress! Overall, this is one of, if not the most beautiful building in all of DC. It feels like you've stepped inside a fairytale (very Beauty and the Beast) with it's floor to ceiling bookshelves and towering pillars. Before leaving, and since we were still excited about our tour at the Capitol, we decided to ask if there was anything there in the Library we could do that others often overlook or miss completely. They told us about the kids room, which was at the other end of the building, where the President reads to school children. So we walked down there and spent a good amount of time sitting in the President's rocking chair, reading kids books.
Next it was time to grab some lunch before we made the drive over to the Temple. So we stopped for pizza at We the Pizza, where we enjoyed pizza slices the size of our heads! Then we ended the day by doing some work inside the LDS Temple, which was the perfect end to a fun and exciting day!