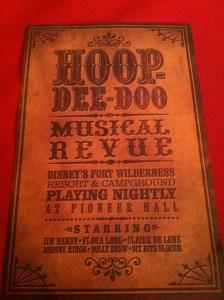 Happy Hump Day!  Luckily this week is going by pretty quickly, which is always fine by me…it just means we are that much closer to the weekend again!
As you know, I've had several blog posts published over this past week over at i.seekissimmee.com.  Unfortunately, they've taken it upon themselves to edit some of my posts, which doesn't make me a happy camper because there edits make my article sound horrible…like something is missing.  It's not as if they did an edit so it flowed well & didn't sound like I left stuff out, as I like to be very detailed.  Well, if you read the "Hoop-Dee-Doo Revue" post, they decided to cut out the second paragraph, which is one of the most important parts of my post on the transportation getting to and from the location.  I know I was a bit nervous because I got several different answers when I was researching the options ourselves, so I wanted to make everyone else's experience a little less worry-some by providing the information regarding the transportation from experiencing it first hand.  You can see the edited post here.   Below is the missing paragraph the way it was supposed to be published regarding the transportation to the show if you'd like it for your reference.
The Hoop-Dee-Doo Revue is held at the Pioneer Hall which is located at Ft. Wilderness Campgrounds.  After talking to several Disney staff at various different places & trying to get an idea of the best mode of transportation because I received different answers from all, we decided not to drive ourselves, but instead we took a bus from the Dolphin & Swan where we were staying directly to Magic Kingdom.  Once at Magic Kingdom, they had a ferry-boat that took us right to Ft. Wilderness.  Now since our dinner show was scheduled around 8:00pm, we wouldn't be getting out until 10:00pm or so, in which the Magic Kingdom was closed, so we wouldn't be able to go back the way we came.  No worries…after the show, they make sure to have about 4 or 5 buses & when you approach you just tell them which of the Disney hotels you are staying or if you're going to Downtown Disney & they will direct you to the correct bus & get you back to where you need to go without a problem!  I honestly was a bit nervous not knowing how the buses worked, but take it from me…it's worry free!
Well, I hope this additional bit of information was helpful to you if you are, in fact, planning to go to the Hoop-Dee-Doo Revue the next time you are on vacation at Disney or just in the Orlando area.  If you have any other questions, feel free to leave a comment below, as I'm always willing to assist if I can!