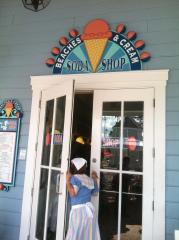 If you're looking for one of the best burgers in town or just hungry for some yummy dessert…Beaches & Cream Soda Shop is the place you'll want to go!  Beaches & Cream Soda Shop is located at Disney's Beach Club Resort, along side of Stormalong Bay.  It's a short walk from The Boardwalk or if you happen to be at Epcot in the World Showcase area, you an take a quick walk or boat ride from the exit between France & the United Kingdom.
Beaches & Cream Soda Shop is adorned in a pastel color palette .  It reminds me of the colors you see if you buy a bag of saltwater taffy.  You'll definitely want to grab a seat early on in the day if you can, as it is a very small place.  It has three booths adorned with beach balls, a handful of white wrought iron tables & then you have a counter running along two wall with plenty of seating there as well.  Of course, there is a juke box right when you walk in as well.  They also have a few tables outside on the sidewalk overlooking Stormalong Bay, if you prefer to sit outside.  The tables are adorable and look like ice cream cones.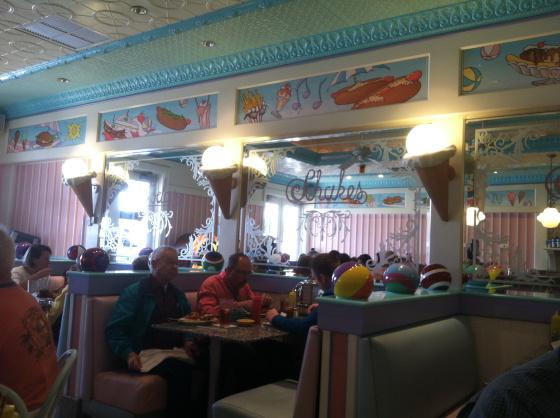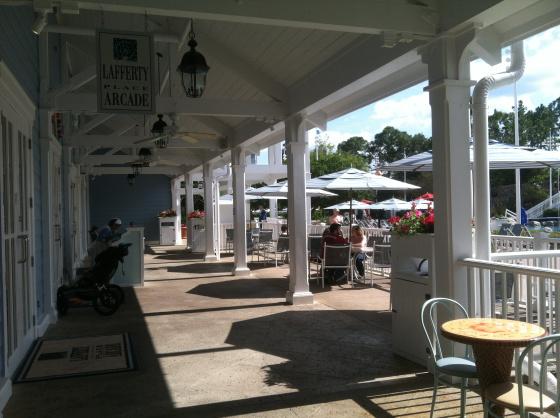 The day I went with my parents, we were lucky and didn't have to wait more than 5 minutes to be seated at one of the tables inside.  We took awhile to look over the menu, but we were all hungry for a good burger, so that's what we all ordered.  Honestly, it's one of the best burgers I've had since moving to Florida.  If I wasn't so hungry for a burger that day, they had the most amazing looking grilled cheese sandwich served along side a cup of tomato soup.  I'll definitely be getting that next time!  They also have hotdogs, chili, & a few other sandwiches to choose from.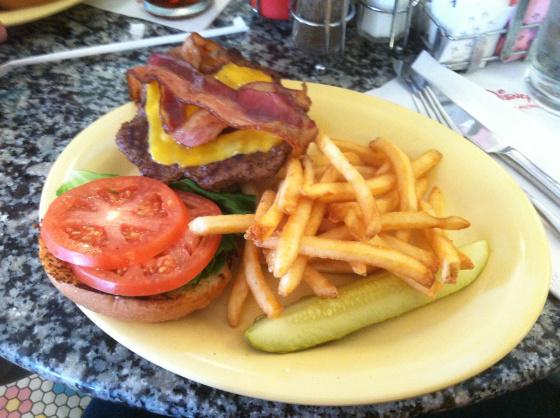 When it was time for dessert, none of us were still that hungry, but it all looked so good as we see order after order of ice cream and shakes being delivered to other tables.  My dad loves a good Chocolate Malt, so that's what he ordered.  Keep in mind, if you order one of the shakes/malts…they serve it up the old fashioned soda shop style way.  They fill up a big glass with the shake or malt and then give you the remainder of what is left in the tin cup it was made in, which is another big cups worth, so you may want to share!  As for my mom and I, we decided to split the strawberry shortcake with fresh strawberries, which was topped with a huge scoop of vanilla bean ice cream and a big 'ol dollop of whipped cream with colored sprinkles.  It was delicious!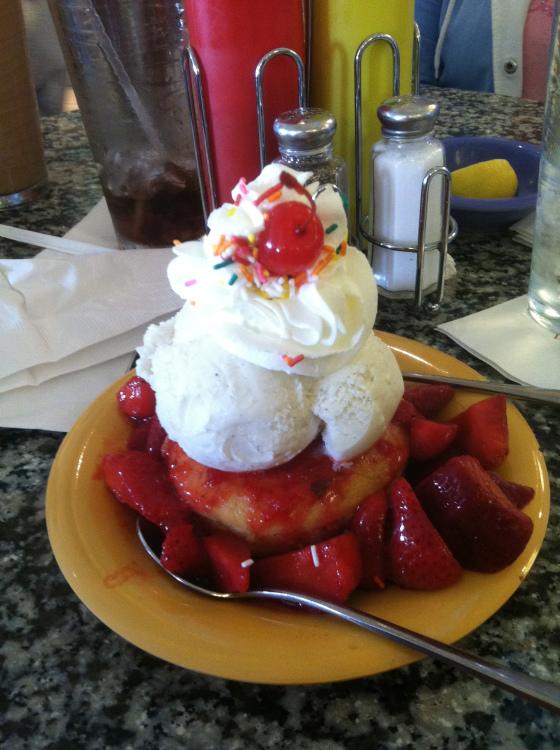 So don't forget about this little hidden secret next time you are out visiting The Boardwalk or lolly gagging around Epcot and you're hungry for some tasty treats!  All of the prices are really reasonable too!  Oh, and if you or your family are big fans of ice cream, you may want to order up one of there most known for deserts….The Kitchen Sink!  If you're able to tackle that beast…congratulations!  It is eight giant scoops of ice cream smothered in about every topping imaginable!