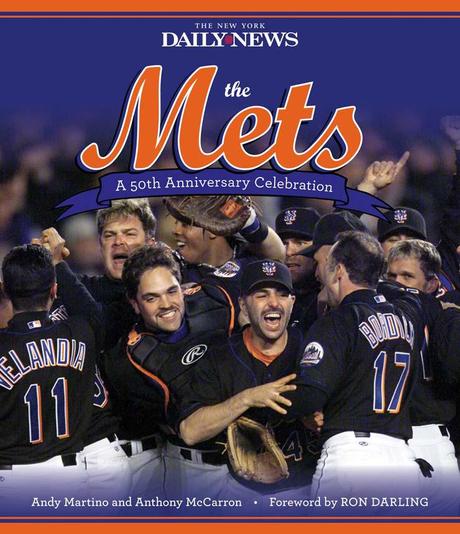 It's going to be a long year at Citi Field this year. Potentially, a VERY long year. Not a single Mets fan I know has any optimism whatever. It could be a year they drop 100 games. It's reminding me a lot of the darkest era in Mets history, the late 1970s.
If you're a fan of the team and want to escape from the team's travails, I recommend you pick up "The Mets: A 50th Anniversary Celebration," a new hardcover coffee table book chronicling the long, strange trip over the last half-century of the Mets. It was produced by the New York Daily News (and features many News headlines over the years involving the club).
The book was written by News sportswriters Andy Martino and Anthony McCarron. The book is divided by the decades, discusses every season and it makes for some fascinating reading, with great inside stories of the team. It features the heroes (Tom Seaver, Gil Hodges, etc.), the villains (M. Donald Grant) and the heroes who became villains (Fred Wilpon). Ron Darling does a terrific forward to the book.
I grew up with the Mets, and we were both born in the same year. Even though I am a dedicated Red Sox fan, the Mets will forever hold a special place in my heart. The first MLB game I ever saw was at Shea Stadium in 1968, and the book brings back the memories I have of Shea so clear.
The book has every facet of Mets history covered, from their birth after the tragic loss of the city's two beloved National League teams, the two World Series championships, the decline and rise in the late 1990s, to the end of Shea and the start of Citi Field.
If you know a devoted Mets fan, you know he or she is going through some tough times with their beloved team. But "The Mets: A 50th Anniversary Celebration" is a terrific walk down memory lane for them, and it will get their minds off what's transpiring now.