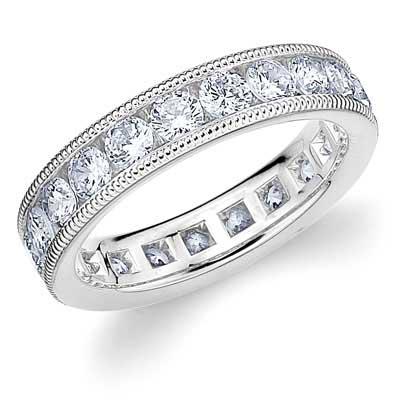 The presence of diamond eternity rings has widely increased over the past few years.  These rings bare many similarities to most rings, the only difference lies in the meaning and significance of eternity wedding bands.  They usually are rings with diamonds that wrap around the entire ring, with bands made of platinum, yellow gold, white gold, or silver.  It is optional to use a stone that isn't a diamond, however diamonds still remain to be the most popular choice.  The only downside to eternity rings is that they are usually not able to be sized; reason to be explained further on.
These rings signify and represent everlasting love and vitality, represented by the endless diamond studded ring.  The strength of the band is meant to represent strong and unending love.  Because the ring itself is meant to represent boundless love, most eternity wedding bands are not sized and cannot be cut once the ring has been made. The reasoning behind this is that a ring representing eternity should not be tampered with.  On a more practical level, eternity rings can't be cut since the ring is made of continuous line of diamonds.
The diamonds itself are also representative of the unending love, faithfulness, and affection a man has for his partner.  Great diamonds are formed under tough conditions.  The process of how diamonds are made symbolize the love that endures even during a couple's rough patches.
Eternity rings are a great choice for wedding bands, anniversary gifts, Christmas gifts, wedding renewals, Valentine's Day, or other special occasions.  The simplistic beauty of the rings enhances the beauty of an engagement ring.  These rings are rather versatile.  Some men give their spouses an eternity ring during different stages of their lives.  The beauty of the eternity ring is suitable for couples in all walks of life.
Older couples find just as much significance in an eternity band as newer couples.  For people who have been married for a long period of time, the eternity ring is a symbolism of all that they have been through and how strong their love for each other still remains.  It is a reminder that their love is an infinite cycle.  No matter what lies ahead, what road bumps may occur, your affection for someone will always come full circle and lead you back to love.  Whether you are just about to get married or you are celebrating your 50th Anniversary, an endless eternity ring could be the perfect gift.
Emily is a writer living in Atlanta.  She is knowledgable on all topics relating to weddings: wedding planning, picking out the perfect wedding band, and different types of eternity rings.  She hopes you enjoyed the article and found it helpful!