I've devoted today to completing the final revisions of the perfect floor plan to my client's home renovation design. The scope of this very exciting project has been known to shift, change and grow over the past few months as we continued to dig deeper into the "true needs" of their busy family life.  Over time we explored various combination's and permutations of space, scale and volume as it related to their lifestyle– and I can now say with confidence I will be presenting them with (what I feel to be) the ideal new floor plan for their charming (yet dated and spatially challenged) Cape Cod styled home.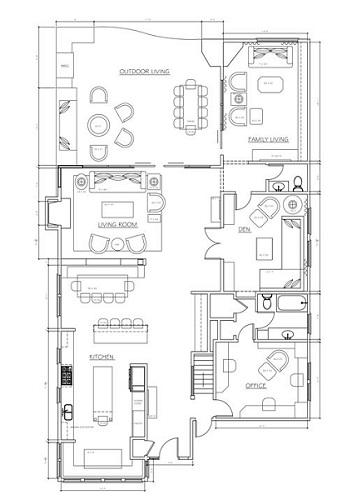 Main Floor – Revisions will include additional square footage off the rear of the home – resulting in the ideal floor plan!
Spatial relationships are extremely important when planning a successful home renovation.  The perfect plan must maintain consistency, uniformity, proportion and flow seamlessly from one space to another – at all times respecting the original architecture of the home.
Creating that perfect floor plan is as unique as each client's design profile – no two clients' needs are exactly alike – and no two home renovation projects are alike.
So it comes down to a simple mathematical equation involving both addition and subtraction:
Adding Square Footage + Subtracting Existing Walls = Spacious Floor Plan
The truth is – older homes tend to be more compartmentalized where one room is isolated from the next and in my client's case, removing existing walls and adding some new space at the front and rear of the home instantly opens up the floor plan and layout – ultimately creating a visual connection from space to space and making the flow of the home more feel more open, accessible and spacious.
Mission accomplished!
Next step – elevations and details!
Stay Inspired!