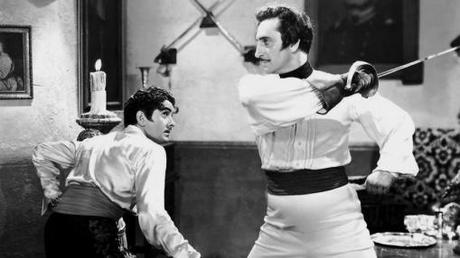 Diego (Tyrone Power) fights a duel to the death with Captain Esteban (Basil Rathbone) in
The Mark of Zorro
(Photo: film.thedigitalfix.com)
Fancy sword-play, above-average horsemanship, dashing derring-do, a fair damsel in distress, padres and peasants in open revolt against their Spanish oppressors — all this, and lovely Linda Darnell, too! These are just some of the fabulous goings-on in this classic Twentieth Century-Fox swashbuckler, a film that defines the adventure genre as few others from that period have.
This sound remake of Douglas Fairbanks and Noah Beery Sr.'s 1920 silent feature is superior entertainment all around. Stylishly helmed by Rouben Mamoulian (Queen Christina and Blood and Sand, which also paired Tyrone Power opposite a saintly Linda Darnell and vampish Rita Hayworth), the director concentrated his efforts on atmosphere and flair, thereby giving the movie a touch of class. In addition, The Mark of Zorro boasts a marvelously memorable, one-of-a-kind music score by one of Hollywood's most decorated film composers, Alfred Newman. Once heard, the main melody will remain with you for days on end.
Poised and handsome leading man Tyrone Power has a field day in the dual role of Don Diego Vega, foppish fool and carefree caballero by day; and the masked bandit Zorro ("an angel with a flaming sword," as described by the excitable Fray Felipe), a devil-may-care swordsman and good-guy avenger by night. The script was adapted from Johnston McCulley's original 1919 story The Curse of Capistrano, with hints of The Scarlet Pimpernel thrown in. Darnell plays the alcalde's young niece, the beautiful Lolita Quintero.
Basil Rathbone takes over for Beery as bad-guy soldier Captain Esteban, who shows off his remarkable fencing skills in a fast-paced duel to the death with the youthful Power (thrillingly choreographed and doubled by Belgian fencing-master Fred Cavens). Ironically, Power died of a heart attack on the set of King Vidor's Solomon and Sheba while filming a sword duel in Madrid, Spain, with the nefarious George Sanders.
Bullfrog-throated Eugene Pallette is the typically harried Fray Felipe, with J. Edward Bromberg as the alcalde Don Luis Quintero, Gale Sondergaard as his fawning wife Inez, right-minded Montagu Love (a silent cinema star in his day) as Don Diego's stern father, Don Alejandro Vega, Janet Beecher as Señora Isabella Vega, and George Regas, Chris Pin-Martin, Frank Puglia, and Pedro de Cordova in minor roles.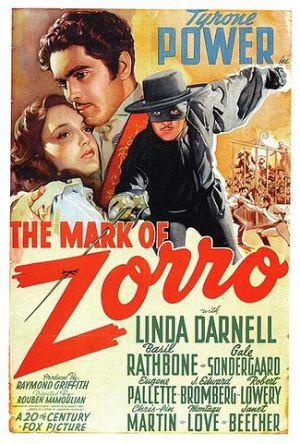 Promotional ad for
The Mark of Zorro
(20th Century-Fox, 1940)
The plot revolves around Don Diego returning to nineteenth-century Southern California after having spent his youth at a military academy in Spain. He finds his hometown in turmoil, thanks to the greedy Don Luis (Bromberg) and the abusive Captain Esteban. Peasants are being provoked and tortured into paying their taxes, while the captain's soldiers run roughshod over the populace. Conferring with his father, the former well-intentioned alcalde, as well as the revenge-seeking friar, Diego realizes he must take action, but decides instead to hide his true intentions in order to operate under cover of darkness.
Slowly but surely, Don Diego hits upon a plan whereby, with the aid of the bellicose padre, he begins to take the town back from the rich overlords by performing daring night raids on their purse-strings — sort of a Spanish-style Robin Hood, if you will. The Robin Hood angle is played to the hilt, with the obvious casting of Rathbone, formerly the malevolent Sir Guy of Gisbourne in Warner Bros.' The Adventures of Robin Hood (1938), as well as the rotund Mr. Pallette, who costarred as Friar Tuck.
In a comparison of the two films, there are many scenes in which the actions of Errol Flynn's upstanding Robin of Locksley are mirrored in Tyrone Power's bandito: his despoiling of the rich to give to those in need; the use of a knife to replace Robin's skill with a bow and arrow in putting up so-called "special notices"; their wooing and winning over of an unconvinced love interest; the climactic sword fight at the end; the revolt of the downtrodden with the aid of a champion do-gooder; and, of course, the many bold escapes.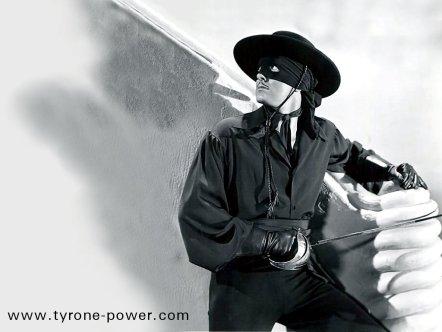 Publicity Shot of Tyrone Power as Zorro (www.tyrone-power.com)
One in particular is especially exhilarating, as Zorro plunges his black Andalusian steed over a bridge and into a stream, while the military takes wild potshots at their form — and missing them both by a mile. In the meantime, Diego throws the suspicious Esteban off the scent by flirting with Don Luis' wife, the social-climbing Doña Inez, while simultaneously attempting to charm the highborn Lolita (and everyone else) with distracting magic tricks. Diego manages to fool even his own parents up to a point, until such time as he reveals himself.
Considered a lightweight when he first came on the movie scene, Power earned praise for his performance as the effete Don Diego and his suavely sophisticated alter ego, Zorro. Power's previous experience in the theater gave him an edge in the way he managed to smoothly switch from one character to the other, never overplaying the dandified aspects to the detriment of Diego's scheme. Viewers should pay close attention to the sequence in which Diego (as Zorro) hides out in Fray Felipe's chapel, while the soldiers are searching the grounds outside. His back-and-forth dialog with the troubled Lolita Quintero, where Zorro's physical features are all-but covered in shadow by a monk's habit and cowl, is wonderfully clear and cleverly delineated by voice and figure alone — Power is especially effective throughout their banter.
The movie was remade for television, in 1974, with an appropriately languid and polished Frank Langella as Diego, villainous Ricardo Montalban as a scowling Captain Esteban, and old standbys Gilbert Roland and Yvonne De Carlo as Diego's parents. There's also a 1975 French adaptation with romantic lead Alain Delon as Zorro and Welshman Stanley Baker. In 1998, The Mask of Zorro appeared, starring the athletically-inclined Antonio Banderas as the man behind the mask, and an equally dexterous Catherine Zeta-Jones as the vivacious female lead (deadly with a rapier), along with Sir Anthony Hopkins as an over-the-hill Diego. Earlier, a spoof of sorts, entitled Zorro, the Gay Blade, was released in 1981, with lounge lizard George Hamilton as both Don Diego and his fey twin brother, Ramon.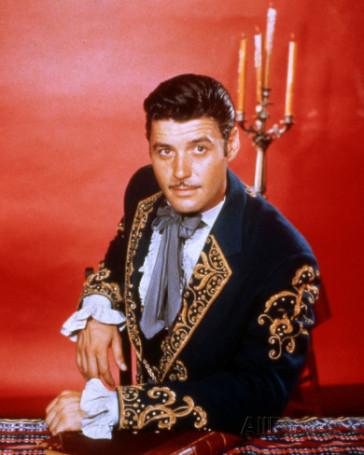 Guy Williams as Don Diego in the Disney TV series
Zorro
(1957-59) (AllPosters.com)
As far as Zorro himself was concerned, most of my generation was heavily weaned on the popular Walt Disney TV series (1957-59), which starred the mustachioed Guy Williams (pre-Lost in Space) as a debonair Don Diego. He basically played the role straight, with no foppish mannerisms or effeminate flourishes within eyeshot. Williams was supported by comic foils Henry Calvin as Sergeant Garcia and Gene Sheldon as the mute servant Bernardo. The TV series was also a haven for veteran bit players Don Diamond (F Troop), Jay Novello, Eduard Franz, and Everett Sloane, as well as fresh faces, including that of ex-Mouseketeer Annette Funicello.
Here's an interesting bit of Hollywood lore: Fred Cavens, who trained Doug Fairbanks, Flynn and Power in their respective parts, also served as Guy Williams' fencing master for Zorro. Power's version, however, is still the best of the breed by a long shot. Sumptuously photographed in gorgeous black and white by Arthur C. Miller, the 1940 film accomplished in 93 minutes what it took the other versions hours to complete, but never quite made the big leagues. A winner in every way!
The Mark of Zorro (1940)
Produced by Raymond Griffith for Darryl F. Zanuck; directed by Rouben Mamoulian; screenplay by John Taintor Foote, adapted by Garrett Fort and Bess Meredyth from the novel The Curse of Capistrano by Johnston McCulley; photographed by Arthur C. Miller; costumes by Travis Banton; music by Alfred Newman; starring Tyrone Power, Linda Darnell, Basil Rathbone, Gale Sondergaard, Eugene Pallette, J. Edward Bromberg, Montagu Love, Janet Beecher, Robert Lowery, Chris-Pin Martin, George Regas, Belle Mitchell, John Bleifer, Frank Puglia, Eugene Borden, and Pedro de  Cordoba. Released by Twentieth Century Fox, 93 minutes.
Copyright © 2016 by Josmar F. Lopes