You guys know I like to be cheap, preferably without it LOOKING cheap. It can be a fine line sometimes and I can't guarantee I've always been on the right side of that line, but I certainly try :)
One of those cheap but amazing crafting materials I've used for impact without the price tag is contact paper. And when you feel like a change you just peel it off and start over! 
Many of you remember my fridge makeover (and if you don't you should definitely check it out).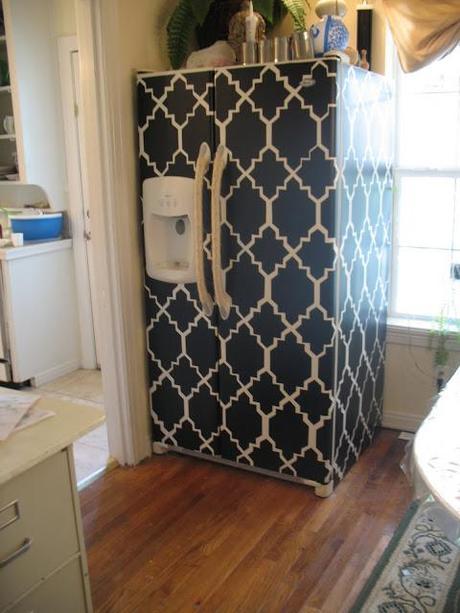 Yup, that's all contact paper. And it's still going strong now 2 years later, looks just like it did when I first did it (minus a few scrapes inflicted by violent kids with sharp weapons). I could replace the scraped ones but I haven't bothered because they're barely visible, and the kids still live with us.
Well, recently I came across someone who'd done the same thing on a door window pane with transparent contact paper for a frosted look. Genius! I should have thought of that one but sadly I didn't. Didn't stop me from promptly copying the idea :)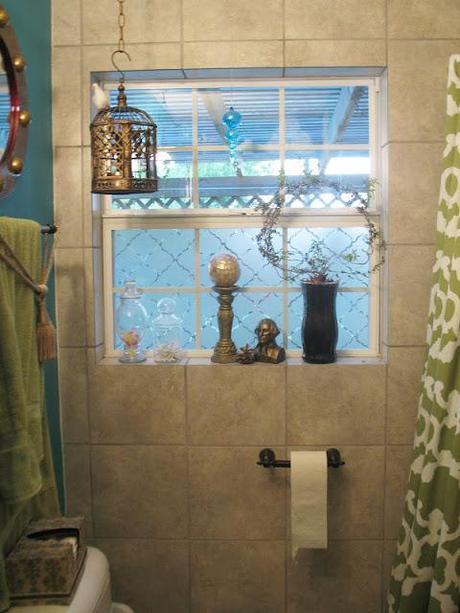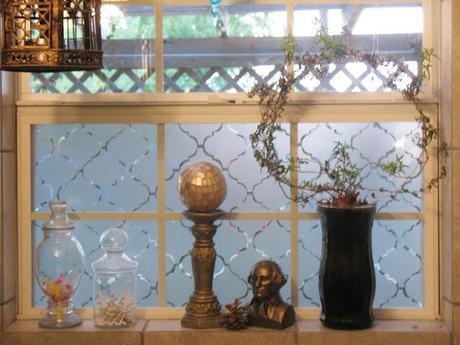 I used her template because it was easier than hunting one down on the internet and I'm very happy with the result. The process was the same as for the fridge.
Before.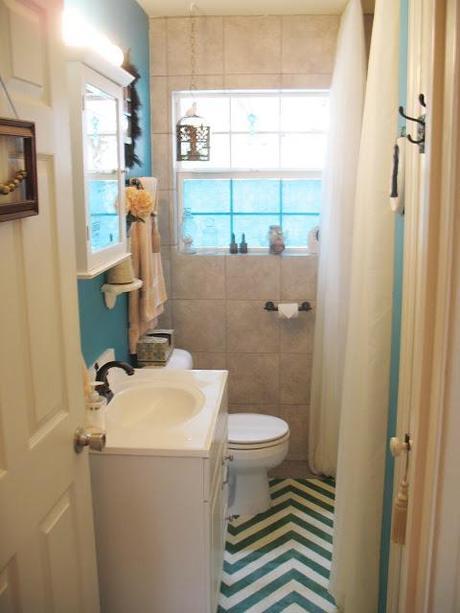 This is the best pic I have of the before and it's hard to tell but I had a turquoise piece of knit fabric starched to the window for privacy. I liked the look OK but the frosted pattern looks more "professional", if you know what I mean :) I love that you can still wipe the window down with this frosted contact paper treatment which you can't do with frosted spray paint.
Purely by accident I also learned you can use matte black contact paper for a chalkboard surface. I know they have special contact paper for that but there's really no need to order specialty paper online since the regular matte paper works perfectly well.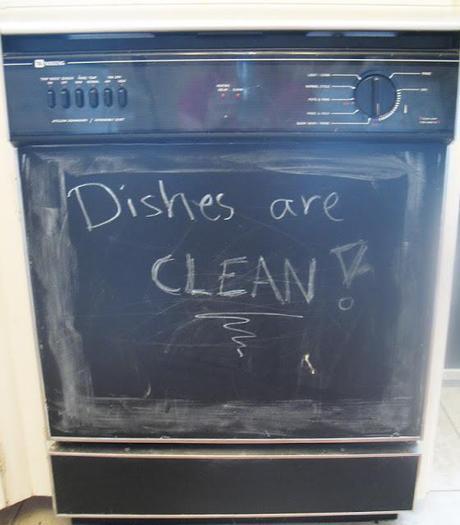 Case in point. This is our formerly aged white plastic front dishwasher covered in said matte contact paper. The dishwasher works perfectly well even if it looks as old as Methuselah so this was a quick fix. This has been up for, oh, I would say about a year? The kids use it all the time.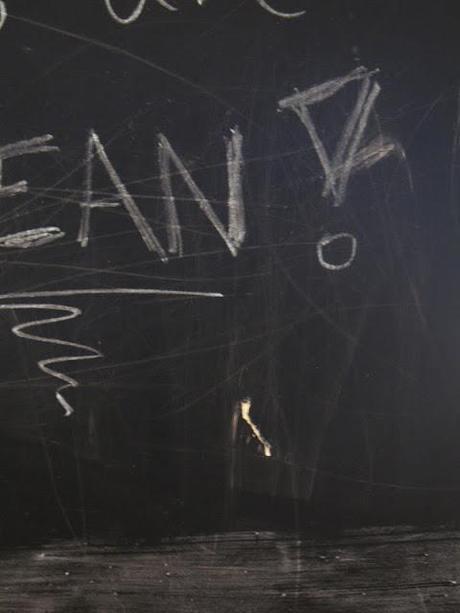 Their over enthusiasm has caused a rip in the contact paper and there's also some scratch marks so it's really time to replace the contact paper here. But that will be quick and free since I still have more contact paper on my roll. (The fact that we use chalk meant for sidewalks could have something to do with the scratch marks as well).
If you look beyond the fridge into the kitchen you see the dishwasher in it's virgin state.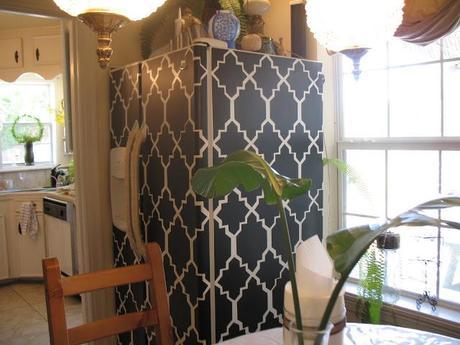 So after discovering contact paper's chalkboard abilities I started having fun with my kitchen glass ware.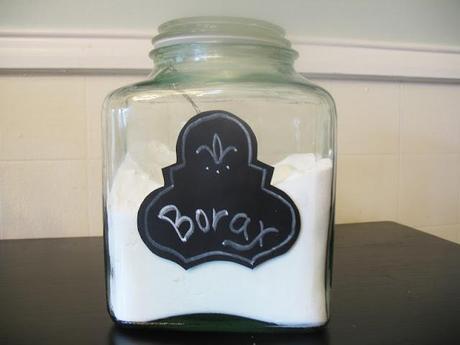 Various glass containers collected at thrift stores, filled with the essentials of laundry and cooking.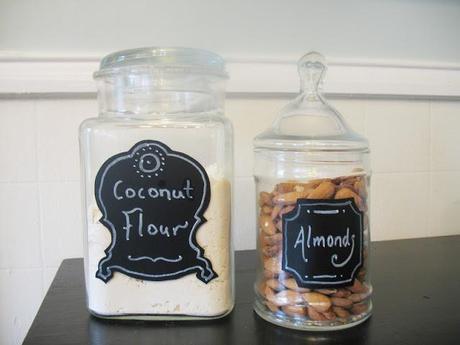 I found vintage labels online, printed them out on paper and copied their shapes onto contact paper and stuck them on my containers. Some lettering and doodling with a chalk pen and I have custom erasable labels in a vintage style.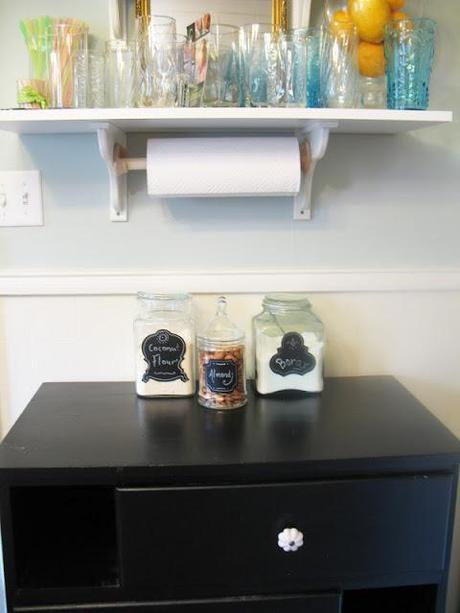 I've also used this method for making custom labels to stick on gift bags, etc. I'm planning on making tie-on tags with stiff card and this contact paper to mark contents in various baskets around the house.
And finally. When I was tired of our dining room feeling dark and unfinished I added a chair rail in white contact paper cut into strips and adhered to the wall.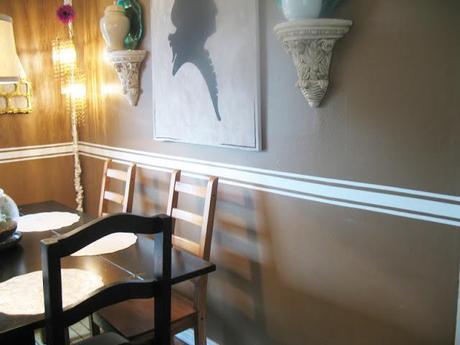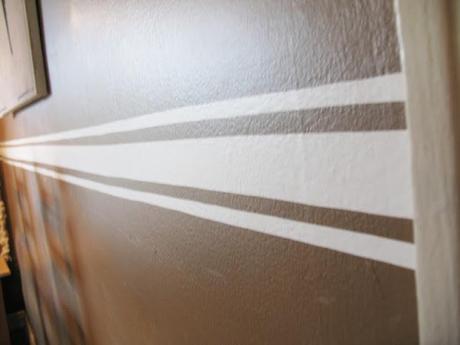 It's been up for almost a year already but I'm almost certain this is going to be a temporary solution. When I've finally gotten the curtain up in here and pillows added and the floor cloth repainted I think this room will feel more put together and the chair rail won't be needed anymore. But we'll see, I guess :)
Here's the dining room without the chair rail.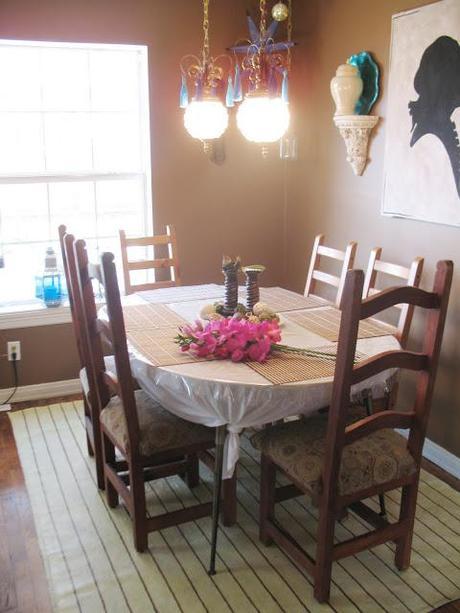 That's all I've come up with so far, as far as using contact paper in home decorating. Isn't it cool what you can do with such a cheap and easily available material, though? And it looks good (although that could be one of those "in the eye of the beholder" kind of things, I guess). Do you have any great ideas of how to use contact paper in the home? I would love to hear them!