You know how they say one person's pain is another person's gain? Or something to that effect, at least.
Well, someone tore down the little abandoned house next door to us and I'm sure someone, somewhere must have lost some money on that.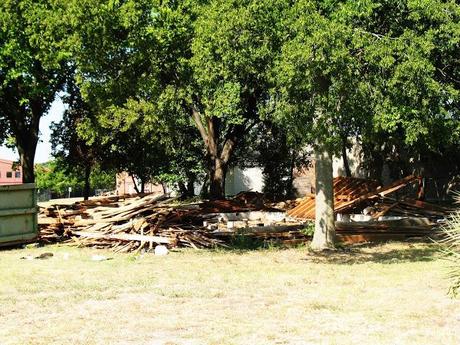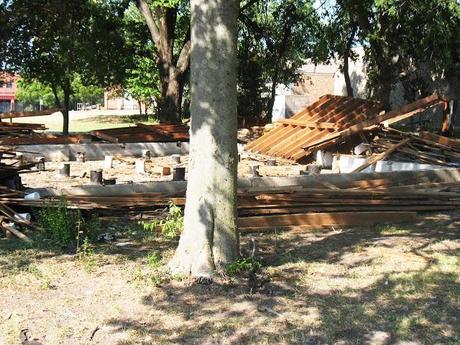 They've been working on this off and on for a few weeks. And I've been eyeing these piles of perfectly usable wood destined for the dump. I finally decided to adopt a few.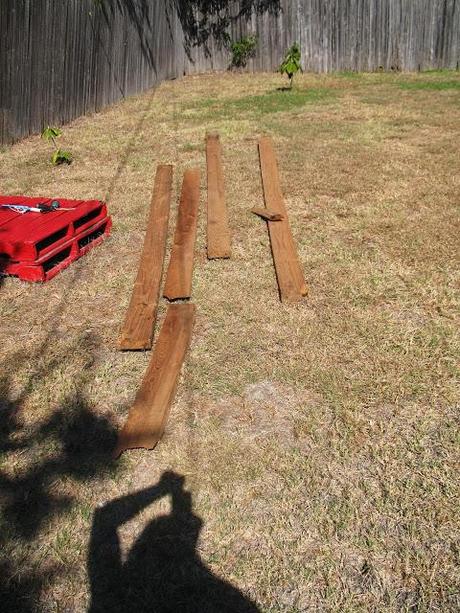 Can you tell we're thirsty for water over here? Oy, keeping a garden alive in a drought is very ungrateful work, I tell you.
My gain - free wood. These are just the leftovers. But I used about 7 of these 2x6x10 studs with plenty of imperfections character to them, such as cracks, old nail holes and the occasional rusted nail that I just could not get out and decided to hammer into the wood instead. More character :)
 I didn't take any step by step pics of the construction because, honestly, I was just trying to not succumb to heat stroke or dehydration while working on these in our non-air conditioned garage in 100+ degree heat. I lived to tell the tale of how horrible those working conditions were. But at least I got some kinda cool, rustic, custom shelves from it and that makes it worth the effort.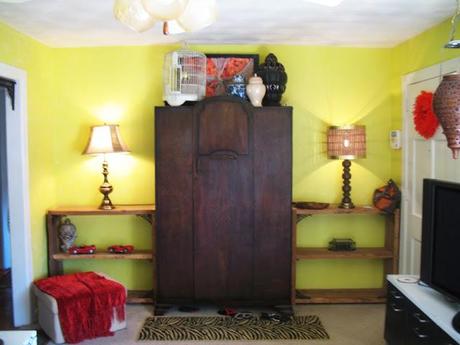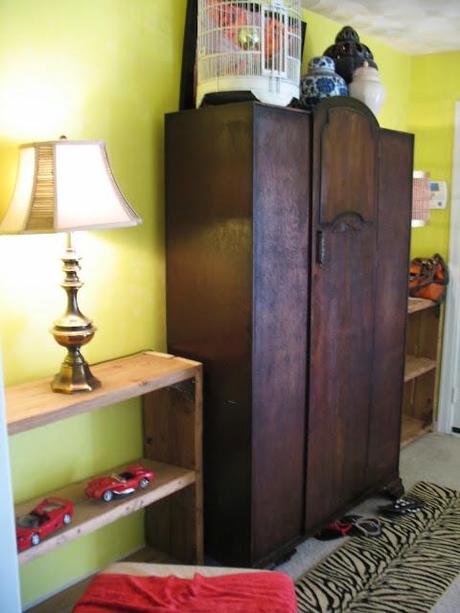 I just used some random lamps that I scrounged from around the house here. My whole thought with these shelves was to put a pair of coordinating lamps on the shelves to bring some much needed light to this dark corner of our living room/entry way.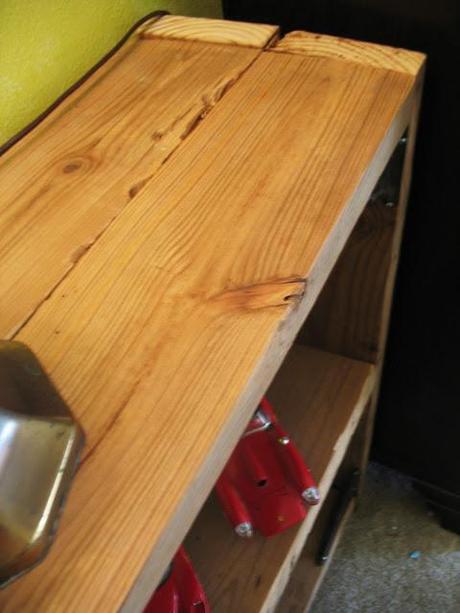 I left all the imperfections as they were, I only sanded them a little bit to take most of the splinters off.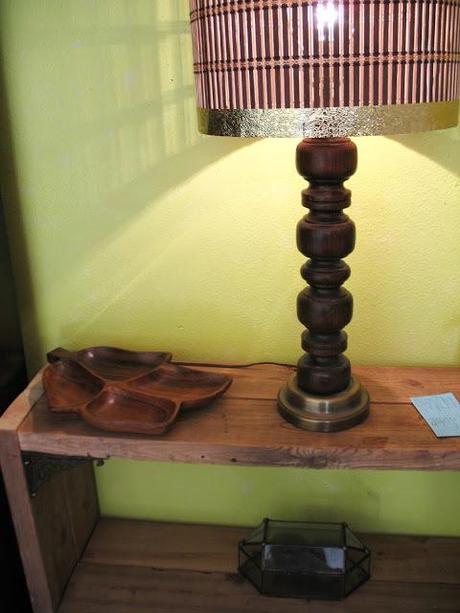 It's a little hard to see here but I used these little reproduction metal brackets in the corners that I picked up at an antiques store months ago with the thought of making some kind of shelves like these.
Along with the light came some extra storage space and when have you ever complained that you had too much storage? Never, I'd guess. I intend to fashion some kind of baskets for the bottom shelves to store things like hats and mittens and other little things you might not necessarily want to look at every day but that are oh so needed at times. This armoire between the shelves holds all our shoes and various other small items that often find themselves trying to multiply and escape their enclosures. So I think the baskets will help that situation.
Since these shelves are so rustic and I'm not really going for a full-blown farmhouse feel in here but more of an eclectic mishmash of all the things I like with what I would hope is some sort of chic twist to it, I decided that the permanent lamps for this spot needed to be more modern in style and shape.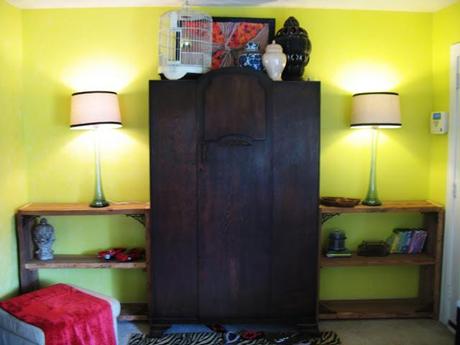 So here's what I came up with. I used these thrifted tall blue glass vases that I've had around for awhile, added some beat-up clearance shades from Target and a bottle lamp kit, and some bits of leftover drop cloth fabric and black grosgrain ribbon to cover the shades with. Looks pretty good, I think.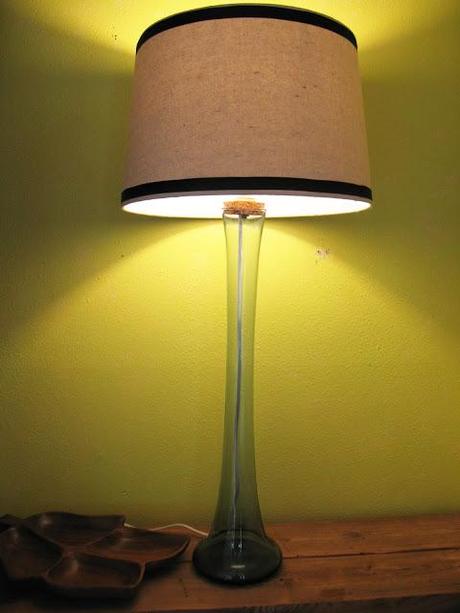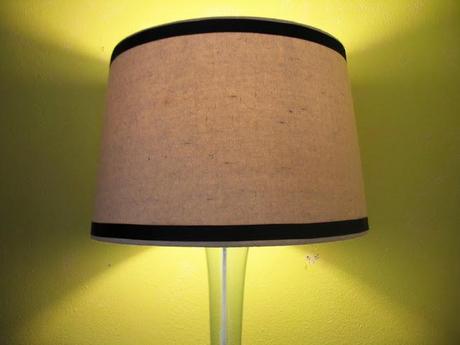 You certainly wouldn't guess these shades only cost me about $7 each.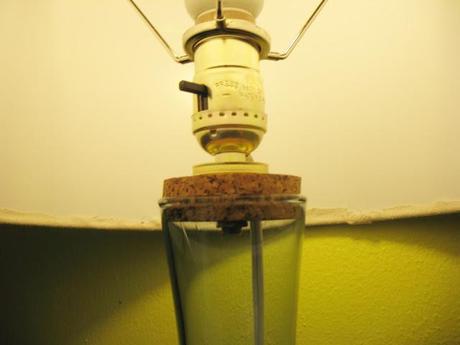 Here's how the lamp kit is attached to the vase tops. Cork. I got the idea after seeing the same set up on a few glass lamps I spotted in stores. I could have ordered corks of the right dimensions online, or driven all over town trying to find something like it locally. I decided to cut little circles of the right size from my broken cork pot holders. A quick fix and a secure hold for my kit/shades. Perfect.
Here's a previous incarnation of this wall.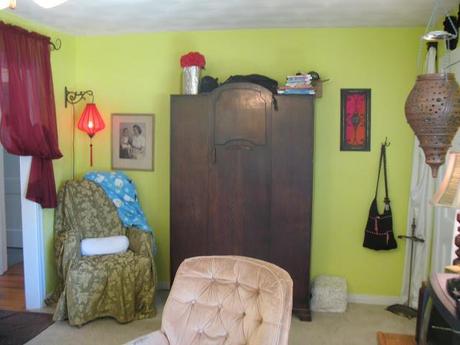 And the after again.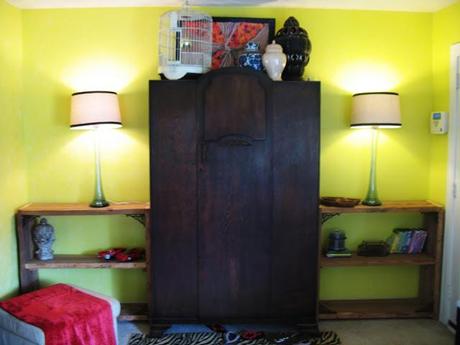 Since I'm thinking re-sale these days I'm thinking this wall color will change to a more muted blue-gray, light enough to contrast with dark woods etc but still dark enough to pop against whites. Accented by blues and yellows. And maybe some mirrors behind these lamps?