TAKEAWAY:  It's a lesson a day, or two or three, when it comes to creating apps.  Part of the excitement of creating and designing tablet apps is the challenge of facing a high learning curve.  Joe Zeff, one of the most active app creators, shares the lessons he has learned.


I keep drawing the analogy of the tablet, which is barely two years old, and toddlers in that same age group: unruly, too full of energy that runs in the right and wrong directions, curiously active and in need of constant supervision.
I have spent three days of the Memorial Day Weekend in the company of my grandkids, but especially close to Daniel, who is turning 2 on June 2.  So I have it pretty fresh in my mind what it takes to chase a two year old for hours.
For those of us creating tablet apps, the chase is on, the high learning curve gets higher all the time, and we do a lot of work based on intuition.
In the process, many lessons are learned.
My friend and colleague, Joe Zeff, who has probably developed more tablet apps than anybody else I know personally, has summarized the "lessons learned" into a wonderful, must read blog post.

Joe outlines eight lessons he and his team have learned as they have worked on such apps as Fast Company, PC Magazine, TIME 9/11 App, The Final Hours of Portal 2, among others.
Of the eight lessons, all of which deserve our consideration, there is one that stands out for me and matches my own experience:
Design for the tablet. It's not enough to make content attractive. The designer's job is to put the user in control of their experience, providing ways to interact with content beyond simply reading words and looking at pictures. That said, don't overdo it — gratuitous interactivity impedes comprehension and burdens apps with unnecessary bulk. Navigation should be obvious, with clear signals as to where to tap and when to swipe. If using Adobe DPS, learn its basic functions — multistate objects, slideshows, image sequences, scrollable content, web views and buttons — and use them to deliver content experiences that are much more active than passive.
One question for Joe Zeff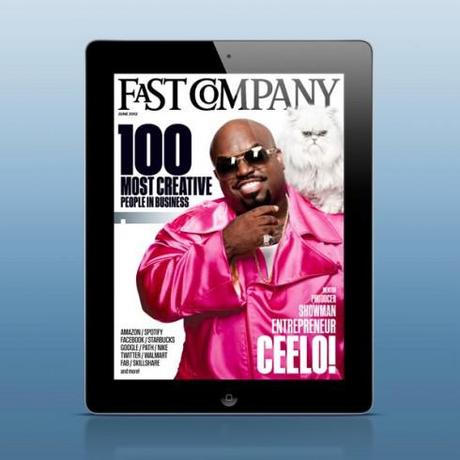 Current edition of the Fast Company app
As soon as I read Joe's blog entry and his list of lessons learned, I emailed him with a question of my own:

Mario: Which of the lessons you list is the one you find the most difficult for you and the team to follow yourselves, and to convince your clients to follow?
Joe:
That's an easy one, Mario. It's so easy to overdo things when it comes to interactivity — animation for the sake of animation. Just because we can do something doesn't mean we should. The most recent Fast Company cover is a good example. We started with flying headlines and sliding color bars and glimmering jewelry. Everything was moving, even CeeLo himself. It was over the top, and we wisely pulled back. In the end, CeeLo's ring flashes with a subtle bling tone. Less is more, just as it was in print.
I like that, Joe. Maybe you and your team will turn it into a digital poster that we can use as screen savers: Less is more, just as it was in print.
A thought that brings to mind an old saying from a long gone art director who used to remind her designers:
Honey, don't wear all your jewelry to the prom, there will be another prom next year.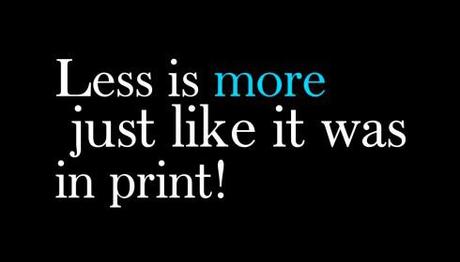 My own lessons

One year after the iPad first appeared, I spoke to a WoodWing group in Amsterdam, and cited 17 lessons I had learned in creating tablet apps.
My lesson 3 matches Joe Zeff's above:
The tablet is a platform that must be conceptualized to accommodate its uniqueness
See my post with all lessons here:
http://garciamedia.com/blog/articles/17_lessons_learned_during_one_year_creating_news_ipad_apps/
More recently, in Vienna, at a presentation for the WAN IFRA 63rd World Newspaper Congress, my talk was about ten lessons learned about news app creation.
Lesson #6 still resonates strongly with me:
Make it sophisticatedly simple
For a blog post on that presentation:
http://garciamedia.com/blog/articles/main_emphasis_for_my_presentation_today/
I am sure many more lessons will come along as we continue to fine tune our work with apps.  Like those two year old toddlers who open every drawer and push every door, we must be curious enough to explore all that the tablet can do. That is the fun and challenging part.
The iPad Design Lab: Storytelling in the Age of the Tablet
Video walkthrough of the iPad prototype of iPad Design Lab