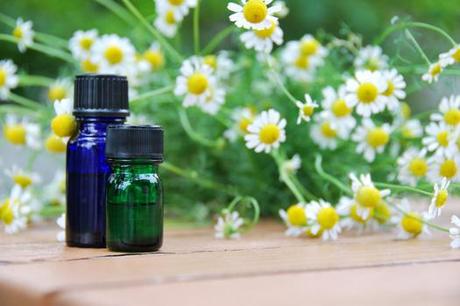 The chamomile is a beautiful and fragrant group of plants and flowers that closely resembles the cheerful daisy. Chamomile has several species – some can be used as the popular herbal tea, while others are not edible and are mainly used for aromatherapy or beauty related purposes.
The wild chamomile variant, or Matricaria recutita, is used for the aforementioned tea. Drinking chamomile tea provides an increase of glycine in urine, which relieves muscle spasms and is widely known as a muscle relaxant. It can also relieve anxiety and insomnia.
The German variant of chamomile (Matricaria chamomilla ) has a honey-like scent. Roman Chamomile (Anthemis nobilis ) oils have a fresher and fruitier fragrance than their German counterparts.  Both versions, as well as their essential oils, share many of the same characteristics. They're antibiotic, antiseptic, analgesic and can lift moods. Chamomile can also help to eliminate acne and purify pores.
Chamomile is a very effective calming agent, as its scent is universally known to be soothing, relaxing and rivals lavender for its calming effects. If you're feeling tense, stressed or just need to wind down, try these fun DIY chamomile recipes and take a load off!
Chamomile Hair Lightener
Source: Tipking
  2 cups water
  2 cups chamomile tea
  1 tablespoon of parsley
  1 tablespoon of lemon juice
Boil all the ingredients and let it simmer for 15 mins. Strain out the tea bags and parsley (make sure to remove all of the parsley) and let it sit till room temperature. Poor on to hair over a sink and rinse two or three times.
Chamomile Astringent for Acne
2 cups distilled water
1 tablespoon yarrow
1 tablespoon chamomile flowers
6 drops rosemary essential oil
In a small saucepan, bring the water to a boil. Remove from heat and add the herbs, cover ans steep for 30 minutes. Add the essential oil, stir and drain. Pour finished product into storage containers and shake well. Follow with moisturizer after use. Refrigerate for up to 1 week, then discard.
Use a cotton pad and 1 teaspoon for your face, or more for your shoulders, back or chest blemishes. Avoid the eye area.
Calming Chamomile Face Wash
Source: Natural Beauty Workshop
1 teaspoon Rice Powder, Fine
1 teaspoon Chamomile Flower Powder
1 teaspoon White Kaolin
1 teaspoon Green Tea Extract
1/2 teaspoon Royal Jelly Extract
1 tablespoon Liquid Castile Soap
2 teaspoons Bee's Milk
1/2 teaspoon Glycerin
10 – 12 drops Roman Chamomile Essential Oil
Mix the dry ingredients together in a small mixing bowl.  Mix the liquid ingredients together in a separate mixing bowl.  Package both parts individually, or mix ingredients all together for immediate use.
All ingredients can be purchased at From Nature with Love.
Herbal Vinegar Hair Rinse 
Source: Natural Beauty Workshop
4 ounces of Organic Apple Cider Vinegar
2 ounces of distilled water
1 ounce of Organic Rosemary Hydrosol
1 ounce of Organic Roman Chamomile Hydrosol
1/8 teaspoon of Oat Straw Extract 10:1
1/4 teaspoon of Burdock Root Extract 4:1
In a small bowl, mix both powdered extracts with 2 ounces of warm water. Stir well until the powder has dissolved completely. Using a funnel or a very steady hand, pour the water into a clean, sterile, 8 ounce bottle. Next, add 1 ounce of each hydrosol, then 4 ounces of Organic Apple Cider Vinegar. Close the bottle and shake well.
All ingredients can be purchased at From Nature with Love.
A Simple Way to Relax with Chamomile
What's the easiest, fastest way to relax with chamomile, as well as reduce puffy, stressed eyes? Use chamomile tea bags! Pour boiling water over two organic chamomile tea bags, Let them cool, and then chill them in the fridge. When you're ready to use them, squeeze out the excess water, lie down, and place them over your eyes. Relax for about 15-20 minutes.