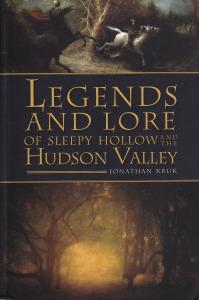 One of my doctoral advisers, Nick Wyatt, has become a friend over the years. I'm sure he would agree that he is often called a maverick, but in the best possible way. He is one of the brightest people I've ever known. When it was time for his Festschrift to appear, I had been unceremoniously tipped out of academia and left to my own devices. Being his first doctoral student, I had to contribute a piece, and so I settled on one I had written about an Edinburgh ghost story that seems to have roots in ancient Sumer.  Nick is the kind of scholar who can appreciate such ventures. This paper came to mind while reading Legends and Lore of Sleepy Hollow and the Hudson Valley by Jonathan Kruk.  Kruk labels himself a storyteller, and that was a venerable role in ancient times.  In fact it was a priestly one.  Kruk draws out the many tales of headless horsemen and other spirits mentioned in Washington Irving's "Legend of Sleepy Hollow." Nothing is proven here, but that's not the point.
Headless ghosts were a staple of nineteenth-century lore not only in the Hudson Valley, but also in Scotland and Germany, as well as in many other locations.  How a spirit became decapitated is generally part of the draw to such ghoulish stories, and Kruk convincingly points to the tradition of the Wild Hunt as an element in Ichabod Crane's famous ride.  The point is that stories often contain a truth that facts can't match.  Case in point: the legend of Sleepy Hollow is alive and well. There have been periods, and will likely be more periods, when interest wanes, but we keep coming back to the story because it teaches us something about ourselves.  Empiricism is all fine and good until you find yourself facing a headless phantom on a nighttime highway.  Experience all of a sudden takes the wheel.
What does this have to do with Professor Wyatt?  My Festschrift article was reviewed, at a much earlier stage, by the journal Folklore.  I received a very sniffy rejection letter, citing, among other scholarly infractions, that I had referred to a popular publication (say it isn't so!) as a source of the Edinburgh ghost story text. Where else was I to find it?  What scholar would bother to replicate an obviously—let's just say it—uneducated tale?  Isn't it beneath scholarly dignity? The stories we tell, I've always believed, make us who we are. It may be that materialists will have the last laugh.  When they are carted to the graveyard, however, I can guarantee that there will those among the common mourners who will be able to make a believable tale that their lives meant something after all.