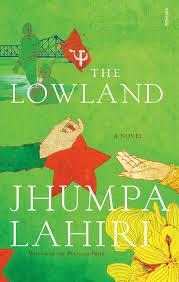 Growing up in Calcutta, born just fifteen months apart, Subhash and Udayan Mitra are inseparable brothers, one often mistaken for the other. But they are also opposites, with gravely different futures ahead of them.

It is the 1960s, and Udayan–charismatic and impulsive–finds himself drawn to the Naxalite movement, a rebellion waged to eradicate inequity and poverty: he will give everything, risk all, for what he believes. Subhash, the dutiful son, does not share his brother's political passion; he leaves home to pursue a life of scientific research in a quiet, coastal corner of America.

But when Subhash learns what happened to his brother in the lowland outside their family's home, he comes back to India, hoping to pick up the pieces of a shattered family, and to heal the wounds Udayan left behind–including those seared in the heart of his brother's wife.

~ Synopsis from GoodReads
I read this book prepared not to like it very much. I wasn't a big fan of The Namesake her first full-length novel, and I was generally a little bored with the Bengalis in America motif that is always present in her books. I finally decided to read it because it was shortlisted for the Man Booker Prize in 2013, and I almost always find something to appreciate in the books that make it to the shortlist.
In spite of all my misgivings, I ended up liking no loving this book. I found it really engrossing, and just couldn't stop reading it. I took it with me and read the book everywhere I went marking out passages that really called out to me.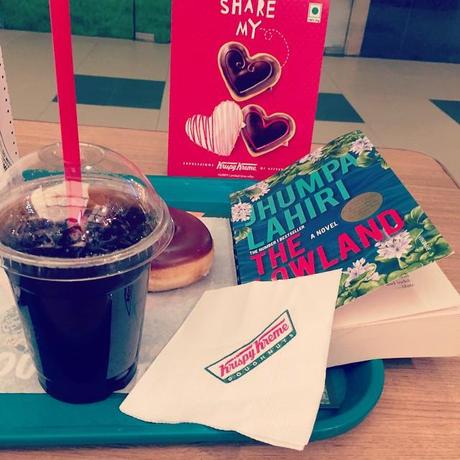 I was reading it at the local Krispy Kreme's for heaven's sake, it was buzzing with people, but I had no issues focusing on the book at all.
Reading that above paragraph may give you the impression that this is a plot-driven book. Not so, it's a very leisurely read, one of those books that go from childhood to old age of a few people's lives, and not a lot happens in huge sections of the book.
But what gripped me throughout was the internal thoughts of the main characters, and the beautiful, absolutely beautiful writing. Lahiri writes the most lyrical, beautiful sounding prose and even if I don't always like her stories and plot points, I do love the way she writes in general.
The plot of The Lowland though was a little disappointing. I have mentioned in the past that I didn't think much of the book synopsis. It sounded like bits and pieces of different stories that I have already read or watched rolled up into one book. And after reading this book, I still stand by my opinion that as far as plots go, it is quite derivative. Parts of this book reminded me of 70s Hindi movies such as Deewar and Silsila. Another part reminded me of Julianne Moore in The Hours. Another line was eerily similar to something Salman Rushdie had penned and which I have actually noted in an old Teaser Tuesday post.
Here's what Salman Rushdie wrote in Midnight's Children more than 30 years ago:
And perhaps it did; time, in my experience, has been as variable and inconstant as Bombay's electric power supply…Unless we're the ones who are wrong…no people who's word for 'yesterday' is the same as their word for 'tomorrow' can be said to have a firm grip on the time.
And here's what Jhumpa Lahiri wrote 2 years ago:
It was the English word she used. It was in English that the past was unilateral; in Bengali, the word for yesterday, kal, was also the word for tomorrow. In Bengali one needed an adjective, or relied on the tense of a verb, to distinguish what had already happened from what would be.
Very similar thoughts, right?
So, I was a bit disappointed with how familiar some parts of the book sounded. But these moments of déjà vu soon evaporated as I settled into the story.
I love how Lahiri explored Calcutta in this book. I felt like she had plunged me right into the heart of Calcutta in the 1960s and 70s and bang in the middle of the Naxalite movement. I am not a very political person but I really enjoyed reading these portions of the book.
It's when the story moves to America that Lahiri struggles a little. Frankly, very little happens after Subhash and Gauri (Udayan's wife) come to America and the story descends into suburban dullness. But again, Lahiri's introspective and moody writing make a dull story very, very readable.
One minor sub-plot really felt out-of-place though. One of the characters in the book has a homosexual experience. Now that is something I am generally comfortable with reading about and have no issues with it whatsoever. But in this book, it just felt so tacky (and so untrue to that character), added on just to make this person sound a little more interesting and out-of-the-box. Again I was really disappointed that Lahiri chose to take this story down this totally unnecessary path.
So, yes, this story has plenty of flaws but when the writing is this good, I found myself ignoring the slow and predictable plot, and just enjoying it for the writing alone. I definitely enjoyed it much more than I expected to, and if you are ambivalent about the book like I was, do give it a try. It's very easy to read and moving. You just might find yourself loving the book too.
To me, Jhumpa Lahiri's writing just keeps getting better with each book she writes, I just wish she would be more experimental with her plots and characters. Have you read The Lowland? What did you think of the plot?
After reading this book, I am really keen on reading The Lives of Others by Neel Mukherjee. This is another Man Booker shortlisted book on a very similar theme – the Naxalite movement.
Huge thanks to Penguin Random House for sending me a copy of this book for review consideration.

You can also purchase a copy of this book from Amazon