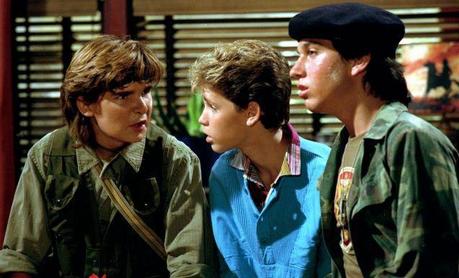 Starring: Corey Haim, Jason Patric, Kiefer Sutherland, Corey Feldman, Dianne Wiest, Edward Hermann, Jamie Gertz
Directed by: Joel Schumacher
Synopsis: After moving to a new town, two brothers are convinced that the area is frequented by vampires.
Easily one of my favorite movies of all time, The Lost Boys captures everything that is great about those teen-oriented movies of the eighties. Iconic leading men (kids)? Check. Good soundtrack? Check. Endlessly quotable? Check. Dodgy haircuts and clothes? Check. Corey Feldman? Check.
Right from the opening bars of The Doors' track "People Are Strange" (here covered by Echo and the Bunnymen) I was hooked. The film had a few scares and much dark humor through out. It was, to me, the Goonies with added blood, gore, fangs and attitude.
The film tells the story of Sam (Corey Haim) and his older brother Michael (Jason Patric) who are forced to move, with their Mum (Dianne Weist) to live with their Grandad in Santa Clara, with an apparent high suicide rate, much to their disgust. Upon taking a walk along the boardwalk, Michael gets mixed up with some youths led by David (Kiefer Sutherland). Sam meets the Frog Brothers (Feldman and Jamison Newlander) in a comic book store, who proceed to tell him all about the local vampire population of Santa Clara, and their mom gets a job working for nice guy Max at the local video store. Obviously not is all as it seems, and that lays the basis for the rest of this fun filled, gore ridden movie.
First up, you can see why Corey Haim was the darling of, well, just about everyone back in the Eighties. He was the precursor to Macauley Culkin, and a real charm in this film. He is ably backed up by that perennial eighties go-to Corey Feldman and other legends of the decade including Kiefer Sutherland. Jason Patric plays the moody and mysterious older brother well. Kiefer is good as the charismatic leader David. Dianne Wiest is probably given the weakest part but to be honest, she features fairly infrequently.
There are some classic scenes and lines in this film, that have been quoted a million times, not least the last classic line from the Grandad played by Barnard Hughes. The soundtrack, featuring the likes of INXS, Roger Daltrey, Gerard McMann and the previously mentioned Bunnymen is also iconic.
The critical opinion of The Lost Boys, although mostly positive is that it was largely style over substance and a bit like one long MTV video. I know it was made in the late eighties when MTV was huge, but I think that is doing the film a real disservice. Maybe because I grew up watching it as a kid I have an unrealistic view of it but I don't know anyone who has seen this who has come back to me and said "nah, not for me".
When it comes to vampire flicks, you can keep all of them. I would happily watch The Lost Boys and it's charming mix of horror and adventure, camp and class all day long. If you want to watch a film, like Twilight that's a little po-faced then avoid The Lost Boys. The best thing about it is that it never takes itself too seriously, thus ruining the fun of the viewer.