No two runs are ever the same.
I may run the same route over and over again but each time I run it different things happen. Sure the basics are the same - I know where each hill and dale is. I know where I'll be running along the river. Or around a pond. Or past shops - where I can see my reflection in the windows and remind myself that I really don't look anything like the Kenyan that exists in my imagination. I know that if I run to the university I'll most likely see my Greek friend who's always quick with a wave and a 'Kalimera'.
I like the sameness of it all. I like knowing what to expect. But I also like the little surprises that pop up.
Like the random toilet on Tuesday. It had intrigued me so much that I decided to head back past it on Thursday to see if I could find more answers to my many questions.
Yes, I know that I'd decided that its existence was an answer to prayers but the scientist in me likes to make sure all rational arguments have been ruled out before declaring a miracle. And I also wanted to know whether following some of the suggestions that I'd had in the comment section had borne fruit. I was totally prepared to put my hand down that toilet bowl (used, or not) if the cash or winning lottery toilet had materialised. When I was training to be a vet I'd put my hand in a lot of equally unsavoury orifices.
One of the best parts of the route is the part around the lake. There's always so much bird life and, now that the sun's up so much earlier, the lake's usually bustling with activity. Yesterday was no exception and by the time I'd finished the lake circuit I realised that a lot of the activity was in preparation for Christmas.
I'm pretty sure that the birds of the university duck pond are producing their very own version of the Twelve Days of Christmas. But, being that Christmas is still a little way out, they're only up to day three.
On the first day of Christmas my true love (which would be Iven for want of any better offers) sent to me, a moor-hen running clumsy. (Definitely not made to be fast on land with those clown-feet and long, gangly legs)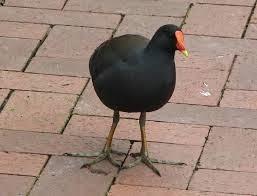 On the second day of Christmas my true love (again Iven - still no offers) sent to me, two pelicans  (and here I was thinking they were coastal birds. You learn something new every day!) and a moor-hen running clumsy.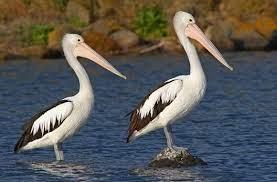 On the third day of Christmas my true love (Just so you don't get bored with Iven, I'm going to say Hugh Jackman this time. After all he is my celebrity free-pass) sent to me, three black ducks (Perching on the top of a bench seat, bums over the seat so I'm thinking that their plan was to add some festive 'decorations'), two pelicans and a moor-hen running clumsy.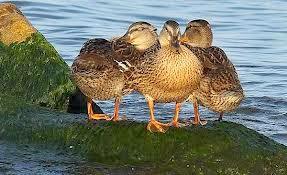 Yes, this is the way I amuse myself during solo runs. By letting my mind wander off to the absurd. I was laughing to myself (and out loud) after I passed the ducks and I realised (probably because of the strange way the lady who was walking towards me was looking at me) that I may have looked a little crazy running along and laughing at my own private jokes.
I took a detour from my usual route after the lake so I could run past the miracle toilet. 
It's a bit harder to run when 'breathless with excitement' compounds 'breathless from running' and 'even more breathless from the little hill'. I had a little frisson run through my body as I rounded the bend and crossed to the path. I couldn't quite remember where the 1k mark had been on Tuesday but I knew it wouldn't be too long till I found my holy grail so I kept running.
I reached the bridge before I finally gave up hope. The toilet had gone. Without a trace. And with it - my hopes of easy cash or a winning lottery ticket. 
The Lord giveth and the Lord taketh away.