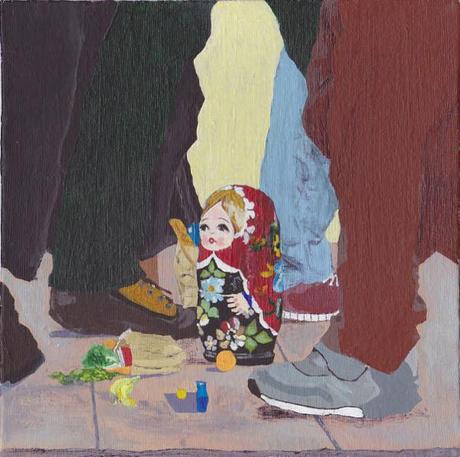 The Lives of Depressed Matryoshkas by Jardley Jean-Louis 2011
This is part of my series "The Lives of Depressed Matryoshkas". It's been on hiatus for a bit but I'm going to share some of the pieces so far.
The origin of this series of depressed/very unhappy matryoshkas or russian dolls comes from when I did the painting below in 2010.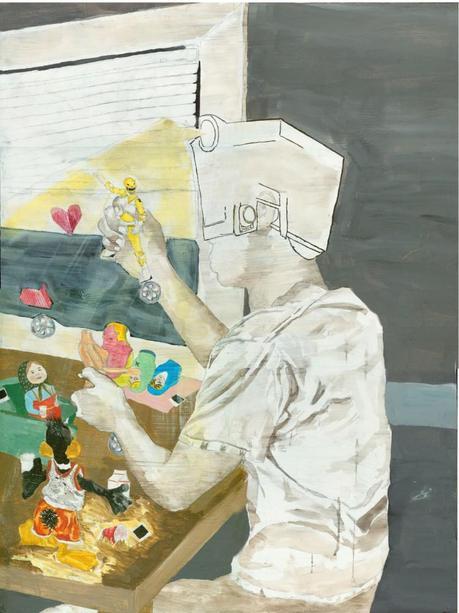 Ache by Jardley Jean-Louis 2010
At the time, I had created Ache for the Box Heart Gallery under the theme: what personal experiences causes an artist to create. Yes, this is the second piece that hadn't been selected along with the other one. In this one, I tried to map out my childhood and what I ached for in my life. I can't remember why I specifically used matryoshkas dolls as opposed to something else but they were used to symbolize the kind of life or memories I wanted. Filled with friends and good times. (Note the tiny polaroid pictures that float around them).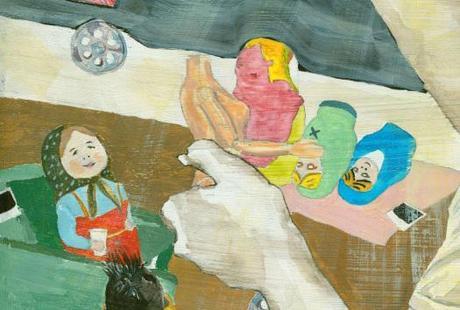 Ache (Detail Shot)
I haven't thought of the progression my thoughts went to to come to this project, but it's where this idea was born. I think it was the little matryoshkas sitting in the chair in 'Ache' that snowballed it.
The way they're built, that you have to keep opening one to find another, their designs and little faces, fascinated me as a child and still as an adult. It was such a curious toy though I'm not sure if toy is their specified definition. I think they're generally seen as pleasant, cool decorative objects. So, it's so quirky to me to see these russian dolls having unhappy lives or difficult events happen to them that are inherent to humans. Realities like you're being gawked at because you're homeless and sleeping on a bench (I just thought of this idea!). Or a father leaving his partner with the newborn baby (that last one is the third of the series and will be shown here soon). I'm basically using human realities to tell a story through a wooden doll.
With this first one, it was a day in the life of a matryoshka that was already depressed. So having her groceries spill possibly because the paper bag can't handle it or because someone knocked into her and no one bothers to help, she just feels even worse and alone.
So far, every piece has been created on a small canvas. They're probably the smallest I've worked? Around 8′x8′ is fairly common for these and from beginning to end, they take me three days to finish. This was the first time since high school that I've painted on canvas. They're all done in the way I used to paint where I'm using almost pure acrylic and very little water. Now though, I sometimes apply ballpoint pen to areas I didn't really like the look of.
Because I wanted more experience with video/stop motion (and cause I don't have a working camera), to keep track of the process/progress so you viewers could see, I did a process of a painting video a la Michael Shapcott. But, obviously with pictures. He's one artist who's memorable to me who does videos in general. This was the first time I used Windows Movie Maker,it was a pretty good experience.
So, here's the progress of the painting: (Note, though it says it, I'm not at the moment actually selling it on Society6. Told you this was awhile ago.)
I generally like for the songs to reflect the mood and story behind what I'm doing and I'm a huge fan of the sometimes melancholy The Radio Dept, so I used their song 'Idle Urban Contemporaries'.
Once I get a camera I'd like to, you know, show me creating the work in a video montage, and at least have me in the shot instead of a series of scanned snapshots. Though, not gonna lie, Shyama Golden does the snapshots process pretty well. Then again, she has a camera, people! What do you want from me! She gets to have herself in the images, still shots and make it cool at that! Be patient, god!
Sigh.
Okay, I'd also like to make actual matryoshkas with my own designs. I'm pretty confident they'd turn out terrific. Plus, it's exciting to participate in other areas of the creative field. Like either writing or drawing a book, or being a musician, or making 3D figures. You can do it all.
I didn't know how to add this is so I'll just shove it in there: Check out Irina Troitskaya, for her own modern take/designs on a matryoshka or as is also known, matreshka. I especially love the polar bear.
Happy Friday.