With christmas coming up it's a great oppourtunity to watch movies with all the family.I was asked to review a new dvd called 'The Littlest Angel' and of course we agreed.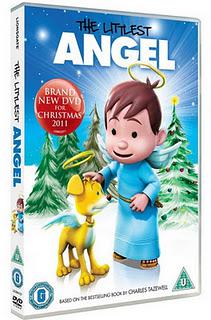 The film is based on a children's novel.'The Littlest Angel' tells the story of the young boy who arrives in heaven before his time. Home-sick and lonely he wants to travel back to earth with his pup 'Halo'. He's training at the Angel Academy, he keeps getting into trouble because he is more intrested in playing around looking for things that remind him of  home. His beautiful treasure box falls in the hands of the wrong person and he knows he must get it back. He and 'Halo' break the rules to find 'Littlest Angels' treasure box.The story includes friendship, good deeds, problem solving all of which are great values to teach children.
As a family we all enjoyed this film,The film captured the children's imagination they enjoyed predicting what would happen next.They love most christmas films and this one will definatly be watched again-Although at 83 minutes long the younger one's did get a little restless.It has a RRP of £12.99 and I would recommend for any family with children to add this to their christmas film list.
Tis the season to be jolly