&appId;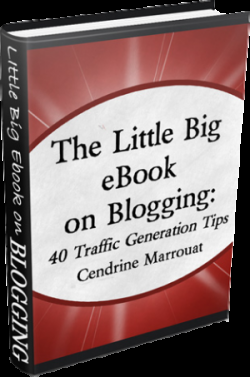 The blessings never stop, it seems. My eBook received another great review today. This one is from Jeff Franz-Lien (@WickedSmartIT on Twitter), and you can also read it on Amazon.
"As a relatively new blogger, I had a problem. My posts, though regular, were not getting read. No one could find my tiny spot in the vast forest of Internet content. So, I started looking for guidance on how to attract more visitors.
In my search, I found The Little Big eBook on Blogging by Cendrine Marrouat. While Cendrine is experienced and accomplished, she is not (yet) a rock star in the bloggosphere. As I read about Cendrine and her blogging history, I felt a closeness that I could not not feel with rock star bloggers with millions of followers. Cendrine's message wasn't a phoney get rich quick scheme. Instead, it was practical, grounded advice on building a solid following through ongoing traffic-building efforts. It was a great feeling to learn from someone maybe just a few years ahead, offering solid advice and realistic goals.
The Little Big eBook on Blogging is concise, allowing me to read it in just a few hours. Yet it felt complete and nothing seemed left out. On finishing the book, I was raring to go, though I realized 40 tips was too much to implement all at once. So following the author's advice, I picked the tips most likely to help my blog and started working on those. I am happy to report that the results are already visible."
Thank you, Jeff, for your very kind words!
The Little Big eBook on Blogging: 40 Traffic Generation Tips is available for purchase on Amazon.
Thank you for sharing!