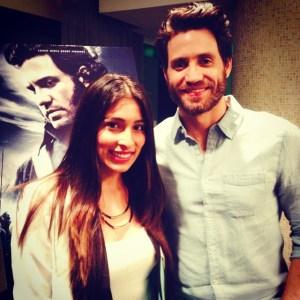 Back in June, you may have seen this photo I took with Edgar Ramirez during an interview for his film, The Liberator. Well, it is finally releasing this Friday, October 3rd.
The Liberator is a Spanish-Venezuelan historical drama film directed by Alberto Arvelo, starring Édgar Ramírez as Simón Bolívar. Ramirez portrays the South American iconic leader who fought over 100 battles against the Spanish Empire in South America. He rode over 70,000 miles on horseback. His military campaigns covered twice the territory of Alexander the Great. His army never conquered – it liberated.
The film was screened in the Special Presentation section at the 2013 Toronto International Film Festival. It has been selected as the Venezuelan entry for the Best Foreign Language Film at the 87th Academy Awards.
Watch as Ramirez tells me how much of a ladies man Bolivar was, the different locations and days it took to film, and how he aspires for his career to be global.
The Liberator hits theaters tomorrow, October 3rd!