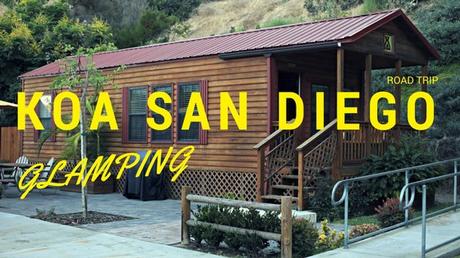 I always tell you how traveling is the act of moving, going somewhere, finding an adventure and exploring. It doesn't necessarily have to include a plane. And that is exactly what I did in this adventure...
I visited San Diego KOA which is about 2.5-hour drive from where I reside in Los Angeles. Somewhere to get away and relax. As soon as I drove into the campground I noticed how clean and beautiful everything was. There were people enjoying the pool and others playing games in the arcade. I was welcomed by excellent customer service at the front desk, and checking-in was easy. I was given a map with instructions of where the cabin was located, and as approached it, I instantly feel in love. Could you blame me?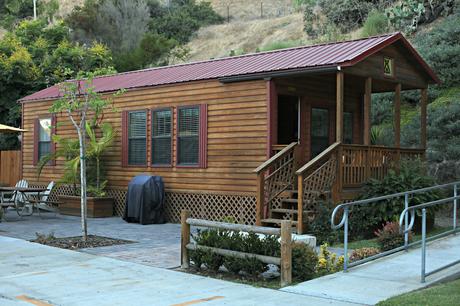 This is one of many ways you could stay at San Diego KOA . You may bring your RV or even a tent. There is something for everyone!
The cabin was extremely spacious with a kitchen, living room, and dining area. The kitchen was fully equipped with a microwave, coffee maker, dishes, and cookware. You could literally bring food and cook it here or BBQ, and save money! Now if you forget something like salt, KOA has you covered with their convenience store on-site.
The cabin fits six people comfortably. There was a bedroom in the back of the cabin with a queen bed, a bunk bed set single in the hallway and a sofa sleeper in the living room. All linens are included, which makes packing even easier. Shampoo, soap, hair dryer and dish detergent are also included!
Of course, it wouldn't be glamping without flat screen TVs and AC.
I packed my google chrome since I was informed there would be FREE wifi available, but I didn't end up using it. I actually didn't even use the internet, other than the times that I shared my live moments with you on Instagram.
Outside the cabin, there was a porch swing, a fire ring to make those tasty s'mores, a picnic table, and a BBQ with gas included. I spent most of my time out here. Sat by the fire and just talked for hours until late at night. It was a beautiful experience. (Hence: why I didn't bother with wifi and google chrome)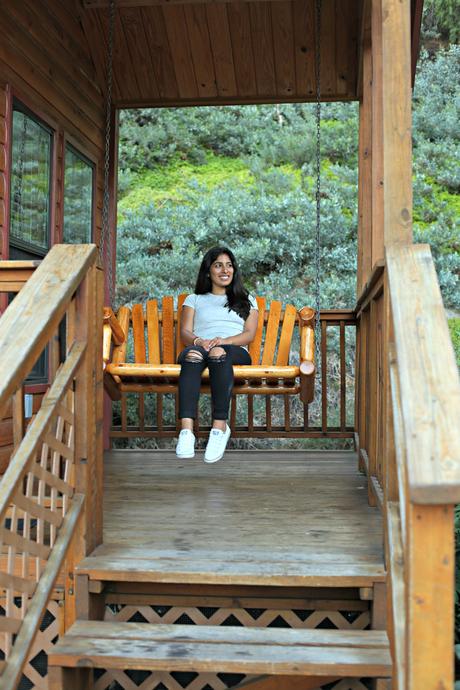 With so many well-organized activities, it's no wonder San Diego KOA is one of San Diego's most popular camping resorts and top-rated destination for family fun. From barrel train rides, rock climbing, shooting gallery, jumping pillows, a pool, arcade, laser tag, amongst much more, the fun never stops! They even offer craft beer & local wine tastings! (Note: a few activities may have additional pricing)
The campground is about 20-minutes from everything San Diego has to offer, and although the campground is near a freeway, you don't feel like you are near the city. There are large trees and greenery everywhere. It feels so peaceful.
The cabin I was in averaged at about $240 a night, which you could split with 5 other friends and/ or love ones. Since it has a kitchen and BBQ, you would also be saving in food as you could pack your own.
Nevertheless, the experience is one of the kind. The quietness, tranquility, and adventures you find at San Diego KOA are unlike anything else. I felt so refreshed and energized after my visit. The most important aspect of this visit was . Being able to share a beautiful moment with the people you love and create a bond that we sometimes fail to create due to work or other commitments in life.
To book your own San Diego KOA experience, visit:
Address: 111 North 2nd Avenue, Chula Vista, CA 91910
Contact Number: Reserve 1-800-562-9877 / Info 619-427-3601
Disclosure: I was given lodging, meals, and an activities pass. All opinions are my own.