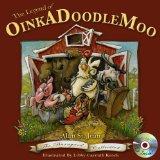 Susan Heim on Parenting is pleased to be a stop on the book tour for the brand-new delightful children's book, The Legend of OinkADoodleMoo, by Alan St. Jean. I love this adorable rhyming book, and it even comes with a CD containing an audio version of the book, plus a fun song, written and sung by the author!
About The Legend of OinkADoodleMoo: In the Wild West countryside sits a charming farm called OinkADoodleMoo, with a black and white farmhouse and a big, red barn. Three crazy critters live in the barn: a pig (Oink), a chicken (Doodle), and a speckled cow (Moo). One day, a dark shadow is cast across the land when a hungry grizzly bear shows up, looking for food. What will become of the barnyard friends? How will they avoid ending up a bear snack? Only the music will save them, with the help of one big cowboy boot! Enjoy the following exclusive interview of the author.

Where did you get the idea for The Legend of OinkADoodleMoo?
I wrote The Legend of OinkADoodleMoo for a friend of mine (Mark Peebles) who has a restaurant in Kettering, Ohio, called OinkADoodleMoo. He approached me in December of 2011 and asked me if I'd be willing to write a book about the main characters in his logo: a cow ... a chicken ... and a pig. I didn't think much of it at the time, and in fact really didn't want to do it as I have plenty of ideas to write about. But, in May of 2012, I decided to give it a few moments of thought. I immediately saw a farm down in Texas, and derived the three animals and their musical abilities from myself (I play the piano), my friend Mark (who plays the guitar) and Jay Robison (he records my music and music videos ... he plays too many instruments to mention). The story was right there. The bear would make great conflict while the animals could use their musical talents and friendship to save the day.
Why did you decide to write a children's book?
I've been writing children's books for almost ten years now. My first attempt was a chapter book (I called it a novel) called Aidan of Oren, The Journey Begins. I thought I was writing a book for adults, but later found out by my publisher that it was very well suited for a children's book. It's not surprising, as I spent my life with kids younger than myself ... often telling stories which I'd make up off the cuff. They loved 'em.
I love the song version of this story. Tell us more about your musical background and career.
I started writing music at the age of 11, and haven't stopped. My piano teacher in high school told me (at the end of my sophomore year) that I had to quit making up songs and focus on the notes if I was to continue with lessons. I was too "distracted and undisciplined." He was right. So I stopped taking piano lessons and continued to write. I was not cut out to be a concert pianist, that's for sure (c:
Is there a lesson for children to learn in this book?
I'm hoping the kids pick up on the lessons about friendship in the face of danger and the universal love and appeal of music.
What would you do if you came across a grizzy bear?!
I would run like crazy, screaming all the while like a little girl...
What's this book's tie-in with the OinkADoodleMoo restaurant mentioned on the back cover?
Mentioned above ... that's my buddy. Sometimes when we do a favor for others, it comes back and benefits us more than we ever imagined. I love this story and am working on two more books in this series.
Do you have any advice for people who want to write children's books?
Stay true to your heart, write as you talk, and learn to tell the difference between true constructive criticism (which helps us when we embrace it) and opinion (which can drive us mad).
Is this your first book? If not, what else have you written or recorded?
The Legend of OinkADoodleMoo is my eighth book. I wrote three chapter books to start my career (Aidan of Oren Trilogy) followed by three picture books (The Daydreams Collection). I then wrote a novel for older kids and adults called The Chronicles of Oren, a prequel to the Aidan of Oren Trilogy.
Tell us about future books in this series.
The second book in this series will be called OinkADoodleTwo. We will learn all about where the musical abilities came from. Our three animals (the cow, the chicken and the pig) will be babies ... with the really big eyes ... it's gonna be cute! And the song, well, it's the bomb!

Do you have a website where we can learn more about you and your book(s)?
Yes, www.alanstjean.com.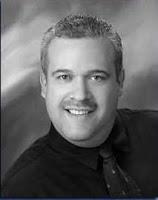 About the Author
Author Alan St. Jean was born on Christmas day, 1962. After a twenty-year professional career, Alan made a life-changing decision to fulfill his dream of becoming a children's book author. His first book, Aidan of Oren, was a Children's Book Sense Pick and a Benjamin Franklin Silver Medal winner. He is also the author of "The Daydreams Collection." When not writing, he spends time visiting schools nationwide, teaching children about the writing process. All of his books are Accelerated Reader approved. For more information, visit www.alanstjean.com.