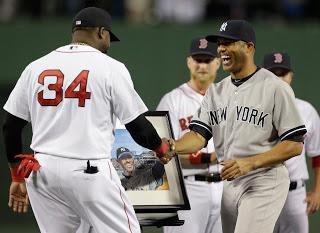 So what's better than a weekend of Yankee ass-kicking by the Red Sox? Back-to-back weekends of Yankee ass-kicking the Red Sox!
The Sox swept New York out of Fenway Park with a resounding 9-2 thumping last night, following on the heels of wins of 8-4 and 5-1. They outscored New York 22-7. How bad was this sweep for the Yankees? They led exactly one-half inning in the three games (when they scored a run in the top of the first last night).
The night began with the Red Sox tribute to Mariano Rivera, presenting him with gifts from the team. It was handled with real class by the Red Sox, and also by Rivera, a gentleman who was clearly touched by the ceremony.
The Sox got down to business in the first inning, which was capped off by a Mike Napoli two-run blast to center off Ivan Nova. (It was mixed night for Napoli. He also broke Mark Bellhorn's 2004 strikeout record, with K# 178. He was also ejected after he complained about it with the home plate ump.) The Sox went on cruise control, and Clay Buchholz pitched six effective innings, allowing just two hits. He has not allowed an earned run in 11 innings since his return.
It was win number 92 by the Red Sox, and it eliminated New York from the AL East race. (Congratulations to my buddy Jere, who nailed the exact date of the Yankee AL East elimination last night two weeks ago.)
The Sox take the season series from the Yankees, 13-6. It is the first time the Sox have beaten them 13 times in a season since 1973, and the first time anyone has beaten the Yankees 13 times in a year since the Orioles did it in 1976.
The Magic Number was lowered to 4, as Tampa Bay lost in Minnesota earlier in the day.
To say the Red Sox are smoking hot is an understatement. Since Ryan Dempster plunked Slappy, the Red Sox are an amazing 19-6, and have opened up a 9 1/2 game lead in the AL East. (Once again, so much for all that sportswriter BS about how that incident would rejuvinate the Yankees and how the Sox would look back on it with regret.) They have the best record in baseball, and lead Oakland by 3 games for the AL's best record.
100 wins now continues to be a real possibility. 8-3 in the remaining 11 games gets them to that lofty number. The Sox are off today, and face the Orioles at Fenway on Tuesday night.