As my Columbia course, Multiplatform Design & Storytelling, started in January, my first lecture was titled State of the Media 2016.  
It is now the end of April and the semester is coming to an end, so time to update that lecture on several fronts.  Four months is a long time in the world of the digital media.  Here are some highlights of what I will mention in this update lecture: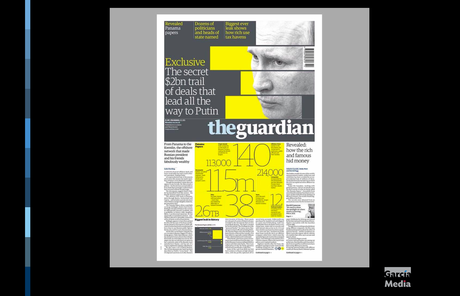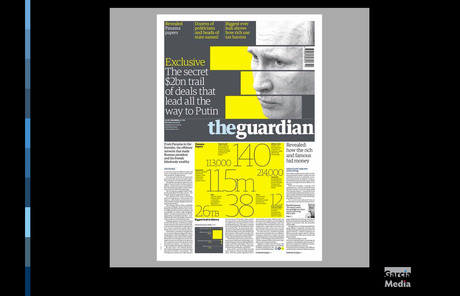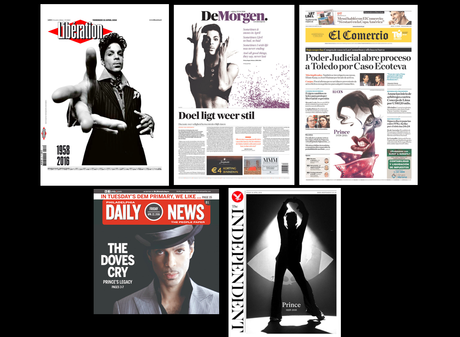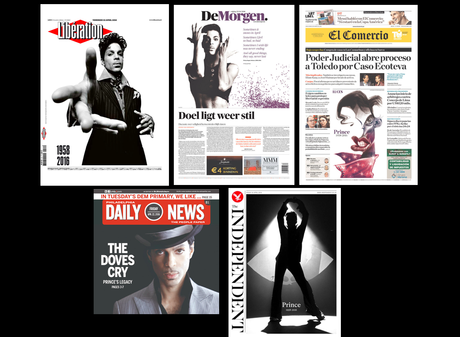 Print continues to please via exclusives and visual surprises
Frequency and recency: The printed newspaper has lost the time advantage for breaking news, but it has a role! And in the past few months we have seen some developments that give us cause for optimism concerning print.  Not that we are seeing a sudden rise in the circulation of printed publications. But we are seeing a stabilizing of the drop of circulation for some major titles, along with a new free newspaper started in the UK, Free Day, just as another newspaper The Independent ceased print publication.  In the UK, we are reading that readers prefer the quality newspapers over downmarket titles.  Overall, and in terms of design and presentation, printed newspapers are getting comfortable in their skins as "the morning after" publication, with no pretenses of breaking news. And, the best news, there are new print products being created, and existing printed editions of newspapers revamped and reformatted.  My April 2016 report for print: it's still here and, in many quarters, finding its place within the media quintet.
My parting shot to the students: Be prepared to see your byline in print and beware of the fact that when your story appears in print, it will become a more lean back reading experience.  Make sure that what you prepare for print includes depth, analysis and offers readers a view that extends the story they already know.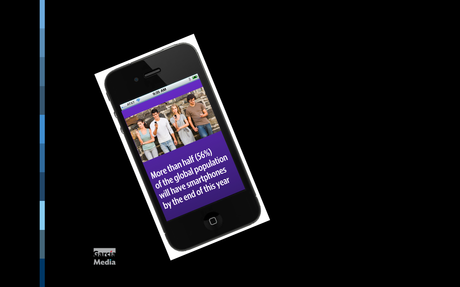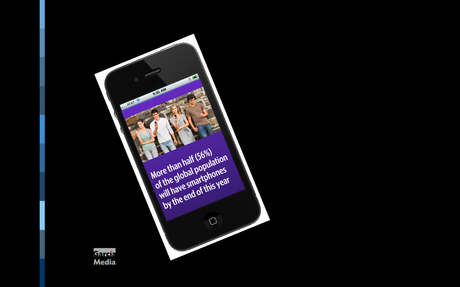 Rise of mobile: It's no surprise that for their midterm assignments, everyone of the students in my class worked on a mobile product.  These millennials know the one platform they are most in contact with through the course of the day.  They are also aware that the audience they are likely to write and to design for are also attached to their mobile devices.  If this was a theme of my first lecture, it will be emphasized even more in this last lecture of the semester.  Mobile is where the action is. It is also where the action is likely to be.  If you are a journalist today, you must become adept at preparing news to be presented on a mobile device, aware of what happens when people consume news in the midst of interruptions and with a sense of everywhereness.
About 64% of American adults now own a smartphone of some kind, and they are getting their news there too Pew Research shows that for the top 50 websites, 39 get more traffic from mobile than desktop. Also notable 15% of Americans ages 18-29 are heavily dependent on a smartphone for online access.
As Laurent Cordier, Google's managing director of global partnerships news and publishing, put it recently at the Newspaper Association of America gathering in Washington DC:
 "We check our phones on average 150 times a day, like every ten minutes."
Cordier also feels optimistic about the migration of advertising to mobile:
"Advertising is also moving to mobile. Forecasts show that by 2017, mobile ads will be twice what they are now.  And by 2020, mobile advertising will reach $50 billion.​"
My parting shot to the students on the subject: Aim to be a mobile journalist, because you won't have much choice. It can also be gratifying and fun, by the way.
The end of the home page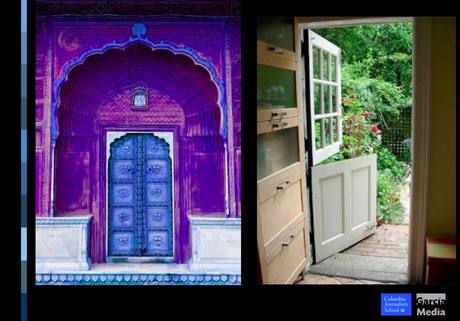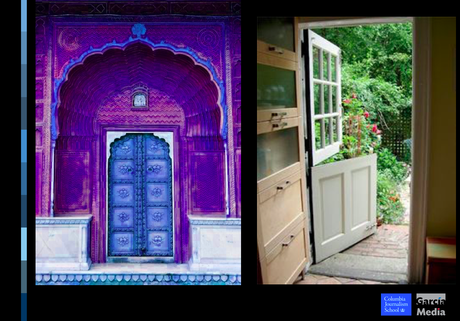 What happens when you have designed a grand entrance door, but everyone comes in through the back door?
I agree with Espen Egil Hansen, publisher and editor in chief of Aftenposten, of Norway, when he says that we produce a thousand front pages each day.
Indeed, we do.  More readers are coming to our websites not through the home page but through a link found in social media. So, we will see some new developments on how home pages are designed, and, more importantly, how article pages reflect many of the elements that we usually associated with the home page.
Some of these developments involve the use of "cards", an experiment the Aftenposten is currently developing and that we at Garcia Media have been honored to be a part of.
My parting shot to the students on the subject: Continue to be aware of this development, and, if you have a chance in that first job, be part of any groups that wish to experiment with how your newspaper or magazine can capitalize on social media traffic to make readers read beyond one single article.
The tablet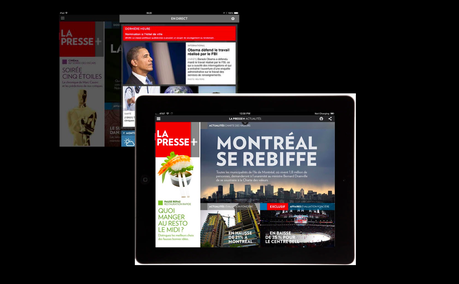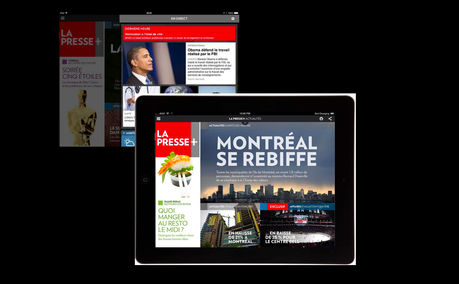 Tablet success: readership of La Presse+ has increased by almost 30%: nearly 140,000 new readers1 are using the app each week.
At the start of the semester I mentioned that tablets have not been as successful as was expected when the first iPads came out in 2010.
In my update, I feel optimistic about tablets. Tablets are beginning to enjoy a measure of success in markets such as Canada and Scandinavia—-not in the US yet.
I refer to the case of La Presse+ in Montreal, which discontinued print publication daily (keeps a weekend print edition), and has managed to attract more readers than its print edition did---and many are those elusive young readers.
Since the announcement of the end of the weekday print edition seven months ago, the weekly readership of La Presse+ has increased by almost 30%: nearly 140,000 new readers1 are using the app each week. Three years on from its launch, the popularity of La Presse+ continues to grow, with an average of 725 new app downloads per day.​
My parting shot to the students on the subject: The tablet is a lean back platform and we will continue to see how publishers and editors decide to experiment with it.  Perhaps we will see fewer of those twice a day tablet editions and, instead, treat the tablet as the mobile device it is, carried around by some all day, and simply treat it as the constantly published newspaper where longer pieces and videos are easier to access and to enjoy.
The Apple watch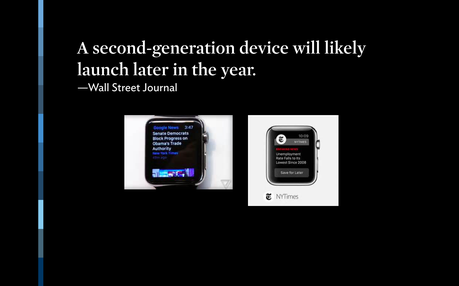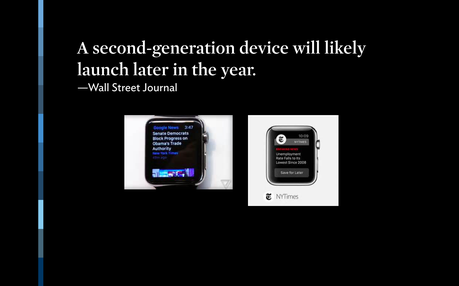 During that first lecture I mentioned that "The era of at-a- glance journalism has arrived! "
Those smartwatches are still here, but without the success that many had expected.  However, don't give up on the smartwatch for news yet.  Apple is rumored to be introducing a new version of the Apple Watch this year, and I know that publishers everywhere are keeping an eye out for what they can do to extend their brand on the watch.
My parting shot to the students on the subject: Smartwatches and news have barely scratched the face of the watch.  I don't anticipate that anyone will be reading long pieces on the watches as we know it today, but I think you need to have an awareness of the importance of headlines and snippets that seduce, and how to write them.
The takeaways
1. Overall, we will continue to emphasize mobile platforms.
2. It's still key to define a storytelling philosophy across platforms.
3. Must prepare for the day when there is no daily printed version of newspapers—start creating a fabulous e-paper and good weekend editions.
TheMarioBlog post #2154
Please enable JavaScript to view the
comments powered by Disqus.
comments powered by

Disqus