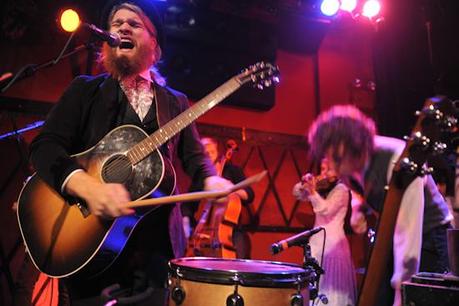 Photo Credit: Lexi Namer
The Last Bison (@thelastbison) celebrated the release of their new EP, Inheritance, at Rockwood Music Hall to a full house. Opening act Christopher Paul Stelling (@c_p_stelling) had the crowd in awe with his Gothic folk melodies and incredible musicality. Then came the main act, the Virginia based, seven-piece powerhouse ensemble full of mountaintop chamber music. The Last Bison's live performance didn't disappoint, with complex arrangements, great energy, and a tender yet upbeat style resembling that of indie-folk acts Fleet Foxes and The Lumineers. Republic Records should be proud of this release, and I bet we're going to hear a lot more from these guys in the near future.
You can also catch The Last Bison at The Wild Honey Pie's 3rd B-Day Bash at Knitting Factory in Williamsburg, Brooklyn on December 7th! Grab your tickets here (on sale tomorrow, November 9).