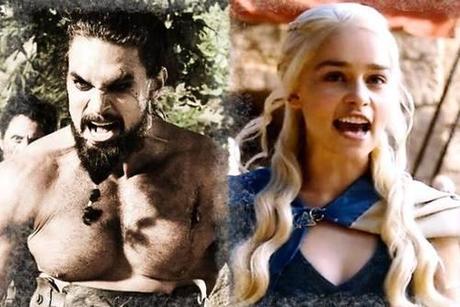 Dothraki is a real language created for a world of complete fantasy. Linguist David Peterson invented the language specifically to add texture to the Dothraki people in HBO's hit show, Game of Thrones. To get this linguistic dream gig, Peterson submitted a 180-page proposal that included a dictionary and recordings of all spoken Dothraki phrases. In an interview on CNN, Peterson described his process:
"Dothraki is the first [language] to really incorporate a historical aspect into the language's creation. I kind of started with the Dothraki culture as it's presented in the books. Who are these people? Where do they live? What kind of environment are they in? What kind of activities do they do? And little by little, I started to kind of map out a world in my head and shape a lexicon that would represent it."
Here are a few more facts about Dothraki to help you survive until the next episode:
1) Most Dothraki words have never appeared on Game of Thrones. With a vocabulary of over 4,000 words, much of the language will never be uttered. 
2) All of Dothraki's idioms are culturally accurate:
Athastokhdevishizar

: Nonsense (lit. "fog talking")

Hash yer dothrae chek?

: How are you? ("Do you ride well?")

Shierak qiya

: Comet ("bleeding star")

Ki fin yeni!

: WTF! ("By what failure!")

Thirat atthiraride

: To dream ("to live a wooden/fake life")

Fonas chek!

: Goodbye! ("Hunt well!")
3) The Dothraki people have no word for thank you but have 14 words for horse. Peterson was the one who made the decision about omitting thank you, and the producers agreed that it fit with the overall nature of the Dothraki people. The Dothraki love their horses, which is why they are able to call them by so many names, including, hrazefishi, used to describe a very tiny kind of equestrian. 
Thanks to linguists like David Peterson, fantasy worlds aren't fantasy anymore.
(via Vulture & The Week)