There are buttons for clothes, buttons to push and chocolate buttons to savour. One can be asked to button up their lips to be quiet. On a rocky boat, better batten down the hatches. What a difference a couple of letters make.
Let's divide the word button in half, but - ton. The word 'but' introduces a phrase or clause contrasting with what has already been mentioned. 'Ton' is a unit of measure. 'Ton' comes from 'tun' referring to an extremely large cask weighing in at up to 2,000 pounds (907kg). Putting 'but' and 'ton' together does not add up, makes no sense that 'button' has evolved into meaning a small round thing that is sewn on to fabric. This just doesn't wash.
Keeping with splitting the word, let's go for butt – on. The opposite of this would be butt – off. Where I come from a butt is a bum so this butt-on, butt-off is a totally ridiculous thing when considering the removal of ones' backside and then putting it back on. One could become the butt end of a joke.
One can't just have a single button. Let's add an additional word to describe the containers of these special collections. We now have 'Button Box', 'Button Tin' and 'Button Drawers'. Many of my friends have one or more of these. I have one, my mother and grandmother had one.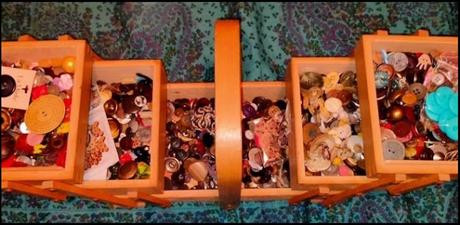 Cantilever Button Box (image courtesy of Lucy Burscough)

I inherited my grandmother's button box. Its treasure now amalgamated into my own collection, barring two sporting the same insect image. One is smaller than the other and the larger one I display in my kitchen. Perhaps they were coat buttons, as they are of considerable size.
Vintage Cicada Buttons
These special shank buttons are emotive for me for two reasons. One, they belonged to my grandmother. Two, the three-dimensional cicada brings back memories and connects me to where I grew up. One might ask why?
Where I originally come from, so lives Brood XIII. This brood includes three species of cicadas that emerge every 17 years around June. There are 15 separate broods of periodical cicadas regularly appearing in the Midwest of the United States. Their arrival was deafening.
In the summer of 1973 one couldn't go outside without their loud chirruping sounds and getting dive-bombed head on. They came in from everywhere. In the aftermath of their short-lived life, it was impossible to avoid crunching on their dead bodies with their red beady eyes staring as they lay littered across the tarmac, sidewalk and grass. Living near the third largest zoo in the country, people would sweep up the dead ones, bag them up and send them to the zoo to become free animal feed.
Attending Miss Johnson's Fifth Grade Class in that early summer was a nightmare. At the time, we had those old-fashioned wooden desks with ink wells whereby the tops lifted up. The boys being boys really enjoyed catching specimens from Brood XIII and either putting them down the backs of the girls shirts or hiding them in those desks. Lesson learnt from that experience was to come to terms with the enemy and make friends. By August, I had made pets out of them and kept them in a shoe box lined with tissue.
On reflection, buttons are wonderful powerful objects holding things together. Their aesthetics can be admired, they can spark memory and connect people. Who would have thought it would have brought me round to thinking about Brood XIII or to discover that Cicada is a scripting language?
I leave you with this in honor of the Button Box: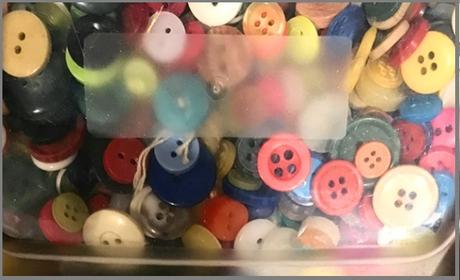 My Button Box
Button Box
Fingers fumble
fingers fish
find a favourite
make a wish
wish for love
it's in demand
kiss it, flip it
roll in hand
find its mate
then find two more
oops there goes one
falls to floor
rolls to left
rolls to right
slap that lid on
hold it tight.
Thank you for taking time to read.
Kate
Further titbit of information, here's an article about this year's Brood XIII early emergence and some of Brookfield Zoo animals' tasty treats: 
Mmmmm cicadas!
Email This
BlogThis!
Share to Twitter
Share to Facebook