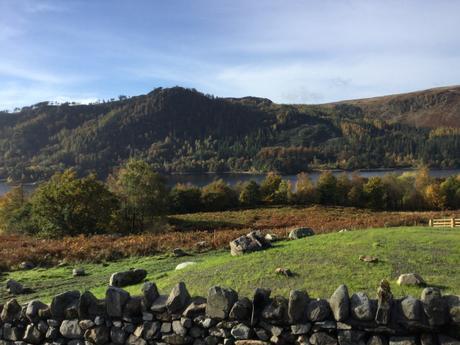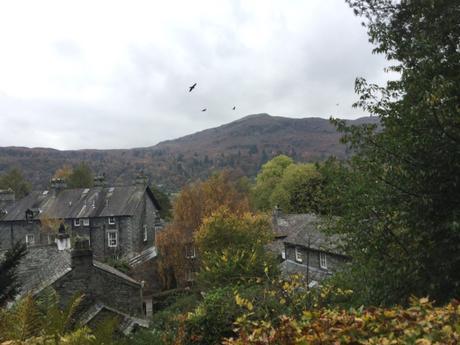 Over half term, I finally achieved a long held dream of visiting the Lake District, which I have somehow taken thirty years to get around to doing. I absolutely loved every minute and already can't wait to go back; I have never seen such beautiful scenery and met such friendly people. Though I will never tire of the view of the London skyline from my window, there is something truly profound about the rise and fall of mountains, the deep luxuriousness of glistening lakes, of blazing autumnal woods and hillsides covered in rust coloured bracken and the smell of peat and smoke and animals that somehow speaks to your soul and takes you utterly out of yourself in a way that manmade scenery never can. We were talking on my MA course about the cult of the sublime in the late 18th century a few weeks ago, and that idea of nature providing you with a transcendental and almost, in some ways, destructive experience, felt quite pertinent when I was standing on the shore of an enormous lake and contemplating my own insignificance in the grand scheme of the sands of time.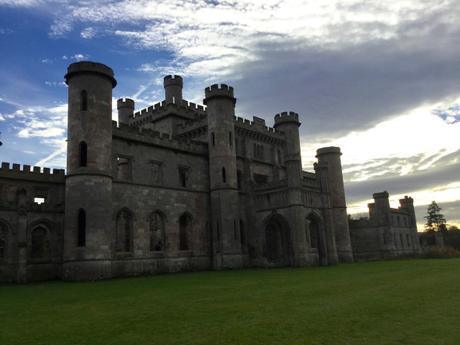 Aside from self indulgent philosophical thoughts, I also had a marvelous time exploring the huge range of historic homes and pretty towns and villages that are scattered throughout the Lakes, which has been a place of artistic inspiration for centuries. You can't go anywhere in the region without finding connections to Wordsworth or Beatrix Potter, and I was pleasantly surprised to find that Ruskin spent his last days here, and that the Arts and Crafts movement had a real stronghold, inspiring people artistically as well as domestically, with plenty of very fine Arts and crafts houses to be found nestled on the shores of the Lakes. We went on a real whistlestop tour of all the sights, starting off in Cockermouth, right at the northerly tip, where we visited the birthplace of Wordsworth. There isn't an enormous amount to see, but just being where he grew up was amazing, and the drive through the Lakes to get there, taking in the magnificent scenery, was absolutely incredible. I was gasping at every turn of the wheel, and it was actually a pain to be the one in the driving seat, as I just wanted to stop and stare at the mountains and the beautiful, vibrant autumnal colours that were so much more vivid than anything we get in the south. On the way back from Cockermouth we stopped at Lowther Castle, a wonderful mock Gothic ruin that has beautiful gardens and an amazing tea room, which was much needed after our long drive.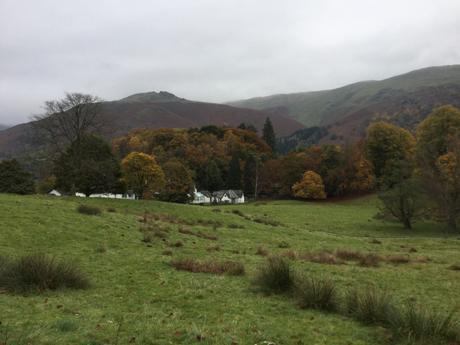 The following day we began our adventures at Wray Castle, a recently opened National Trust property that is rather unique in being a Victorian attempt at building a medieval castle. It is unbelievably hideous, but has magnificent views of the lake in front (sadly it was foggy when we were there!) and is good fun to explore. It is also, interestingly, where Beatrix Potter had her 16th birthday, and apparently inspired her love for the Lake District, which she would go on to make her home and use as inspiration for her books, so even though it was considered by some when first built to be a blight on the landscape, it certainly wasn't considered to be so by Beatrix! After Wray we drove on to Ruskin's house, Brantwood, which has been kept much the same as when he lived there, and has stunning lakeside gardens looking over Coniston. It's packed with fascinating objects and paintings, and was a real feast for a Victorianist like me. I was also delighted to actually be allowed to play Ruskin's piano – I love historic properties that don't rope things off and enable you to truly experience them as the former inhabitants would have done. We then finished our day by popping into another quite unique National Trust property, Townend, which was the home of the same farming family for generations and is remarkable for containing four hundred years' worth of ordinary possessions and one of the country's most valuable libraries in representing what middle class people would have read from the 17th to the 20th centuries. It's a fascinating insight into how more normal as opposed to aristocratic people would have lived and has some wonderfully quirky features that were brought to life by the very knowledgable local volunteers. Even though it's not a typical National Trust property, it's well worth the visit for the social history it contains, and I loved it.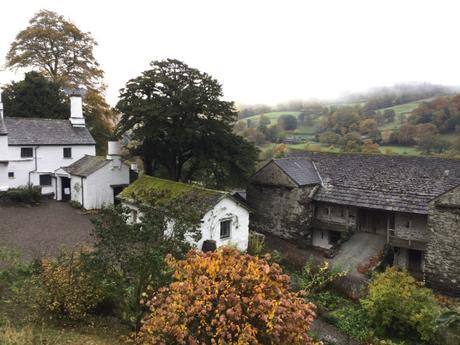 Our adventures continued the next day in Grasmere, where Wordsworth lived for the early part of his married life. It's now a bustling town that caters very well for tourists with a wide range of shops and cafes, but you can still get a sense of what it would have been like in Wordsworth's day. The views across the countryside are breathtaking, and we loved the walk to Allan Bank, which is a beautiful Georgian villa nestled in the folds of hills, with amazing vistas from its huge windows. It was nearly destroyed by a fire a few years ago, and so the National Trust has now made it a 'home from home' – a place where people can come and paint, read, knit, play and relax in the most beautiful of surroundings, and it really is a wonderful, magical place. The gardens run down to the lake, and the trees are full of red squirrels, which was the first time I had ever seen them, as they don't live in the south of England at all.Wordsworth rented the house for a short time, but it is most known for being the home of one of the founders of the National Trust. I adored it and wanted to move in instantly; I don't think I'd ever tire of its views! From Allan Bank you can walk to Grasmere church, where Wordsworth is buried, and then you can walk on a little further to Dove Cottage, where Wordsworth wrote much of his early poetry, including Daffodils and The Prelude. It's a tiny, dark and rather claustrophobic cottage and reveals the reality of early 19th century country life – certainly not the idyll you'd imagine! I can't say I felt particularly inspired by it, but Wordsworth apparently adored it, so there must have been a magic to it I could not detect.To round off our literary day, we drove on to Hill Top, home of Beatrix Potter, which was charming. As it is exactly as she left it, it's possible to really see how she lived and also to see what she was copying when she drew images for her books; the house and its furniture are possible to spot in several drawings that have been placed around the house, and it was wonderful to see the images I loved from childhood literally come alive around me, including Mr McGregor's vegetable patch! As the sky darkened we began to make our way back to Lancaster, where we were staying, and we stopped off in Morecambe, a seaside town, to visit the Midland Hotel, famous for its art deco building that was once decorated by Eric and Tirzah Ravilious. Sadly the Ravilious mural is now long gone, but the Ravilious Rotunda Bar was a lovely place to sit and have tea and cake while watching the sun go down over the mudflats.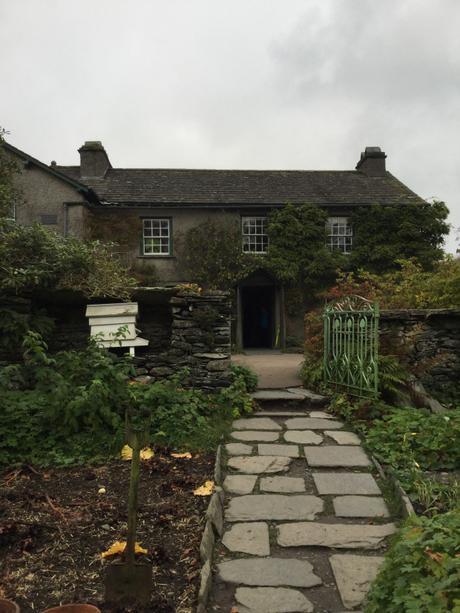 Our final day in the Lakes was taken up with visiting a wonderful Arts and Crafts house, Blackwell, which was built by Baillie Scott for a prominent Manchester businessman. It's a breathtakingly beautiful house where everything is still in place despite it having been a school for much of the 20th century, and the detailing is magnificent. The views over to the lake are also stunning, and I could have curled up in one of the window seats and stayed there forever if I had the choice!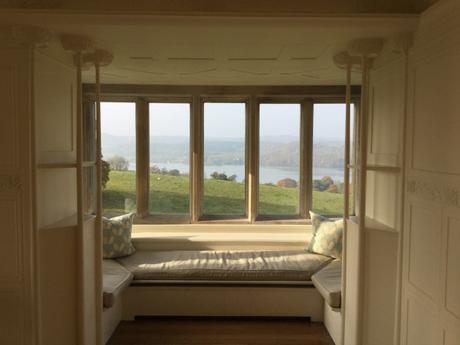 I was absolutely overwhelmed by how wonderful the Lake District is, and how much there is to see and do. For many people it is a place to go walking and hiking, and while I would love to be of that disposition, sadly I am more of a stroller than a hiker. If you are more like me and enjoy a cup of tea while looking at beautiful mountains rather than climbing up them, then there is plenty of inspiration to be found in the architecture of the Lakes as well as its natural beauty, and you'll be spoiled for choice of things to do. I already can't wait to go back and if you haven't visited, I can't recommend it highly enough!