Today is the 35th anniversary of the death of The King: Elvis Presley. You don't get to be The King of Rock and Roll by accident. What a voice. From Arthur Crudup's "That's All Right" in 1954 to the 1976 "Jungle Room Sessions" recoded at Graceland, he was one of a kind. His catalog of recordings is simply astounding.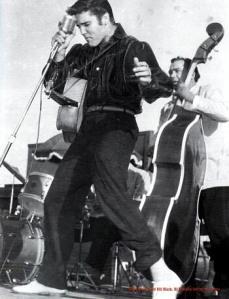 Elvis Returns to Tupelo, 1956
On a personal note, my father, like Elvis, is from Tupelo, MS and as a kid knew Elvis' mother and her sister very well. My cousin Bobby and Elvis were great friends. My Dad has a photo of Bobby, Elvis, and their 4th grade class–maybe a dozen students total. Bobby and Elvis are sitting together in the front row, each with a facial expression that screams mischievousness.
RIP, Elvis.