On Saturday night, a living legend took over the main stage when Alan Jackson brought a set full of hits to Boots & Hearts 2018.
The Country Music Hall of Famer was everything we hoped for. And more.
Jackson and his band brought the 90s classic country sound and vibe to the festival. There's no denying that the nostalgia for that generation of country music is hot right now, and having the Chattahoochee singer at Boots as perfect.
From start to finish there was a buzz in the air. Hell, the buzz started before he ever took the stage. Tens of thousands of fans crowded around the stage and stretched back in the grass for what seemed like miles. We don't know what the official attendance number was, but we can tell you that it looked and felt a lot like the 45,000 we've seen in the past. In the moments leading up to Alan Jackson taking the stage, you could hear the voices and cheers start to get a little louder.
When the man himself came out onto the stage, things got even louder. From Gone Country at the top, through I Don't Even Know Your Name and Livin' On Love, there was no let up in the opening minutes and songs of the set. Tens of thousands of fans were singing and dancing. And things were just getting started.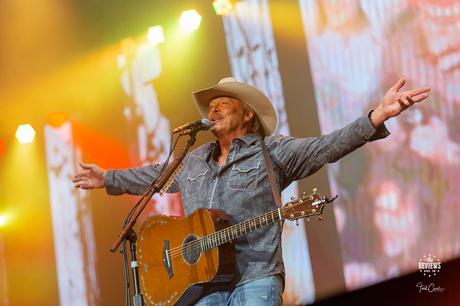 It's almost hard to put into words what was going on. The crowd was fired up. The musicians on stage were outrageously talented. The electricity in the air was palpable. The emotion was powerful and thick, evoking memories and smiles and tears. And Alan freaking Jackson was standing in the middle of the stage, sounding fantastic and playing some of the best and most important country songs of a generation.
It was surreal.
It was amazing.
It was everything.
There were 20 songs in Alan Jackson's set on Saturday night at Boots & Hearts (some short versions), and if you told me that at any given time more than 50% of the crowd was singing along to each one of those songs, I'd believe you.
From the VIP section near the barn at stage left, we watched a sea of people singing and dancing and smiling and having a good time. Fans young and old, (some not born when Jackson released some of the songs he sang on Saturday night) came together in celebration not just of the man on stage, but of country music and what they love about it.
Early in his set, Alan Jackson told us all that he was going to try to play some country music. He added that his songs covered everything from love to hurt to death to drinking and partying and he was going to try to hit all of those marks.
He did.
We often talk about there being something special about live music. Well, Saturday night at Boots & Hearts it was extra special thanks to Alan Jackson.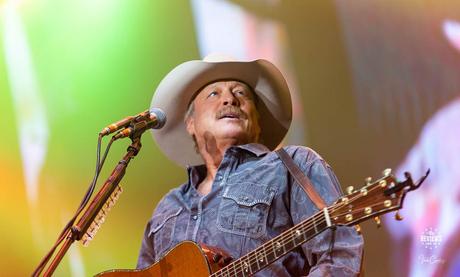 Alan Jackson Setlist, Boots & Hearts 2018
👑 Gone Country
👑 I Don't Even Know Your Name
👑 Livin' On Love
👑 Good Time
👑 The Blues Man
👑 Summertime Blues
👑 Who's Cheatin' Who
👑 Here In The Real World
👑 Chasin' That Neon Rainbow
👑 Pop A Top
👑 Tall, Tall Trees
👑 Little Bitty
👑 Country Boy
👑 Drive (For Daddy Gene)
👑 Don't Rock The Jukebox
👑 Remember When
👑 5 O'Clock Somewhere
👑 Chattahoochee
👑 Where I Come From
ENCORE
👑 Mercury Blues
Photos of Alan Jackson at Boots & Hearts 2018