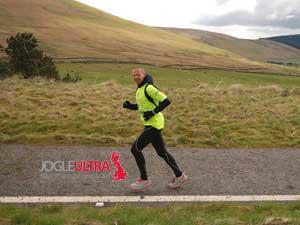 Rainer Koch Photo by ULTRArace
The 2012 John 'O' Groats to Lands End has completed its sixth day and of the eleven starters 4 remain. The longest multiday race on the UK ultrarunning calendar is a serious challenge with the runners having 16 daily stages to cover the 860 mile distance from the North of Scotland the most south-westerly point in the UK at Lands End.
The runners have to average 55+ miles each day and the pressure has had its toll on the field. Rainer Koch, no stranger to long multiday and stage races, has a 25 hour lead after 6 days.
The weather in the UK is wet and windy over the last few days and the showers look set to continue for the next 10 days or so.
Day 6 – 345.1 miles
1. Rainer Koch 53:36:55
2.Tom Haines 78:09:35
3.Tim Elliott 88:49:46
4.Tom Forman 89:24:02
DNF
Steve Pope
Mel Corden-Lloyd
Steve Gordon
Andy Wilmshurst
Sean Maley
Tim Oliver
Katherine Hey-Heddle
Race blog: www.jogleultra.blogspot.co.uk/
Host website www.ultrarace.co.uk