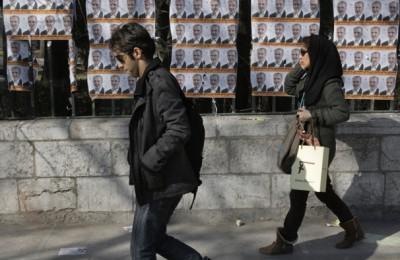 Iranians walk past campaign posters in Tehran. (Photo: AP/Vahid Salemi)
On March 2nd the Iranian public will take to the polls to vote for the election of 290 representatives in the Islamic Republic's 9th Majlis (Parliament) under the lingering shadow of the disputed 2009 presidential elections.
The aftermath of that contentious election has pitted the supporters of the Iranian president Mahmoud Ahmadinejad against those critical of what they consider as his mostly opaque and often heavy-handed leadership. While the upcoming elections have been deemed by many observers as yet another round of political posturing by dueling factions, the Iranian Majlis has shown that it can still be an effective institution in addressing the country's challenges with an increasingly assertive voice in Iran's policy making decisions.
During the last days of 2011 the Iranian Majlis passed a bill entitled "Continuious Improvement to Iran's Business Climate." This bill was in response to a series of high profile financial scandals, including the largest fraudulent case in Iran's banking history which rocked the foundation of the country's already fragile banking and financial sectors to the tune of about $ 3 billion, further eroding public trust in these vital institutions.
The bill contains 30 articles attempting to address corruption and lack of regulatory oversight – which the mainstream Iranian media identified as a significant culprit in encouraging fraud – in Iran's business and financial sectors through the establishment of a Public-Private Dialogue Council led by Iran's Chamber of Commerce, Industries and Mines (ICCIM).
Though Iran faces larger economic challenges, the significance of this bill lies in turning to the private sector and other non- governmental stakeholders to encourage their participation and input in addressing the country's business and financial reform priorities. This kind of inclusion of the non-state-affiliated private sector in the policy making process is a rare occurrence in the Islamic Republic of Iran. The bill itself, while not popular with President Ahmadinejad's government, benefited from the rare input of a number of non-governmental stakeholders.
Iran's $480 billion economy is under severe pressure, and not just due to increased international sanctions. The sudden jump in the inflation rate from single digits only a few months ago to what is now estimated to be between 25 to 30 percent, the nose-diving value of the Iranian currency, continued depletion of the IMF-estimated $100 billion in foreign reserves, failure of the banks in recovering billions of dollars worth of loans, inefficient oversight by domestic regulators, and an overall lack of trust by the stakeholders point to a dysfunctional internal system which Iran can ill afford.  Regardless of the political connotations attached to the winners and losers in the upcoming elections, the Majlis, as it did with the Better Business bill, can lead the way in meaningful reform to curtail endemic corruption and adhere to the rule of law in partnership with the country's private sector and other non-governmental experts.