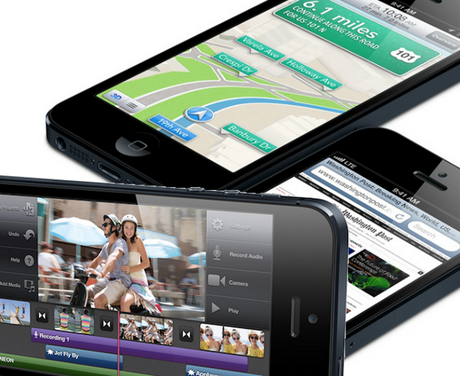 Have you all recovered from the excitement of yesterday's Apple event? More importantly, have you got over your crushing disappointment (or having your mind blown)? Right, then we'll get into what the iPhone 5 brings to the table (even though we pretty much covered it pre-event!).
Bigger Screen
As predicted, the screen has been increased in size from 3.5 inches to 4 inches with a screen resolution boost from 960×640 to 1136×640. That's retina level by Apple's standards and is a huge improvement. To go with it, the iPhone 5 now supports a movie standard 16:9 ratio. What this means is that things are going to look a lot, lot better on your screen, up to the standard of the new iPad in fact.
Thinner, Lighter…and Bigger
To accommodate the 4 inch screen the iPhone 5 is longer than its predecessors yet somehow Apple has managed to make it both thinner and lighter. It is 7.6mm thick and weighs just 112 grams. That's an 18% and 20% reduction on the 4S respectively. Now while I welcome a lighter phone I have a concern here. I carry my iPhone 4 in my back pocket and frequently sit on it – will the iPhone 5 now fit comfortably there with its increased length and will it be able to take my weight for most of the day with its decreased thickness? I guess I'll find out.
There's no doubt the phone looks the business though.
4G LTE
Improved Hardware
As ever, when you improve the processor and increase screen size, battery life becomes an issue but Apple has stepped up in that regard, too, improving it without relinquishing the quality of video playback, browsing, standby and talk time found on the 4s.
The camera (now called iSight!) remains at 8 megapixels, which is perhaps a little disappointing, but Apple has offered some significant improvements in other areas to improve performance. The optics, software and colour saturation has been upgraded for faster performance and better image quality, while it features a sapphire lens and has a panorama mode for clarity and epic photography respectively.
Finally, the dock connector has, as was widely rumoured, been made much, much smaller. Apple has named the new connector, Lightning. It's actually 80% smaller than the 30-pin dock and brings improved data transfer with it via its all-digital 8-signal design. It's also said to be more durable than the former version.
Is any of this groundbreaking? No, not by Apple's standards at least. If anything, it brings the iPhone up to standard in the market, very little takes it back into an outright lead. But that really shouldn't matter – this is a market Apple invented. To expect the company to re-invent might be asking too much. The bottom line is that this is a brilliant and beautiful phone, exactly what we've come to expect and sales will go through the stratosphere, even if the media act all deflated.
iPhone 5 Models & Pricing
In the US the iPhone 5 will be available for pre-order on September 14th, starting at $199 for the 16GB model. The 32GB version will be $299 and 64GB $399 with a carrier contract. For UK users like myself things look a little more daunting on price. CNET has the 16GB model pegged at £529, while they predict the 32GB to be £629 and the 64GB a bank breaking £729. Those prices are, of course, SIM-free and you're going to see hefty price cuts with a two year contract via EE, T-Mobile, Orange and O2 at the very least – though EE will be the only one offering 4G connectivity.
You can pre-order from September 14th and shipping starts September 21st – in both the UK and US from what we know.
When we hear more, we'll update you.
Will you be buying an iPhone 5?