The iPad Lab #21: Three lessons about creating and nurturing tablet editions
Update #2: Kuala Lumpur, Malaysia, Thursday, Nov.29, 11:44
TAKEAWAY: Today I am in Kuala Lumpur, Malaysia, to deliver a keynote presentation during the WAN IFRA Digital Media Asia 2012 conference.  During my presentation I will discuss 12 lessons I have learned while working with newspapers and magazines to make their transition from print to tablet. Three of those lessons are worth noting here.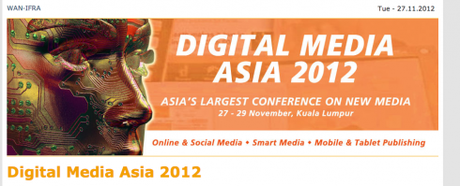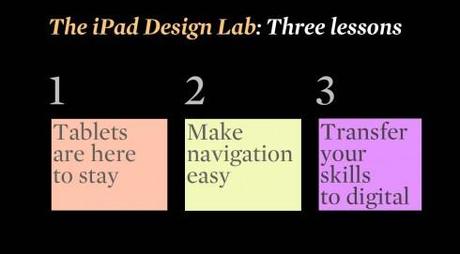 I have singled out these three of the 12 lessons because I believe they will resonate with a large number of you out there reading TheMarioBlog.
The tablet is here to stay: if you don't have a tablet presence yet, then it's a good time to start as a new calendar year approaches.
Concentrate on the navigation: Spend time creating a functional navigational system, one that allows the user to move instantly from one section to the next.
Use your print background to your benefit: If you feel that you are in a career transition, and that your print background sets you back,  stop lamenting and concentrate on how you can capitalize on what you know to work on this new platform
The tablet is here to stay
The figures don't lie.  There are over 85 million iPads in the market as of today—-many more to appear in near future; by 2015, more than 165 million! And 125 million tablets by other vendors. The appeal of tablets extends through a variety of age groups from young children to the over 75+ set.
Figures released just this week from research firm Analysys International reveal that 2.6 million tablet PCs were sold in China, up from 1.6 million a year ago.
Based on the particular success of sales of iPads and mini iPads during Black Friday, the start of the Christmas holiday shopping season in the US, we are going to see the number of tablet users increasing.  They will come to their tablets to play games, watch videos and send emails, but they will also want to seek information, the kind that our newspapers and magazines offer.
Also, my eyes don't fool me as I travel around the world: more and more I see the people around me engaged with a tablet, usually an iPad.
It is not a matter of if, but a matter of when, you will be transferring what you do in print to a tablet.  That time should be now, if it has not happened already.  You don't have to start with the ultimate app, but you can evolve into one.
So get at least an e-reader version where you put pdfs of your printed newspaper into the tablet, graduate to a curated edition, but show your audience that you know many of them are engaged with a tablet to get news and information.
Creating a functional navigational system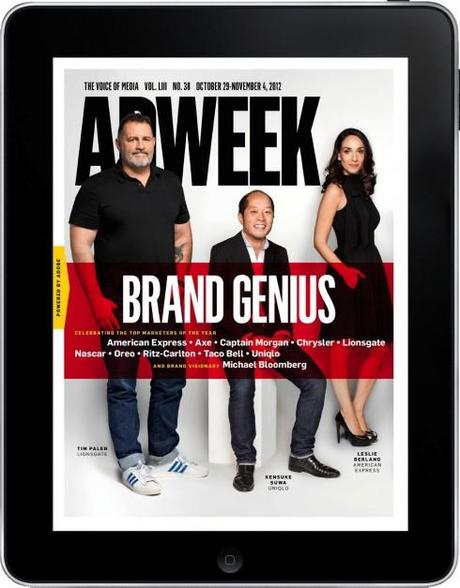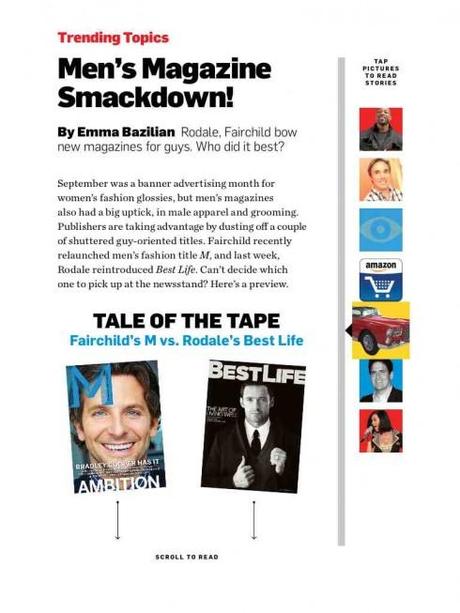 Once those first ten seconds are gone, and you have already appealed visually to the users, then the next step is to allow them to move freely through your app.  Make it easy to distinguish between sections.  Make it clear whether the user must scroll or swipe.
I show you here the approach from Ad Week's new app, which uses photos in a vertical column to allow you to navigate to their corresponding stories. Other apps also shown displaying a variety of effective navigational strategies below.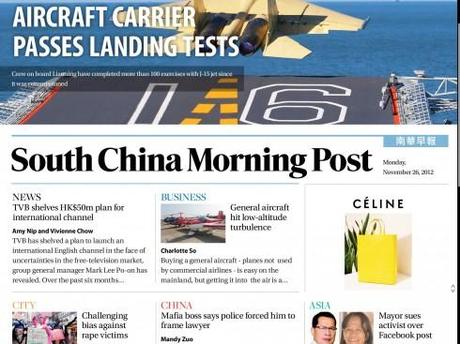 South China Morning Post utilizes a classic navigator by sections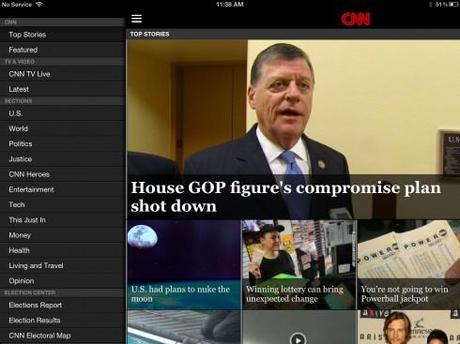 CNN

utilizes a Flipboard-style navigator where images inspire the clicks and sense of direction for user.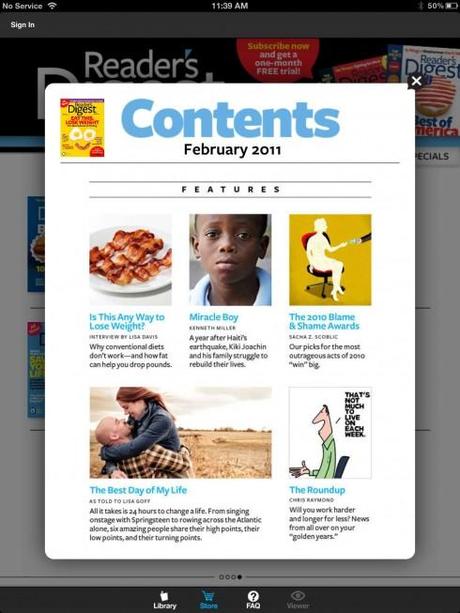 Reader's Digest vertical buttons.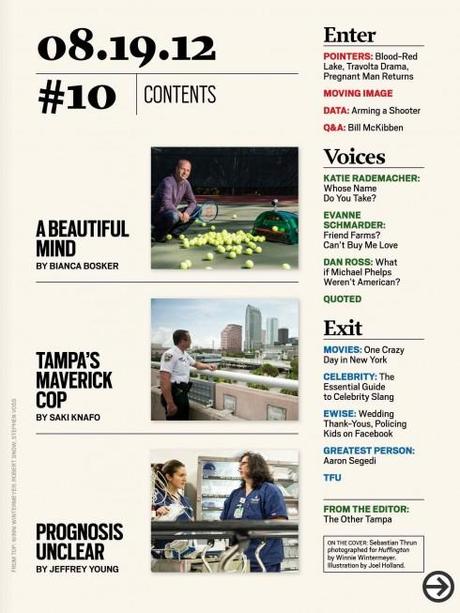 Traditional magazine style table of contents that works well for Huffington.
Capitalize on your print background
Many of those in the audience of my conferences and seminars are print-oriented folks.  They have spent all of their career working in print but find at that crossroads where they must dip their toes into the digital world.
To them I say: go for it.  You don't have to be a technical genius to do it.  You don't have to have passed a "coding" course with an A+.  And, more importantly, a lot of what you already bring to the table IS welcome at the digital table as well, primarily your storytelling and design skills.
To them I say: rather than lament the industry's move to digital, spend the time celebrating your potential in it.
Of related interest today:
Jill Abramson's dream epitaph: she kept New York Times straight
http://www.capitalnewyork.com/article/media/2012/11/6694110/jill-abramsons-dream-epitaph-she-kept-new-york-times-straight

Purchase the book on the iBookstore
The EPUB version of book is HERE:
Now available: The EPUB version of iPad Design Lab: Storytelling in the Age of the Tablet, ready for download via Amazon.com for Kindle:
http://tinyurl.com/8u99txw.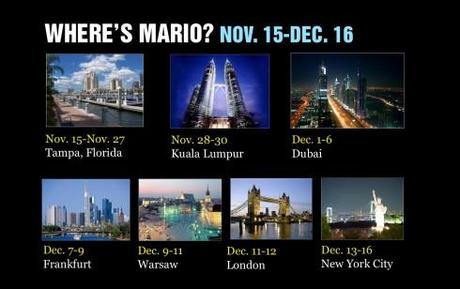 Take a video tour of iPad Design Lab
"iPad Design Lab" trailer on Vimeo.
Read the Society of Publication Designers' review of The iPad Design Lab here:
http://www.spd.org/2012/10/must-read-ipad-design-lab.php

Keep up with Mario Garcia Jr. via Garcia Interactive: helping transform online news since 1995.
http://www.garciainteractive.com
Here's a gift you don't have to wrap!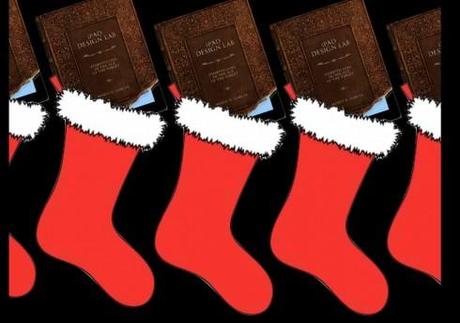 It's official. The Christmas/holiday shopping season is here.
Here is a suggestion for someone on your list, the digital book iPad Design Lab: Storytelling in the Age of the Tablet.  No need to stand in line, no need to buy wrapping paper.  Just send it to someone you think might enjoy a book about this magnificent new platform that is the tablet, and how to maximize its potential for storytelling.
Here is how you can get the book:
The original version of the book is the multitouch textbook version available on the iBookstore for iPad (iOS 5.0 and up):
https://itunes.apple.com/book/ipad-design-lab/id565672822. This version includes video walkthroughs, audio introductions to each chapter, swipeable slideshows, a glossary and a sophisticated look and feel.
Apple only sells multitouch textbooks in certain countries at this time, unfortunately. Copies are available in at least the following countries: Australia, Austria, Belgium, Canada, Finland, France, Germany, Great Britain, Greece, Italy, Latvia, Luxembourg, The Netherlands, Poland, Portugal, Romania, Slovakia, Spain, and the United States.
For those in other countries and without an iPad, we have made the book available in a basic edition for other platforms. This basic edition includes the full text of the original, along with the images and captions, but lacks the other features such as audio and video. It is available on the following platforms in many countries:
Amazon Kindle: http://amzn.to/SlPzjZ
Google Books: http://bit.ly/TYKcew
Scribd: http://bit.ly/PQTwla
TheMarioBlog post #1148