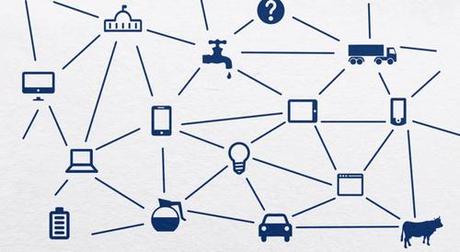 In 1999, Kevin Ashton mentioned the term the Internet of Things in a presentation on implementing RFID tags at Procter & Gamble. Fast forward fifteen years and the utopian buzzword is dropped in nearly every tech blog. The Internet of Things, recently nicknamed the Internet of Everything, describes a future where all objects are linked together. According to Ashton, his goal at the time was to emphasize the importance of computers sending and receiving data from other computers:
"We need to empower computers with their own means of gathering information, so they can see, hear and smell the world for themselves, in all its random glory… to observe, identify and understand the world—without the limitations of human-entered data."
In its most simplified version, the term is about physical objects that have Internet connectivity, and therefore, are able to talk to each other. The "things" include any device that has an IP address. Some examples are Nest thermostats that learn from user behavior and then adjust accordingly, and LG's HomeChat fridges, washing machines, and air conditioners that enable owners to talk and control them remotely. These products are only the beginning. Cisco estimates that by 2020 there will be 6.5 connected devices for every person on earth.
Why do we care about the Internet of Things here at Expect Labs? Our developer platform, called the MindMeld API, opens the door for developers looking to harness the rich sensor data that emerges from connected devices. MindMeld's voice-driven search allows your users to immediately discover the content they want just by talking.
No matter what it's called, technology that can collect and act on these new data streams will play a huge role in shaping our future. That's one "thing" we can get excited about.
(Image Source: Cisco)