My thoughts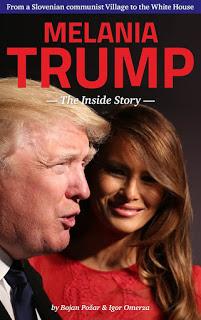 The Inside story of Melania Trumph is an unofficial biography, which gives a deep insight of her lifestyle and the shares her story of how she is going to be the future First Lady of America. With an extensive research on the life of Melania, the author has now answered many questions the media might been seeking. Of how a little skinny girl from the suburbs of Slovenia, with a passion in modelling married Donald Trumph, the to be billionaire.
The story will thrill and keep you intriguing about the life of the Melania and her journey of being the future First Lady of America.
Book Blurb
This is a book about Melanija Knavs, today Melania Trump, an unauthorized or unofficial biography about the shy and skinny girl from Slovenia, a country most Americans think to be part of Russia, if they've ever heard of it at all. Even if they have heard of it, they surely haven't heard of Sevnica, the small town Melanija calls – or at least called – home. Nonetheless, this Slovenian, this Sevnica native, can become First Lady as wife to the, at least on paper, most powerful politician in the world – the President of the United States of America.
Her story is full of coincidences and aligned stars, the product of a web of incredible, even spectacularly fantastic circumstances.
Melanija Knavs comes from a completely average socialist Slovenian family, born and raised in the former Yugoslavia under the dictator Josip Broz Tito. Her parents were not part of the Slovenian society elite, though her father Viktor Knavs was a member of the communist party. They weren't rich, but they weren't poor either. Melanija was never the brightest student and she never studied at Oxford, Sorbonne, or Harvard; she was never a supermodel, even less a top athlete, recognized scientist, or extremely successful businesswoman; nonetheless, today, right before her 46th birthday, she is by far the richest Slovenian of all time.
Melania Trump truthfully didn't actually have a career, but her story reads as if scripted in a Hollywood success story: a true American fairytale.
We know a lot about Donald Trump, practically everything. On the other hand, not just Americans, but even Slovenians hardly know anything about Melania Trump. But when you read this book, you will learn almost everything about her.
The biography of Melania Trump reveals a lot of new and exclusive information, thus far unknown to the American and Slovenia public. This information pertains to:
- Information regarding the origins and roots of Melania Trump's family
- Facts regarding her mother and father's profession in Slovenia
- Official documents regarding Viktor Knavs' membership in the Communist Party
- Precise information regarding Melania Trump's education
- Who are Melania Trump's former lovers from Slovenia
- Why Melania refused to speak Slovenian to her friends during her few visits to Slovenia
- A review of her modeling career by a famous agent in 1993 in Vienna
- Why Melania Trump became a successful model only after she met Donald Trump
- Why Donald Trump still hasn't seen Melania's birthplace Sevnica
- Why Ivana Trump thinks Melania is not qualified to be a First Lady
The authors of this book about Melania Trump are the journalist Bojan Požar and publicist Igor Omerza from Slovenia.
I am thankful to Mayra Calvani to the presenting me the book in exchange of a honest review. Thanks a lot.