Jasmine's life showcases the struggles, achievements and embeds the deep sense of responsibility for anyone who wishes to be at the top of any field they aspire to be.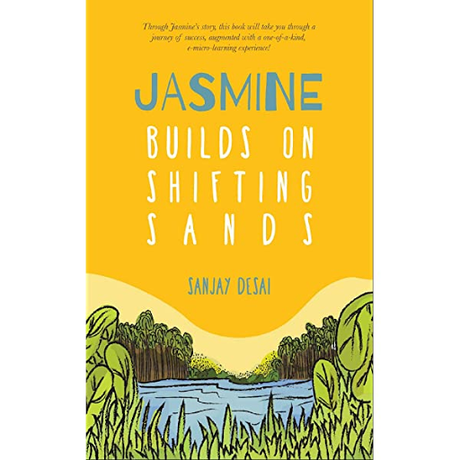 While reading the book, I was transported to my classroom during my college days.
The teacher asked "Define Aim and Dream."
My friends gave the obvious bookish answers and being a back bencher, I sat there listening to the answers smiling and nodding my head in union to their answers.
But my teacher took this as a sign of arrogance and asked me to share my thoughts with the class.
Still smiling I said,
"Aim is something where you have to reach/ achieve something no matter the circumstances. Here you look out for your opponents and beat them to the top position."
Whereas when we talk about dream,
"Dream is something that you just wish it comes true. No one to beat to the top. It doesn't matter what happens to others and their ambitions. It is your dream and once you achieve it you are content and satisfied."
Jasmine the protagonist of the story has traversed though those paths and have ultimately realized her potential. From being compared with her competitors to being a force to recon with, she was one girl you wish to become one, once you grow up.
One of the few things people forget to do is to take a break and introspect, is what imbibed in the story.
The author through Jasmine, with there incredible story telling skills, wants us to realize our potentials and discover our true self.
"Jasmine builds on shifting sands," is an engrossing story for all ages and one book that should be handy when you need it. If you get the gist of the story, all the successive reads will be to absorb more of the knowledge that you left behind in the first read.
It's one of the kinds of book where you can open to any page and start reading. Within the books you can scan the QR codes to discover articles on self-help and motivation. Having gone through them, I can assure you those are really good and a must read.
My personal copy of the book is annotated and underlined for future reference.
What perplexed me was the use of bombastic words in the initial few pages of the book which latter faded out in the entire book. Yes, they were used aptly but I believe could have done without it. The story plot was great but was predictable. You could easily guess what might happen in the next chapter. You have to read this book as a motivational book and not as a story to enjoy it more.
Nevertheless, the book was captivating and a joy read.