The Reason I Dressed
This was just an average Saturday like most Saturdays when we don't feel like taking the car and going anywhere.
We usually leave the house around 11, walk to the city centre, have an espresso and gnocco fritto at a bar/caffè and then stroll to the Piazza to see what's happening followed by more strolling through all our favourite side streets.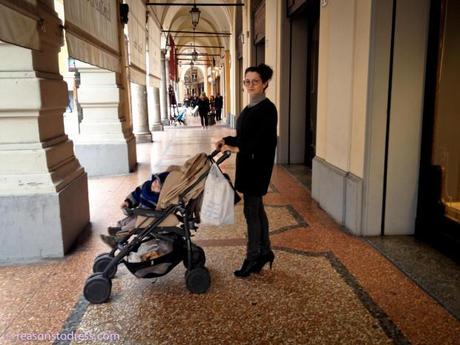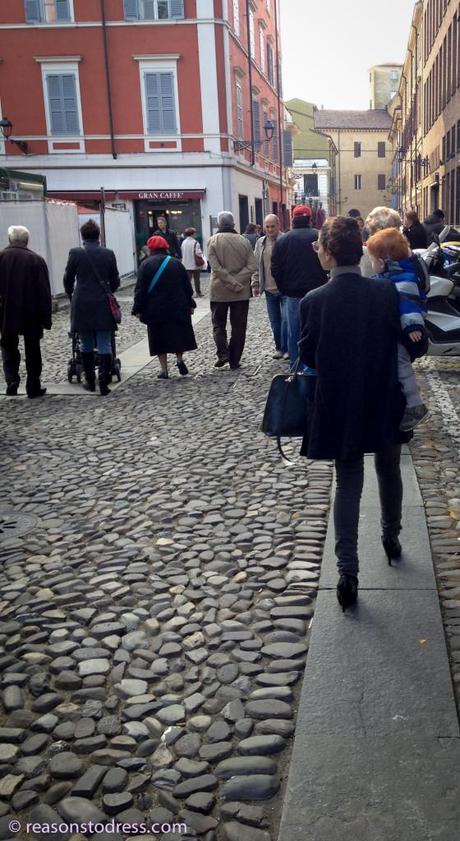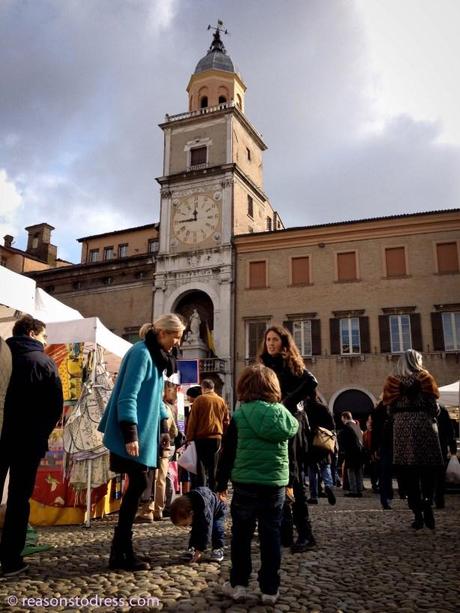 On this particular Saturday there was a market with all kinds of delicious products in the Piazza.  My husband bought some crazy expensive special cheese that he got very excited about.  I'm more into the marzipan fruit displays and pastries, and even though I never buy anything (which totally annoys the stand owners) but I do spend a lot of time looking!
These photos were actually taken a few weeks ago (hence not with my new camera), but I really wanted to chat about what a typical Saturday looks like here.
Pausa Pranzo
Saturday is very important in Italy because Italy still abides by some general rules when it comes to Opening Hours.
On Sunday you will find everything closed.  Pharmacies, grocery stores, the market, and the shops in the city centre.
Now, this has changed in the last few years, because a lot of the shopping malls (I wrote a bit about the malls in Modena here) and big box stores have started to stay open.
There is some resistance to what Italians call "Americanization" of the traditional Italian work week and hours.
One of the most difficult things for me to get used to in Italy was the idea of the "Pausa Pranzo", pause for lunch aka lunch break.  Unlike in North America, where perhaps office buildings pause for lunch but there is still a secretary working the reception or individual employees pause for lunch but stores stay open, Italy actually pauses.
We're talking about a two hour pause in the middle of the day where even the secretary gets to go home , make herself a plate of pasta, do what she needs to do before going back to work.
Now, I can accept this, as long as it is limited to secretaries in office buildings.  The second that retail is involved it's a whole other ball game.   If I get TWO WHOLE HOURS to go out and have a lunch break why are all the stores closed?
It makes no sense.
Stores should be open when their consumers have free time to go and shop.  This whole "Pausa Pranzo" thing took me a long time to get used to.  If you need to buy anything between 1:30 and 3:30 don't waste your energy trying to find an open store or pharmacy.
Oh and you should GO EAT, because restaurants serve lunch from basically 12:00 – 3:00 pm.  Trying to eat lunch in a restaurant after that time is also nearly impossible.
Individually Owned
For the first few year's in Italy I kept trying to explain to my husband that Italy's economy was tanking because there is no one selling anything in the prime hours that people have to spend their money.
And he would respond, with the argument, that many shops were individually owned, and that the shop owners are often alone while tending to their businesses.
How were they supposed to eat if they didn't close the shop?  When would they go to the bank, go pee or have an espresso? Hiring an employee in Italy is a bigger commitment than getting married, so hardly any small shopkeepers have hired help.
Now that chain stores have started opening in Italy, not only in the "periferia" (suburbs) but in the centre, the culture is starting to change and not everyone is happy about that.
First of all small shop owners are finding it incredibly hard to compete and are feeling pressure to stay open during the "pausa pranzo" and on Sundays, not to mention price competition.
There is comfort in traditions.  If everything is closed on Sunday than you have no excuse not to hang out with the family or watch the soccer game in peace  or make tortellini in broth.  The idea being that you can do whatever it is you need to do on Saturday.
Hence i return back to my original point.
Saturday is an Italian Institution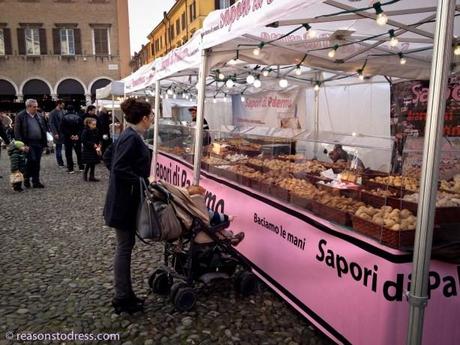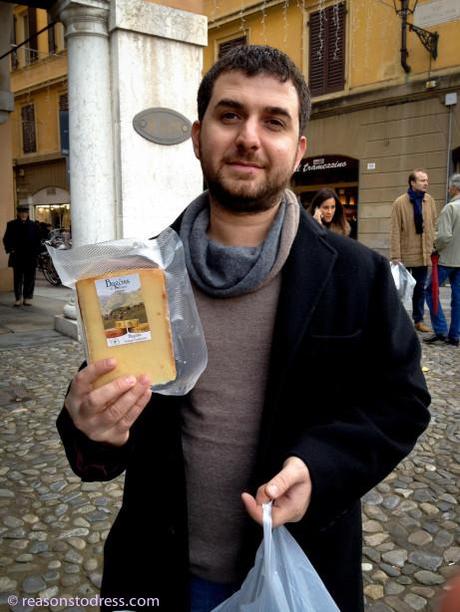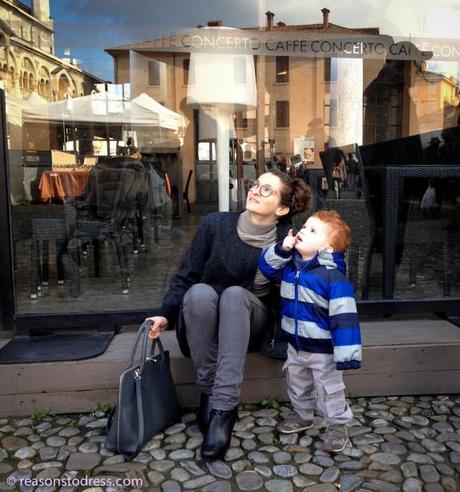 What I Wore
All the details on what I wore are here !
Food For Thought
If you are in need of a little food for thought this is a great TED Talk about how "going local" can have a huge impact on improving the economy.
In many ways this post was inspired by this Ted Talk, which I always keep in the back of my mind.  Maybe next month I'll do some features on my favorite local shops.  Perhaps I'll do one on the privately owned small pharmacy, the one with the pharmacist that learned English by watching David Letterman, rides a motorcycle and knows my son well enough to be a relative.