On Sunday night my Mum and I did something  very decadent. We went away. To a spa hotel in Surrey. We lay around by the pool and had various oils and mud-like substances rubbed in to our bodies and gorged on naughty food and did very little at all.  I took the Monday off work and everything.
And the reason behind this extravagance?  Erm… because we wanted to. We told our respective partners that it was part of a birthday treat following my Mum turning The Big 6-0 last month… but really we just wanted to treat ourselves and spend time together doing something we both really enjoy: being pampered.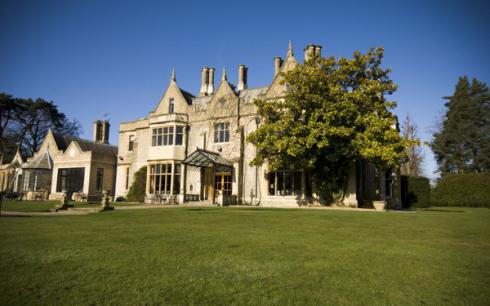 Foxhills Manor- via Executive Spa Breaks
The venue was Foxhills in Surrey, a sprawling 'luxury family hotel resort' set around a 19th century manor house and consisting of (if you'll allow me to lift directly from the Foxhills website): '70 bedrooms, 3 restaurants, 11 tennis courts, 4 squash courts, 4 swimming pools, £5m Health Spa, conference facilities and we are especially proud of our award winning Manor restaurant'.  Phew!
We didn't choose Foxhills for any of these things; I'd been scouring Secret Escapes for weeks, waiting for the right deal to come along (luxury spa hotel, not too far from London/Kent, a bloody bargain) and when it did we pounced.  I paid £150 for dinner, bed and breakfast for the two of us, plus full use of the spa facilities.  My Mum paid for the spa treatments we chose to have on top.
I'm not going to do a full review (because, quite frankly, I don't want to bore you senseless), but a lovely, lovely 24 hours were had.  We arrived an hour before we could check in and as it was a glorious day we decided to explore the grounds, ending up on a 5km 'Trim Trail' which took us through the woods, across the three golf courses and back up the sweeping driveway to the manor house and our room for the night.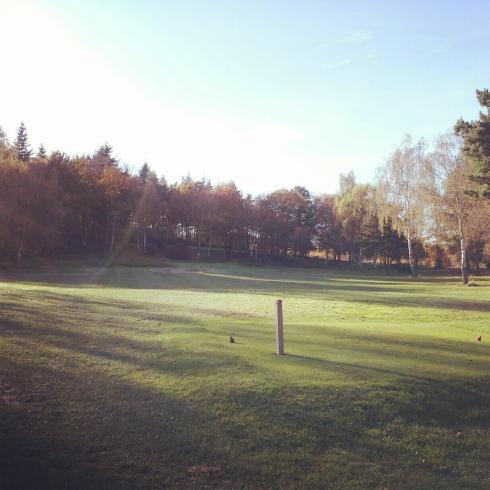 A perfect Autumn day.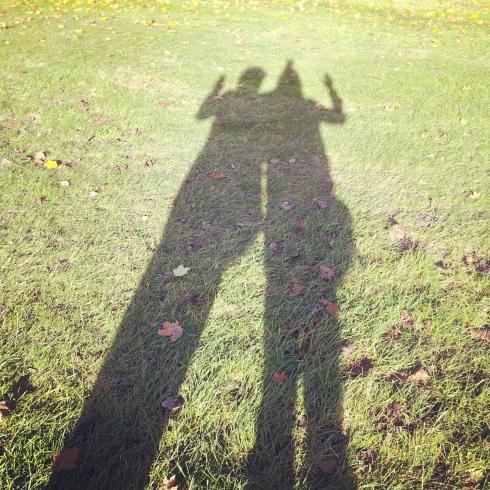 That would be my Mum doing the bunny ears…
Having wondered what our room would be like due to being there on a 'deal', we were very pleasantly surprised.  Huge, clean and well-thought out, we appreciated touches such as the latest copies of Cosmopolitan and Good Housekeeping at our disposal, and fresh milk in the fridge.  And as it was a Sunday night it was so quiet; no noisy neighbours or all-night door slamming.
The spa wasn't the height of luxury but like the bedrooms,  you could tell a real effort had been made.  We spent an hour or so flitting between the pool, loungers, steam room, outdoor hot tub and 'sauna hut', before being taken away for our first treatment, a Moroccan Rassoul, in which we got very naked, rubbed clay in to ourselves and sat in a tiny steam chamber for half an hour, before being washed down by the automatic shower system.  Except the automatic shower system didn't come on.  Cue me, attempting to wash the clay off in the sink before I could put my robe back on and alert reception. Brilliant.
Dinner was ever so quiet (Sunday night, remember) and ever so fancy- all teeny tiny portions and very carefully placed sprigs of watercress. But it was dessert that had me moaning with joy. Chestnut and vanilla mousse with a raspberry coulis, home-made banana ice-cream on a biscuit base, and mini raspberry doughnuts. Di-vine.  It didn't stop us devouring a family bag of Maltesers when we got back to our room though… Well, it would have been rude not to.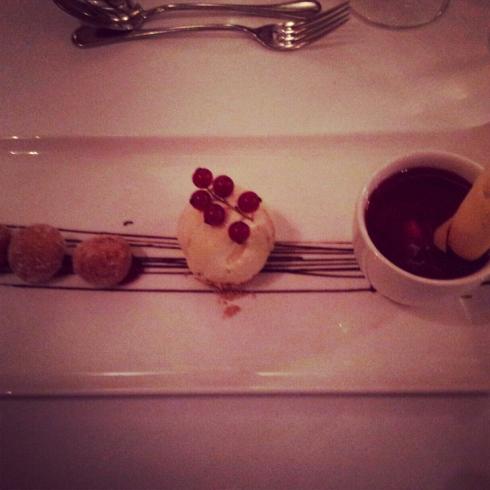 Dessert.
I slept terribly; possibly due to the overload of sugar, but more likely because my Mum and I are just totally incompatible when it comes to sleeping (she was awake and making herself a cup of tea at 4.55am, ladies and gentlemen). However, I managed to shake off my grumpiness in time for breakfast (huge but cold) and a full-body massage (blissful).
But the best thing of all was just getting to spend time with my Mama doing not a lot at all.  My complex family includes two step-sisters and a half-sister, but I am my Mum's only child and we have an incredible bond. Plus we got to talk Wedding. A lot.
I arrived home oily and devoid of sleep, but rejuvenated and enthused about the epic 2013 that lies ahead of me.  The last few days have been a whirlwind of emails, final supplier enquiries, catering conundrums and Utterly Wow prep.  Yesterday morning I met my Mum in Lewisham and we tackled the over-crowded and under-serviced fabric shop that is Rolls and Rems. An hour later we emerged, dishevelled and exhausted, but clutching 8m of fabric that are going to become table runners.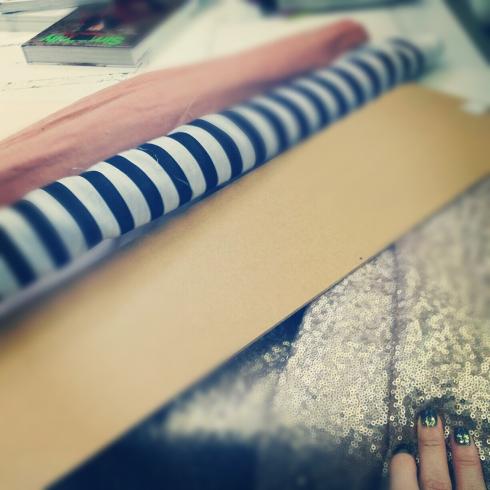 The beginnings of my Kate Spade-inspired table runners.
See? Indulgence most definitely equals productivity. Or that's my theory, anyway

Sama xxx