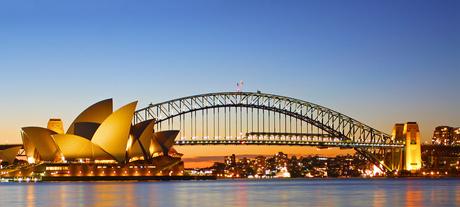 Sydney, Australia
When I was sixteen my parents and I packed up and moved from Australia to New York. I left behind my school, the place I grew up, some friends, and many family members. It was a big change, but one that I welcomed.
At the time I felt like I had hit a dead end at school and needed change. My grades were average at best and I didn't feel passionate about anything. I didn't have many friends and felt like I had seen all that life had to offer, even though I was only sixteen. I somehow knew that this couldn't be true, that there had to be something more. My dad's decision to take a job in New York, and the corresponding possibility of finding something to excite me overseas, therefore, felt like I'd won the lottery. And, three years later, now that I've finished high school, met countless new people, and found my passion it seems that I truly had won.
But now it's time for me to move back to Australia. Even though I feel completely settled and happy for the first time in a long time, and am sure I've grown more in the past three years than in the sixteen before I moved, I always knew my time in America would be temporary. When I move to Australia next month, I will be living by myself for the first time and in a completely new city. This was my decision — I'm forging my own path rather than following my parents' footsteps. Change is scary, but it's also an essential part of life.
Especially as a young woman, I feel that it's important to recognize my self-imposed limits and to push past them. Women must not let fear of change hamper our ambition, especially since we're often encouraged to avoid such challenges — to stay near home and with people we know. But while this may be the right path for some, my experience demonstrate that it's hardly beneficial for all. At sixteen I felt like an old woman, with little to offer and no ambition. But now, after embracing change and launching into the unknown, I find myself content and passionate.
I say buck gendered traditions and plunge head first into new experiences with new people as much as possible. Don't let factors like age or gender unnecessarily limit you. Take yourself seriously, but also scare yourself and feed your ambition. Don't wait for someone else to make the change for you. Make it yourself.