This is the weekend blog and will be updated as necessary. Next post of TheMarioBlog is Monday, Oct. 3
TAKEAWAY: It is the Ikea effect that may give print an edge, after all: if you hold it and touch it, then it all stays with you longer.  Can tablets be the closest thing to giving us that feeling?  PLUS: Adonis Durado, the brilliant and passionate designer behind the new cover of SND's 32nd edition book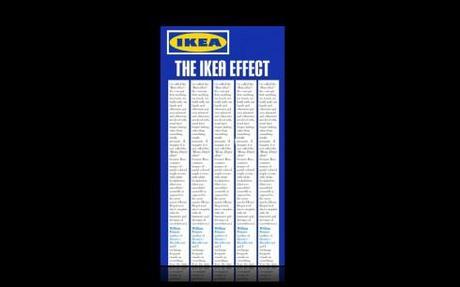 It is called the "Ikea effect", the concept that anything we touch, we build with our hands and get very physical and otherwise involved with, must have longer lasting value than something totally premade.  (I imagine it is not called the "Home Depot effect" because Ikea conjures images of pastel colored ample rooms with white bookshelves (that you assembled yourself) as opposed to the more macho Home Depot tool shed complete with 30 hammers and 40 types of screwdrivers.)  The analogy applies to journalistic design as well, by the way.
William Powers (author of Hamlet's BlackBerry) and I exchange frequent emails on everything from the state of storytelling, to the places where we may be conducting a seminar at the time, or, more often, about the eternal qualities of print.
Thursday, the "Ikea effect" entered into one of those conversations.
This is what Bill wrote me:

"I just came across this Cory Doctorow piece about how people put more value on objects they build themselves, aka "the Ikea effect. 
"I think this is a huge part of why print continues to be valued more highly dollar-wise as advertising platform, even as people migrate their eyeballs to the screen.  When a tool really involves our hands - the "haptic" sense - in a major way, we put more value on that tool. With the screen we're just using our fingertips on keys and mouse. The tablet is a step forward because we really grip it with our hands. And (as I wrote in Hamlet's essay), when the digital newspaper eventually comes out of the screen, with pages that can be manipulated and turned, the new medium will have arrived. The Ikea effect will have transformed news."

While on the long haul flight from Kuala Lumpur to Frankfurt (via Bangkok) I give Bill's assessment plenty of thought.
All hands on deck

This is absolutely true, I write back to Bill, and we sense that in focus groups here and there.
And, although I had no idea it was called "the Ikea effect", it is part of why we think people retain why they read in print longer than what they read on a screen. There is more of an effort. Both hands on the "platform" so to speak.
Eventually, the tablet will be the digital platform that will come closest to imitating the intuitive moves that we associate with reading in print. After all, we hold the tablet with both hands, and the finger plays a protagonistic role.
For now, however, I give Bill further ammunition for his Ikea effect ideas:  you will be happy to know, as we develop news apps, we now know that three things are essential: the curated edition (tailor made for the tablet), the news feed (for that lean forward moment when I want to be updated), and, gasp, the pdf of the pages of the publication as it was printed (let me just flip through the pages).  
The news tablet of today must cater to these "three tracks".  Perhaps the tablet of 2047 (my centennial year!) would be totally different, with no Ikea effect, but who knows? I assume that even the Ikea stores themselves—-if they are still around then—-will be very different from those we know today.
I do remind Bill that, indeed, there is a constant discussion in newsrooms worldwide about levels of retention for those who read stories in print as opposed to on digital platforms.  We hope to get to some of that during the upcoming Poynter Institute EyeTrack study, which is aimed entirely at how we read on tablets.
Bill replies that he is happy that this (retention levels for print versus digital) is part of the discussion in the business. " Would hate to think they were ignoring it.," he adds.
As I had not heard much about the so called Ikea effect, I was curious to know how Bill heard about it.
"I was alerted to the "Ikea effect" piece by Frank Moss, who just finished five years as chief of the MIT Media Lab (and has a great new book about what he learned there, called The Sorcerers and Their Apprentices - which I think you would love). "
And the winner is……Adonis Durado.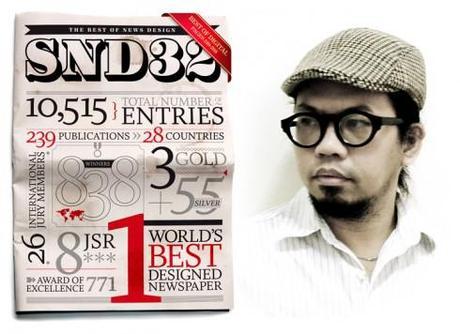 Adonis Durado has designed the cover of the SND 32nd edition book (photo courtesy, http://www.snd.org)

Our much admired friend and colleague does it again. This time, his design for the cover of the next SND contest book, has been selected as the winner.  It is pure Adonis: well thoughtout, impactful, meaningful and a "must see". And in the realm of storytelling as protagonist in whatever we do, this Adonis Durado cover tells the story of the contest, with all the facts and figures woven together through beautiful typography.
I wrote a congratulatory note to Adonis, with whom I have worked on various projects (always a great time!).  I asked him his reactions to this new honor for a career that has seen awards pile up:
I was so delighted that my design was selected by the SND judges. What even surprises me is that Rockport Publisher also picked my design—that means this will appear in both softbound and hardbound editions. Each year, two covers are selected as winners, but it seems like I hit two birds in one stone. Moreover, my other design (I submitted two) was also the runner-up. According to Marshall Mattlock, the competition facilitator: "This was a hard decision for the judges. Just one vote separated the winning cover and the cover that came in second, which happened to be by the same designer."
If you are curious about that other Adonis design, here it is:

Here is the second cover that Adonis Durado designed for the SND 32nd edition book, not selected.

I could not resist asking the peripatetic Adonis, whom I have seen in action all the time, how he gets his energy to be a design director of TWO daily newspapers—-Times of Oman and the Arabic-language Shabiba, managing a mid size graphics department, tending to his ever increasing demand for articles and speeches, plus writing poetry in his "down time", plus being a husband and father. Here is his reply:
I think what drives me is my commitment and the passion to always give my best. I am a very competitive person and will not be contented in just doing good—it must be more than good. I came from the third world country, so my thinking is that if I don't do it right and will not put my best effort, I might not get a second chance. That's why I don't stop sharpening my skills or educating myself. I am a sucker for something new and really loves to experiment. I am a little man with lots of big dreams.
Of course, the word passion figures prominently here.  Using Facebook lingo here, my dear Adonis; like.
Congratulations.
For more on Adonis Durado:
Meet the man behind the SND32 cover
http://www.snd.org/2011/09/meet-the-man-behind-the-cover/
At the Times of Oman: the design awards just keep pouring in
http://garciamedia.com/blog/articles/at_the_times_of_oman_the_design_awards_just_keep_pouring_in
In Oman: the two little desert trains that could
http://garciamedia.com/blog/articles/in_o/
Of special interest today
- USA: Press+ offers its first newspaper iPad subscription
http://www.poynter.org/latest-news/media-lab/mobile-media/147421/press-offers-its-first-newspaper-ipad-subscription/
- USA: Editorial: How Newspapers Can Profit From Tablets — and Do It Without News Content
http://www.editorandpublisher.com/TopStories/Article/Editorial—How-Newspapers-Can-Profit-From-Tablets—-and-Do-It-Without-News-Content
- USA: Hearst Passes 300,000 Monthly Digital Subscribers, Takes a Bow
http://allthingsd.com/20110927/hearst-passes-300000-monthly-digital-subscribers-takes-a-bow/
- USA: The Washington Post Introduces All-New "D.C. Going Out Guide" App for iPhone
http://www.finanznachrichten.de/nachrichten-2011-09/21454255-the-washington-post-introduces-all-new-d-c-going-out-guide-app-for-iphone-004.htm

TheMarioBlog post #867