The Honest Company seems to be expanding their line of products everyday and their most recent additions are all natural toothpastes for children and adults!
Honest KID'S Toothpaste comes in a 6 oz size for just $5.95 and is all natural and free of toxins/allergens including: SLS, sulfates, saccharin, fluoride, artificial sweeteners, triclosan, artificial flavors, parabens, gluten, and dyes.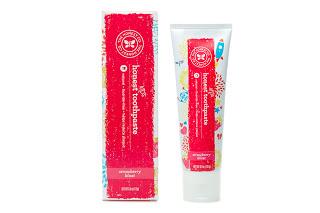 Features
*Naturally promotes healthy teeth and gums for optimal dental hygiene
*Calcium helps protect and strengthen tooth enamel
*Baking soda and natural silica gently polish and brighten teeth
*Organic aloe, organic ginger and bisabolol help soothe gum irritation
*Specially formulated all natural strawberry flavor for kids – great tasting and safer on tummies
*No harsh chemicals
*Natural • Vegan • Biodegradable
Honest Toothpaste comes in a 6 oz size also for just $5.95 and is of course is formulated with all natural ingredients that reduce plaque buildup, brighten teeth, and promote healthy teeth and gums.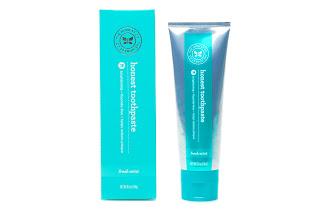 Features
*Naturally helps promote healthy teeth and gums for optimal dental hygiene
*Calcium helps protect and strengthen tooth enamel
*Baking soda and natural silica gently polish and brighten teeth
*Organic aloe, organic ginger, and bisabolol help soothe oral and gum irritation
*Added green tea offers powerful antioxidants
*No artificial sweeteners, flavors or dyes
*Extra natural peppermint for a great tasting, refreshing sensation
*No harsh chemicals
*Natural • Vegan • Biodegradable