[In professional wrestling
, a
heel
(also known as a rudo in lucha libre) is a
wrestler
who is villainous or a "bad guy", who is booked (scripted) by the promotion to be in the position of being an antagonist. They are typically opposed by their polar opposites, faces, who are heroic or "good guy" characters.] -Wikipedia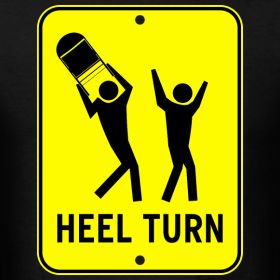 Image:
Being a heel for me is the fun part of wrestling. Everyone wants to boo the bad guy and cheer for the good guy. Without the bad guy there wouldn't be a good guy to cheer for. Heels make wrestling entertaining and in today's PG era WWE it's hard to root for the heel. The reasons being are that wrestling (WWE) is so corporate today, the writers are clueless, and the fans are not determining who succeeds at being the heel (or Face) in my opinion.In today's WWE you really do not see a bad guy do things that make you want to hate them. What happened to the eye raking when the ref wasn't looking or taking off the top turn buckle? What about giving a low blow? Basically doing everything in your power to win by not following the rules! This does not happen in main stream wrestling. For example, at this year's past WrestleMania (30), Batista was brought back in the main event as a face. Batista will always be a heel. Fans do not want to cheer for him and it is not believable. Wrestling used to have magic!Yes, we know that wrestling is staged (I'm not saying it's fake). Yes, I know they are really not punching/kicking each other, but the sport takes a toll on the body. These guys do not get enough credit for the art they do. Anyway, here is my top 10 list of heels. I'm sure this can be argued, but based on my upbringing, this works.1. Ted DiaBiase "The Million Dollar Man"
As a kid in the 80's I hated The Million Dollar Man. He used to put money in his opponents mouth after he won a match when they were down and out. DiaBiase even purchased the championship belt from Andrew the Giant. DiaBiase always claimed that "Everybody's got a price for the Million Dollar Man." One moment that always stood out was when he offered money to a kid to bounce a basketball 15 times. When the kid almost got to 15, DiaBiase kicked the ball away. WEBSITE
2. Sgt. Slaughter
In reality, Sgt. Slaughter is an American Hero. He served as drill sergeant for the marines. But back in the early 90's when America was at war in the Middle East Slaughter was supporting the Iraqi cause and turned his back on his county. He began to wear Arab attire and perform the camel clutch on his opponents. His feuds with Hulk Hogan were always memorable as I  remember my father taking me to watch house shows at the Spectrum and I remember we would make Hogan bleed and I certainly did not like that as child. Especially since Hogan would say

"To all my little Hulkamaniacs, say your prayers, take your

vitamins

 and you will never go wrong." WEBSITE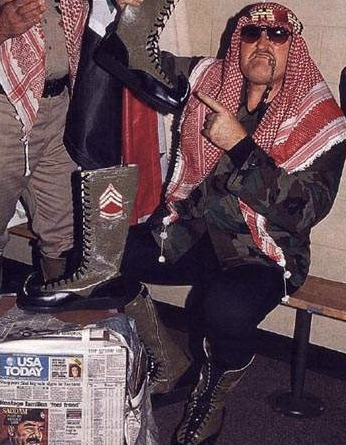 3. The Iron Sheik
Here is another guy I remember from back at the Spectrum with my father and another rival of Hulk Hogan. The Iron Sheik was originally from Iran and played the part of the heel great. He also used the camel clutch as a move and tried to break the backs of his opponents. One quote from the Sheik was "Iran number 1, Russia nu

mber 1, USA (then he would spit on the ground)."

I think I still have his action figure some where. WEBSITE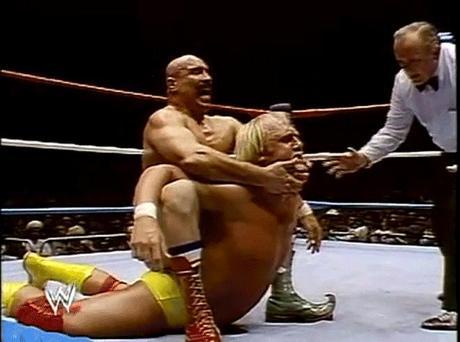 4. Mr. Perfect
Mr. Perfect was the perfect ego maniac. He believed that he was better than everyone else. His signature move was called the Perfectplex. One of his funniest promos I remember was when he threw a football the length of a football field and caught his own pass.
5. Hollywood Hogan (Hulk Hogan)
Not Hulk Hogan! One of my childhood hero's! This was big news back than when wrestling still had some mystery to it. I remember this being a story on the news and the papers. Hulk Hogan turned on the fans! There isn't much more to say. I remember watching this at home, very memorable. WEBSITE
Honorable Mention: William Regal
Regal is by far one of the most under-rated wrestlers and heels in the business by far. He played an English snob and hi a pair of brass knuckles in his trucks. A cocky foreigner with a weapon, I mean what else do you need to play the heel?! He would use the brass knuckles often to win matches. I also remember when he also played the character of  the "Real Man's Man" builder/lumberjack style looking gimmick that was based on the image of The Brawny Man. Vignettes for the character showed him doing "manly" things like chopping wood, shaving with a straight razor, and squeezing his own orange juice." I thought that was a riot!