As promised here is the second part of my "The Happy List 2013″ post, this time I want to share my favorites that topped my list for 2013.  If you will notice, most of the items I have included here are posted as my favorites last year, not only here on my blog but on my other social media sites as well.  If you missed the Makeup Edition, just click the link and it will direct you there.
Now we're going to talk about hair, face, and body care products that really worked for me.  Check it out and you might find something that you want to try too!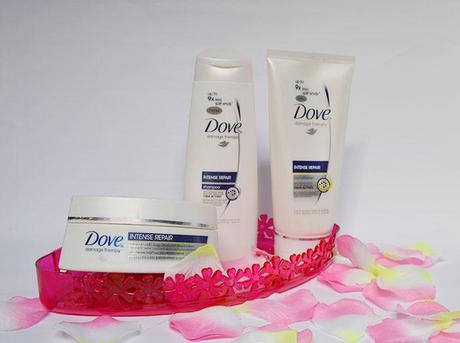 Dove Damage Therapy Intense Repair Line
I just can't stop raving about these products both here on my blog and on my YouTube Channel.  Unfortunately, none of the hair products I've used cured at least 90% of my hair loss problem.  What really helped a lot is cutting my hair really short.  Then, I used this entire line from Dove which I were included in my July BDJ Box.  These products from dove are so fragrant, moisturizing, and last the whole day on my hair.  If Cleopatra is still alive, I bet she'll love these too!
Tresemme Shampoo and Conditioner (not in the photo)
I've tried their products last year too but I feel so dumb realizing I haven't blogged about it!  Tresemme products work on my locks as well and I love their effect on my hair.  I'm gonna repurchase them when I'm done with my other hair products here and I'll give you an honest review about them.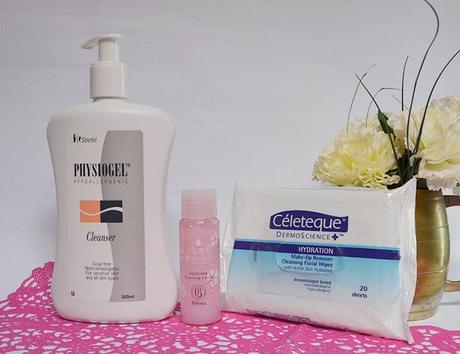 For removing makeup.  I admit, I often forget to remove my makeup.  Thankful that my skin is not that sensitive to react on the products that I left on my skin overnight.  I do get a pimple or two but nothing tragic.  Here are my favorite makeup removers / cleansers last year.
Physiogel Cleanser
This product is perfect for all skin type most esp. to those who have sensitive skin.  BF loves it too!  I just lather it all over my face and remove with wet wipes.  Sometimes, I just leave it there, no rinse.  Great thing, Physiogel products are recommended by dermatologists.
Bifesta Age Care Cleansing Lotion
I've featured this product on my my "Makeup Removing Routine" on my vlog.  It's so gentle on skin and perfect if you're travelling.  It has mild scent and you can leave it overnight on your skin too!  It has different variants that I have yet to try soon.
Celeteque Makeup Remover Cleansing Facial Wipes
Another travel-friendly makeup remover of mine.  What I really love about this is that it can also help remove my stubborn eye makeup and mascara plus smells so good!
Etude House Lip and Eye Makeup Remover (not in the photo)
Works wonders on removing my lip and eye makeup without any irritation at all.  I've tried other two-phased makeup remover but this one is best.  I've also used and made a demo on this vlog.  Let me know if you can suggest a product that works the same like this!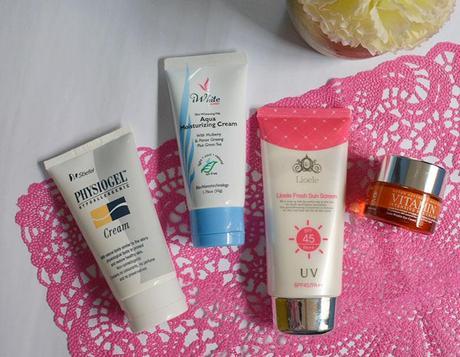 Now for moisturizers, sunblock, and eye cream!  Because I'm not getting any younger, I have to really take good care of my skin to avoid wrinkles and under eye circles.  These products really helped me on that.
Physiogel Cream
A pea size amount of this is enough for the whole face.  Yes, I'm serious!  If you get a lot, you might end up like a grease ball.  It really moisturizes deep down of the skin and replenished the loss moisture.
iWhite Moisturizing Cream
Another favorite of mine.  This is perfect for the summer.  You can apply it anytime of the day and you won't look oily or anything like it.  It is easily absorbed by the skin.  It's like a cream to water type of moisturizer.  Read my review to know more about it.
Lioele Fresh Sunscreen
It has higher SPF which I really like.  When I drive, sometimes the sun hits directly on my face that's why this is a must in my kit.  It smells nice too and doesn't cake my makeup.
Hayan Vitamin Intensive Eye Cream
One of my best products last year.  When we talk about eye cream, we'll expect it will cost a lot but it's the opposite with this product.  It works 100% but will not cost you much.  I also recommend this to BF 

  They have another variant of this, the snail cream which I will try once I've finished this one.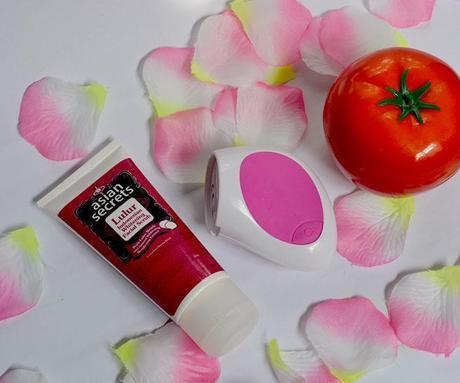 Whenever my skin feels dull, I pamper it with scrubs and masks.  They help revive your skin condition.
Asian Secrets Lulur Facial Scrub
Works as an instant facial at home.  You can do this 2-3x a week to have that radiant and smoother skin.  It exfoliates and moisturizers the skin.  You will enjoy using it!
Neutrogena Wave
Been using this for more than a year now and I'm still loving it and I get excited every time I'm gonna use it.  It has pads that you have to attach to it and cleanses deep down your skin while it vibrates.  Know more about it on my review.
Tony Moly Tomatox Magic White Massage Pack
One of my favorite facial masks.  I fell in love with its super fancy packaging and of course with the results it gives to my skin.  Smells so good and makes the skin lighter after use.  Continuous use of this will improve your skin complexion and elasticity.
Montagne Jeunesse Facial Mask (not in the photo)
This one is available at Watsons and other leading drugstores nationwide.  I've tried almost all of their variants and enjoyed using them a lot!  Their masks are superb!  You should give it a try.  Read my reviews here.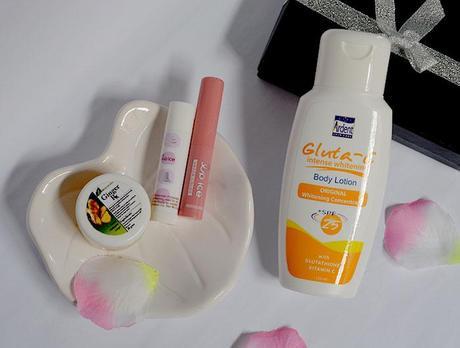 Ginger Rx
Got this for free from Sample Room using my stored points.  This is really helpful for headaches and body pains.  Works like Vicks, (I'm pretty sure you've used it before) but this one has milder and better scent for me.  It's a must in my work area in my room.
Lip Ice Lip Products
You might have seen these in Watsons.  Oh boy I really love these!  Very handy and help in avoiding cracked lips.  Tastes good too! *lol*
Gluta C Intense Whitening Body Lotion
If I'm not mistaken, I got this also from Sample Room.  It smells soooo goooddd!  Has that mild sweet citrus scent and really does lighten the skin.
Block and White Body Lotion (not in the photo)
I've tried and emptied all my Block and White lotions and highly recommend this brand to you guys most esp. if you are fond of whitening products.  They have lotions for day and night.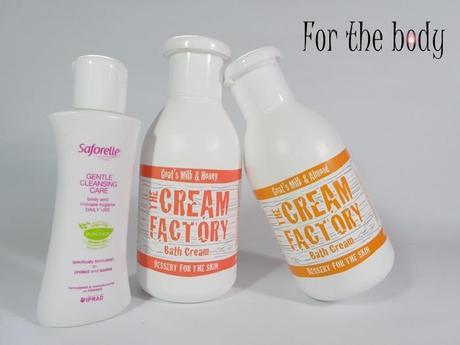 The Cream Factory Bath Creams
Ohhh who would not fall in love with these bath products?  I mean, they are perfect for pampering your skin!  They smell amazing!  You may not need to use body lotion or body creams.  Yes, that's how effective they are on the skin!
Saforelle Gentle Cleansing Care
Works not only in the intimate area but for the body as well.  It does help to avoid and relieve your skin from irritations.  It's like my long search for that feminine wash that will truly work for me is over.  You can also score a bottle of this at SampleRoom.ph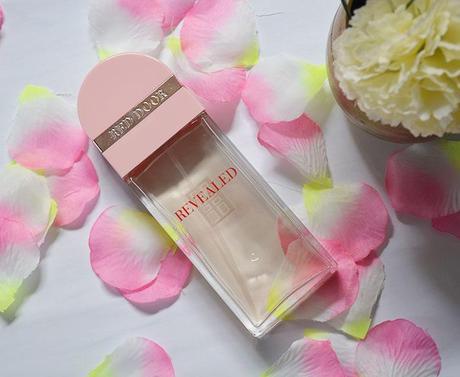 Elizabeth Arden Red Door Revealed
My favorite scent for 2013.  I am often asked what scent am I wearing every time I use this.  Lasts the whole day! (even the next day).  It has a feminine musk scent that I really love.  Well, I was honestly influenced by the ever beautiful Divine Lee for embracing musky fragrances. 

  And oh!  The packaging is pink! *smiles*
I guess that's about it for my Face and Body edition!  I didn't have the hard time picking these products because they already have a place in my heart since.  I hope that you enjoyed this post!  If you have any questions or suggestions on what face and body care items I should try this year, please please let me know and comment away!
What's your most favorite perfume for 2013?  I'm scouting on a new fave!