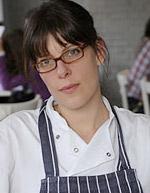 Last year she was named UK New Zealander of the Year. She trained as a chef under Fergus Henderson when he was running his first restaurant, The French House Dining Room. She has worked with Peter Gordon (The Providores and The Sugar Club) and now runs The Modern Pantry in London.
Last night Anna Hansen was back on her old stamping ground, the Richmond Hill Café and Larder where she  once worked for Stephanie Alexander. And she was on form for her Melbourne Food and Wine Festival visit.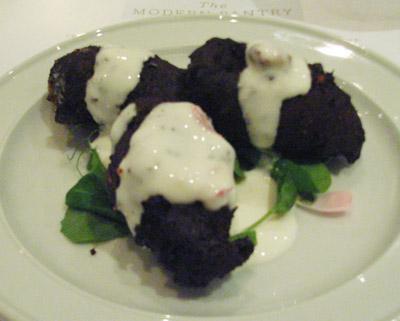 Her five-course meal with matched wines had us enthusing right from the first taste of the delicate rose yoghurt on a trio of chorizo, medjool date and feta fritters. It was sweet and savoury, gutsy and delicate all at once and particularly good with the NV Canella Prosecco from Venezia, Italy.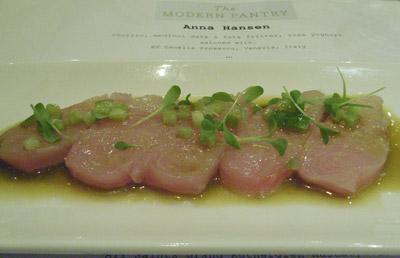 Equally entrancing was the kingfish sashimi with its superbly flavoured green tea and kalamansi lime dressing, tomatillo and tiny beads of wasabi tobiko. This was served with 2009 Pewsey Vale Prima Riesling from South Australia's Eden Valley.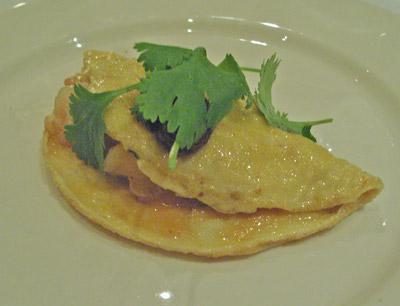 Sugar-cured New Caledonian prawn was folded in a delicate omelet with spring onion, coriander and a smoky but not too hot chilli sambal. The 2008 Kientzler Ribeauville Gewurtz from Alsace was an excellent match.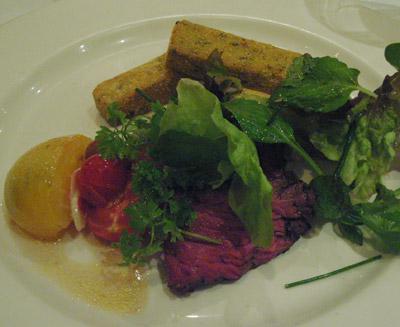 The main event  was definitely in line with Anna Hansen's liberal views on fusion cooking. Not so much fusion cooking, but "modern cooking with a twist". There are scattered global influences. The onglet (hanger) steak had been marinated in tamarind and miso before its glancing  acquaintance with the hot grill. It was served with crisp and chunky turmeric and curry leaf besan (chickpea flour) chips and lemongrass-braised heirloom tomatoes – all enhanced by a 2007 Ramos Pinto Duas Quintas from Duoro, Portugal.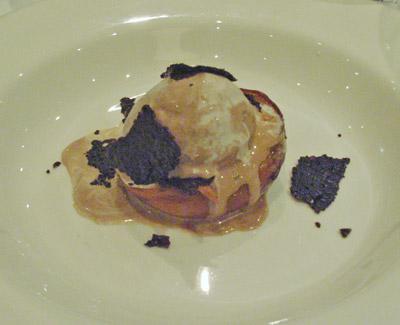 Who could resist picking some cocoa chilli wafer from the dessert plate as soon as it arrived. A brandy roast peach was topped with some interesting chocolate liquorice hokey pokey ice cream – no doubt a nod to Hansen's childhood years in New Zealand. The sweet liaison was completed with a glass of Victoria All Saints Grand Rutherglen Muscat.
It might have been pouring outside but this was a perfect place to shelter from the rain.