Complimentary: free, gratis, on the house, free of charge
It has quite a ring to it and it's good to get a "complimentary" gift. On my recent birthday I received a balloon-bedecked email from Melbourne restaurant Mr Mason, along with an offer of a "complimentary meal" – "for bookings of two or more guests."
How nice. I accepted the offer and made a booking for The Spouse and me.
It was all very pleasant. An interesting menu. Not large but appealing enough to make choosing quite an exercise. Same with the wine list
The young French waitress knew the menu well and described, explained and answered any questions.
A good dining experience. A pleasant celebration.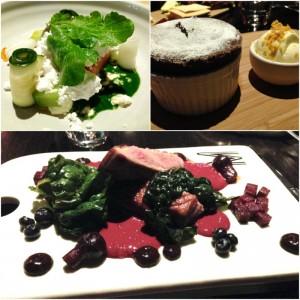 Confit salmon, duck breast, chocolate souffle – the food was fine
Then the bill arrived.
I certainly wasn't expecting free drinks. But the only thing complimentary on the account was a main course. They did say "complimentary meal" not "complimentary main course". One course does not a restaurant meal make, at least for me.
It was sad to end a pleasant evening on a sour note. I imagine the staff don't enjoy it, either
A couple of days later another email popped up: a thank you for dining at the restaurant and a request to fill in their feedback form.
I promptly obliged. Really, everything was good – except for their interpretation of "complimentary meal." I thought I should mention it. If I had been given a complimentary flight by an airline, I wouldn't expect to be slipped an invoice for occupying a seat once I boarded the plane.
Sadly, there was no reply from the restaurant. I guess they want to hear only praise, and not criticism. In fact, I did applaud the staff and the food. No complaints there.
It may be a question of semantics, Mr Mason, but I think you let yourselves down by being niggardly. Don't overpromise if you don't plan to deliver.