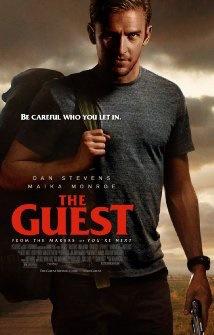 Director: Adam Wingard
Writer: Simon Barrett (Screenplay)
Starring: Dan Stevens, Maika Monroe, Brendan Meyer, Sheila Kelley, Leland Orser, Lance Reddick, Tabatha Shaun, Chase Williamson, Joel David Moore, Steve Brown, Brenden Wedner
Plot: A soldier introduces himself to the Peterson family, claiming to be a friend of their son who died in action. After the young man is welcomed into their home, a series of accidental deaths seem to be connected to his presence.
There may be spoilers the rest of the review
Verdict: Stylishly Splendid
Story: The Guest starts with the Paterson's grieving the death of their soldier son Caleb. The family is trying to go about their normal day but mother Laura (Kelley) is stuck inside the house alone, she gets a visit from a man named David (Stevens) who claims he was with Caleb when he died and has come to see the family. David sticks around to tell stories about Caleb to Laura and eventually her daughter Anna (Monroe) before being invited to stay the night.
The family invite David to stay around as he helps the son Luke (Meyer) with homework and standing up to the bullies. David also gets forced to mingle with Anna at a party where he seems to be sent to keep a watch over her as she is getting messed around by her drug dealer boyfriend. David starts coming off almost too perfect being able but his interest in purchasing guns makes things come off strange.
Anna decides to investigate David and its turns out that he is the remaining part of a secret mission that Major Carver (Reddick) instantly wants to cover up. Carver recruits all the off the books man he can to finish off David but David is waiting for them and finally shows his true colours and just how deadly he really is.
The Guest manages to mix genres with ease, the first half of the film actually comes off almost like a coming of age film for the younger members of the family with David looking like he is there to protect them. You do get the feeling that something isn't quite right with the situation and that leads nicely into the action thriller side of the story that concludes the film. Mixing these genres gives us a fresh feeling story because David comes over as one of the most likable on screen personas in recent years but we also get to see just how deadly he can be. The story will go down as very good because the film continues to push you in different direction that you wouldn't normally see an action thriller. (8/10)
Actor Review
Dan Stevens: David is the mystery man claiming to be a friend of the deceased family member, he turns up in the Paterson's lives and ends up helping them before the truth about him comes out. He remains emotionless throughout using all his training to help himself through the situation he ends up in as his past comes back to haunt him but he cleans up his own mess. Dan gives a great performance that could easily be his breakthrough performance in Hollywood. (9/10)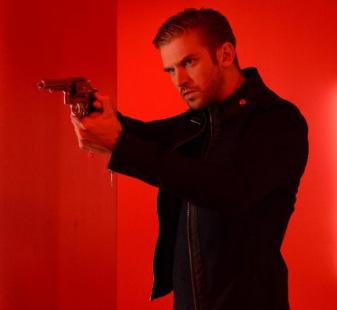 Maika Monroe: Anna Peterson is the daughter of the Paterson family who first dislikes David being around because of the memories of her dead brother before starting to like having around, but after she starts investigating David she could have starting a catalyst of events that follow. Maika gives a good performance that along with her It Follow performance must make people take her serious. (8/10)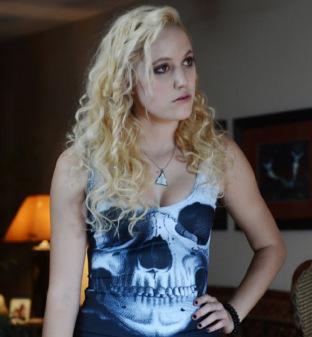 Brendan Meyer: Luke Peterson is the bullied son of the family that David teaches to defend himself after taking out all of the bullies in one attack. He starts seeing David as a big brother figure replacing the one he lost. Brendan gives good performance that shows just how difficult it is for people to take David as dangerous. (7/10)
Lance Reddick: Major Carver is the military police officer who is tasked with trying to hunt down David, and brings as many man as he can possible get to finish off the experiment once and for all. Lance gives a good performance that informs us the truth about David. (7/10)
Support Cast: The Guest has a supporting cast of people that are in the Paterson's lives that David interacts with leading to him making his own choice on who is good or bad, until he knows his cover is blown when he has to clean up the supporting cast.
Director Review: Adam Wingard – Adam continues to show he has the ability to turn genres on their heads following 'You're Next' with action thriller. (8/10)
Action: The Guest has slick action scenes that all come off very stylish. (9/10)
Mystery: The Guest adds plenty of mystery about David and just who he really is and why he is there. (10/10)
Thriller: The Guest keeps you guessing to what will happen next from start to finish. (8/10)
Settings: The Guest uses the settings to make you feel like you are watching a small community in a town who get a new visitor. (9/10)
Suggestion: The Guest is one for all the action fans to enjoy and it will be one that will be enjoyed because of the fresh twists on the genres. (Actions Fan Watch)
Best Part: Bar Fight.
Worst Part:  Being picky the starts off slightly slow.
Action Scene Of The Film: Bar fight.
Believability: No (0/10)
Chances of Tears: No (0/10)
Chances of Sequel: Could have one.
Post Credits Scene: No
Oscar Chances: No
Box Office: $3.2 Million
Runtime: 1 Hour 36 Minutes
Tagline: Be careful who you let in.
Trivia: The film is intentionally structured as a horror film with the pace of a thriller.
Overall: The Guest is one of the most stylish films you will see this year that actually bends the genres.
Rating