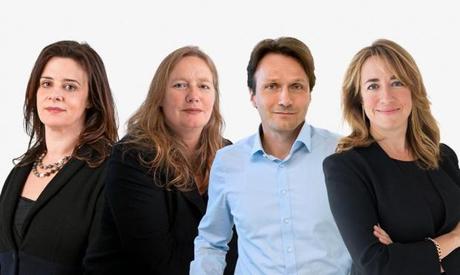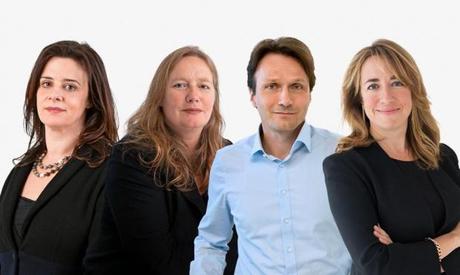 Janine Gibson, Emily Bell, Wolfgang Blau and Katharine Viner. Photograph: Courtesy of The Guardian
Presenting an overall philosophy for the practice of newspaper journalism today  is not an easy thing to do.  While we all articulate our vision, it is not all of us who are trying to seize the moment to get elected to become the editor in chief of one of the world's most respected newspapers.
That is why I have been so deeply engaged with the manifestos of the one man and three women currently vying for the position of editor at The Guardian.  It is a rare opportunity to hear and to dissect statements about the future of our profession and how to practice today.
The four candidates for editor are  Emily Bell, Wolfgang Blau, Janine Gibson and Katharine Viner.
Here are some highlights on topics that are of general interest.
Blau: 
I can't emphasise enough that the notion of 'print versus online' is not a helpful framework. Print journalism as a genre will not disappear and we will need print expertise for many years to come. Especially our three weekly newspapers - the Saturday Guardian, The Observer and also The Guardian Weekly - absolutely can and should have a long and very successful future.
Bell:
(Did not dwell on the role of print)
Gibson:
The future of print is a matter for honest discussion. There shouldn't be secret plans, or surprises.
We show daily the influence and force of a beautiful newspaper. Our future might be digital but we should keep printing our papers for as long as possible. 
 That means simplifying the building and editing the paper. We've started doing this and it's working; with care and cooperation we've proved we can do this well and still produce powerful, impactful papers.
Viner:
Cherish print, but don't let it hold us back
We need to develop clear strategies for the Monday-Friday paper, Saturday Guardian, and the Observer. Our decisions about print's future should be based on well-communicated, non-ideological criteria and a structured plan. Print must not hinder our shift to digital, but we must cherish it while we choose to keep it, with an experienced team of journalists taking care of it.
Blau:
Regarding our journalistic creativity and ingenuity, I would like to suggest that we re-think all of our conference procedures and our overall meeting culture so that they cater to a more open, honest and agile exchange of views, criticism and story ideas. Every person in the newsroom needs to know who they can go to for feedback, advice and constructive criticism. The Guardian needs more editorial management and structure, not for the sake of efficiency, but to nurture creativity.
Gibson:
Unpick some of our meetings culture which can slow us down. We need to change the way we make organisational decisions: honest, open debate resolved with staff, the board and the Trust, will allow the organisation to move faster and allow editors to focus on our journalism.
Viner:
Breaking stories is our primary mission. We build on a tradition of accuracy and fairness; giving readers the information they need to understand the world; holding power to account; defending liberties; exposing injustice. We must embrace new digital ways to find, verify, tell and deliver stories so that they are relevant to our readers, and protect our sources and reporters.
On the issue of change:
Bell: 
Reorienting the Guardian as an organisation will require structural reform. The changes must extend to our technology, our revenue streams and our management roles. Recognising that we are a private not-for-profit does not mean abandoning our commercial endeavours - it is essential that we safeguard our financial stability - but it does mean we will have different benchmarks and standards from profit-maximising commercial companies.
Blau:
 I would like to propose that we substantially increase the diversity of voices - politically, as well as ethnically - and that we also identify those areas of our coverage that are neither able to sharpen the Guardian's journalistic profile nor to attract our readers to come visit us more frequently. The result of this exercise might be that we produce fewer stories than today, but with greater impact.
Gibson:
We need to be able to talk about shift changes and new roles, desk moving and training better with editorial teams and with the union. Most of all, we have to be aware of the pressures and pinch points and do better than only be a safety net to catch people.
Viner:
Be instinctively digital
Journalism and technology have merged. To produce and deliver journalism that is relevant today, we need a close relationship between editorial, product and engineers, developing stories together, working out what to do about mobile, loyalty, data; plus a super-charged approach to helping readers find our journalism.
On what's the challenge
Bell:
The Guardian needs to be at the cutting edge of journalistic innovation, and to that means there has to be a closer link between editorial and product development. Our success in the future will be determined in part by how well we understand web technologies and integrate them into our reporting. We need to make smart decisions about which tools and platforms to develop, and make recruitment of the world's best editorial technologists a priority.
Blau: 
The Editor-in-Chief and her or his team should of course be in charge of the Guardian's journalism on all platforms, but also of the product team, our teams of data scientists and of developing the Guardian's future strategy. It is essential that we integrate our developers, data scientists and strategists into our newsrooms and have a mutually respectful and collaborative relationship with the CEO and our colleagues in the commercial teams.
Gibson:
The longterm home of journalism is on the internet. We have to continue to develop our voice and that means constantly developing digital storytelling skills.
Develop new ways to understanding people's lives where we are already strong — food, entertainment, travel, sport, families and relationships.
Viner:
To ensure the survival of Guardian journalism in perpetuity we need a clear, flexible plan — with humility about an unknown future. And we need to take some risks, using a route map which allows us to change course and re-invent ourselves.
Of related interest

http://www.theguardian.com/info/2014/dec/19/-sp-appointing-a-new-editor-in-chief-of-guardian-news-media">http://The process of selecting the next Guardian editor http://www.theguardian.com/info/2014/dec/19/-sp-appointing-a-new-editor-in-chief-of-guardian-news-media
TheMarioBlog post # 1694
Please enable JavaScript to view the
comments powered by Disqus.
comments powered by

Disqus