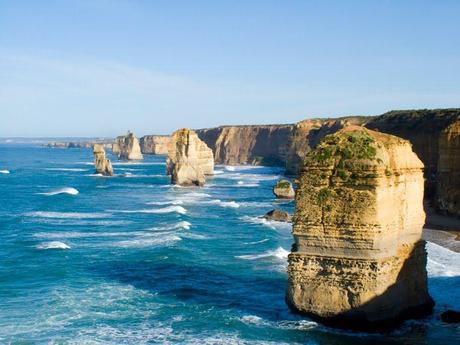 The Great Ocean Walk is a 97.1 km walking track located along the coast in south east Victoria Australia. It starts from Apollo Bay and ends in the shadow of The Twelve Apostles, twelve eroded rocks carved by the forces of nature.
The great ocean walk is meant to be an eight day hike. To add to the challenge we decided to do it in only two and a half day and with backpacks, weighing around 30 kg. Additionally, we didn't apply for any camping permission instead we decided to use the two free drive-in camping spots. The problem was that the first site was located 20 km from the start and the second 50 km, that is we would have to walk nearly 50km the last day. But at the time we felt strong so we decided to give it a shot. First lesson learned, never underestimate the terrain.
Day 1:
We reached Apollo Bay around 1300 and made a quick visit at the information centre to look for a map. We did find one but because it was $12.50 we felt it was a better idea to just take some photos of it with the iPhone. This would later turn out to be a questionable decision.
It all started out pretty easy and it looked like as if we could reach the first camp site well before nightfall. With only a few kilometers from the target, we noticed that the tent was missing. Second lesson learned, secure your tent thoroughly. Stressed by the fast approaching dusk, we hid our backpacks and ran back to look for it. After a good one hour jog we finally found the tent partly submerge into the mud. Third lesson learned, never leave your backpack without food, water, headlights and appropriate clothing.
In complete darkness we finally reached our target and started to raise the tent. At the time we didn't have any experience in mounting our newly bought tent so we had to go through the heavy instructions step by step in darkness.
Day 2:
Falsely informed we thought that this day's target, Johanna Beach, was just a 20 km walk ahead of us so we decided to make it a late morning and started to walk just before noon. After a closer look at the map we came to the conclusion that the 20 km were more like 35 km and we realized that another late evening walk was to come. Fourth lesson learned, always check your map thoroughly prior to every expedition.
Totally exhausted, we made it to the beach. Without knowing the exact position of the campsite and without being able to see anything in the night, we started to walk along the beach. After over an hour of walking and sometimes running, because of some tidal waves, we spotted a camp sign shimmering at the top of the steep dunes. Johanna beach is one of the main attractions along The Great Ocean Walk, to bad we never saw it.

Day 3:

With more than 40 km head of us, we pretty much knew that this day was going to be the toughest one. By now our feet were covered in blisters and our hips weakened by the load of our heavy backpacks. Moreover, we soon were to realize that the first 15 km were the most difficult section of the whole walk, with steep narrow muddy tracks and dense vegetation.
The difficulty of the track made us more aware that we actually carried quite a big load on our shoulders. At 2000 it was getting dark. With aching feet, no water, and with more than 10 km to go we spotted a campsite. At that time it wasn´t a hard decision - we caved and followed the sign.
The plan was to catch the bus from Port Campbell at 1000 o'clock the day after. This bus runs from Port Campell to Apollo Bay only two times a week. So we really had to be there on time. Another problem was that the track doesn't really end in Port Campbell. Instead it ends 12 km west of the town so we would have had to walk another 3 hours to reach it. Luckily, we met an Australian guy (we can call him Ryan) at the campsite. He kindly offered us a lift from the end of the track to port Campbell. Totally exhausted we raised the tent and fell asleep.

Day 4:

We were up quite early to walk the last 10 km to Ryan´s car. With fresh legs and a light backpack Ryan set of in a tremendous pace. There was no time for self pity, we had one choice, to suck it up and follow his lead. Thanks to Ryan we made it to the bus well in time and even had time to make a quick stop to look at the Twelve Apostles.
This expedition was the first of many. We must humbly admit that we made some bad mistakes, but hopefully we also learned something from them. Anyway, we have gained valuable experiences and confidence in acting in a new environment. It might not be the most extreme but step by step our goal is to achieve knowledge and flexibility that allow us to adapt ourselves to various conditions. In addition, we also prove to ourselves that we are able to move fast in a difficult terrain with all equipment we got on our back. This includes a 4 kg laptop, a keyboard and most importantly the Crossfit gears.
/Chris and DJ